Astwood enjoys a knockout performance overseas
Updated: Nov 23, 2021 04:40 PM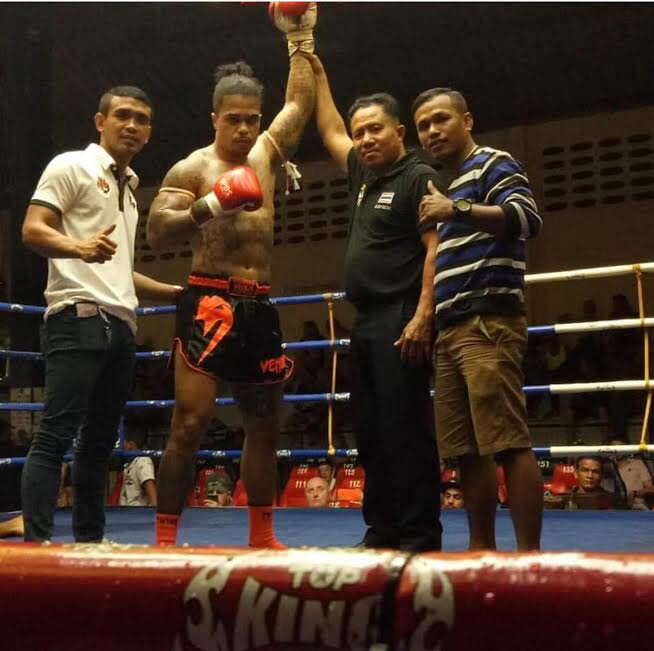 Jay Astwood enjoyed a dream Muay Thai performance at the Patong Boxing Stadium, in Phuket, Thailand, after securing a spectacular first round victory.
Ahead of the bout, the Bermudian fighter, travelled to Asia to enrol in a five-week fight camp at Tiger Muay Thai Club under the guidance of Khru Nin, a vastly experienced and successful Muay Thai fighter and coach.
Astwood, a firefighter by trade, had to commit to a gruelling training regime which consisted of daily early morning starts including 5k runs and hill sprints, as well as pad work and sparring sessions, all in harsh heat, humidity and high altitude.
"It was brutal and probably the hardest thing I've ever done in my life," said the 29 year-old. "The first day or two were unbearable, it was hard to breathe at times and I actually fell ill which affected me for a week or so. However, the coaches told me I'd get used to it, stick it out and ultimately it worked out."
It was at the end of the camp that Astwood was persuaded to accept his maiden professional bout against an experienced home fighter as part of the fight of the champions promotion, which included international fighters from countries such as United States of America, New Zealand and China.
"I met Khru last December when I was out in Thailand training and he tried talking me into fighting then," added Astwood.
"I didn't feel quite ready at the time but I said I'd consider it next time I was in the country.
"He remembered that and so this time he called me on what I said before, so I had to agree."
Having accepted the bout, Astwood conceded he was anxious ahead of the fight, especially initially walking into ring inside the venue, something he had never experienced before in his amateur days.
"Going into the fight I felt nervous because I had not fought for two years," said Astwood, who in his previous bout won bronze at the TBA Classic in the USA, before suffering a broken foot.
"All my previous fights were in the amateur ranks and I'd only fought in Bermuda and a couple of times in the USA.
"The stadium was definitely a little intimidating. There was a big crowd and people were there gambling on you, it definitely felt like the real deal!
"For the Thai people, Mauy Thai is their national sport so I was well aware how serious the fight was."
However, any possible nerves were far from evident as he became the second fighter to represent Bermuda at the pro level in Thailand, following in the footsteps of Marcus Husbands, who in 2009 won his first fight in Thailand at Bangla Stadium.
In a steady start to the fight, Astwood attacked the legs of his opponents, aiming to slow him down. It was during one strike to the legs that his opponent dropped his hands away from his head, an opportunity that the Bermudian fighter capitalised on brilliantly, faking a kick before landing a ferocious "superman punch".
The blow left his opponent on the canvas, with the referee quickly ending the bout just one minute and thirty seconds into the first round as Astwood was awarded the knockout victory.
"For a first professional fight it couldn't have really gone any better," he said.
"Usually the first round is a little slow with both fighters trying to work each other out but he came straight out and came at me.
"I tried to slow him down by going for his legs and then the opportunity opened up. We had worked a lot on that punch in training and for it to come off in a fight like that is brilliant, everything fell into place."
Looking ahead to the future, Astwood conceded pursuing a professional career in the sport may be unrealistic but he has already begun to pass on his expertise the next generation of the nation's aspiring fighters.
"I'm planning on heading out to Thailand again next year and I know I'll always be welcomed with open arms," he added.
"I'd love to pack up, move to Thailand and pursue a career in Muay Thai but I have a job here and need to earn a proper living.
"It is more of a serious hobby but I've already started training people and some youngsters in the sport to try and help encourage Muay Thai in Bermuda."