We won both Iron-Chef style cook-offs
Created: Mar 15, 2011 10:00 AM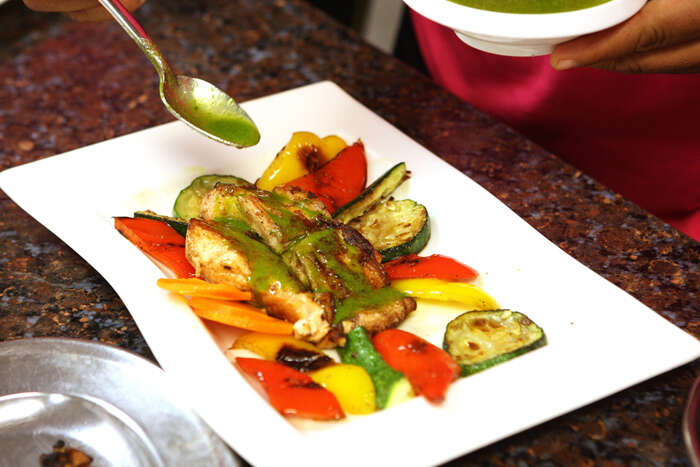 Last Tuesday night was an emotional experience for some of the 100-Day Challenge contestants. Of course, I'm referring to the first elimination night that was held at the Reefs Hotel. There were surprises, tears, accusations and heated exchanges after the judging took place.
I'm not going to reveal too much about what happened that night, so please tune in to tonight's show on ZBM TV9 at 8pm. You truly won't be disappointed!
There has been a lot of reaction and feedback made on the web, that the elimination was just another slap in the face to a certain group of people that again have faced discrimination and rejection because of their weight. Sadly, yes it's true that society looks at obesity and overweight people as social rejects outcasts to put it bluntly.
Women especially have been bombarded with those glossy fashion magazine cover shots of anorexic models and made to believe that this is what they are supposed to look like in order to be accepted and respected. We know that overweight people face discrimination daily in the work place and in public. Why is this happening?
Is it because we have only one real responsibility in our lives and that is to look after ourselves? Unfortunately, we are often judged by how we look namely by how much weight we carry around and it is thought by some people that if we cannot control our weight, then how can we have control over our lives or other responsibilities. Is it right to think this way? It doesn't really matter, you're not going to change society's point of view overnight.
But "hello" it's something we can change if we want to. Being overweight is a personal choice with a few exceptions, but generally it comes down to the complete disregard of our bodies and laziness. How do we become a nation where 20 percent of our young Bermudians are overweight or obese, a quarter of Bermudians are considered overweight. Bermudians have twice as many amputations per capita due to diabetes than the rest of the world. Think about it. Those statistics are really horrifying!
So I say if you don't like getting picked on, ridiculed, made fun of or feel that the world has been unkind to you, then do something about it! No, it's not easy. Of course it's not easy, but then nothing worthwhile is. I'm thrilled to say most, if not all of the contestants of the 100-Day Challenge, are doing something about it. There are some amazing weight loss numbers coming out of the event I've heard of 20, 25, 30 pounds being lost. Yes, incredible efforts being made here ends my rant.
This past weekend our training wasn't all running, push-ups, etc. We had two Iron-Chef style cook-offs. Not just any cook-off, but healthy ones.
Saturday:
Location: Beau Rivage Restaurant at Newstead, Paget.
Logistics: Three teams, three fish, three head chefs and three judges.
Basically, there are three different types of fish to choose from salmon, mahi-mahi and rock fish plus a bunch of other ingredients consisting of red and green peppers, mushrooms and the like. Total weight loss per team so far determined which team got to pick their fish first and invent and cook a healthy dish from it.
My team ,'Sea View', were the last to pick the fish and to my surprise we were left with the rock fish. A delicious fish if done right, but there's a fine line between a moist fish and a piece of leather if it's not cooked right.
We picked the rest of our ingredients and started to discuss how we were going to put this meal together. Before we even started we had two major advantages.
One was that Chef Enworth Davis had been assigned as our head chef. Chef Davis, who worked at Beau Rivage, was a born teacher.
He was told he could guide us, but could not prepare or cook the meal.
Our second advantage was that team member Danika Pereira was a trained chef. I first met Danika in Grenada when the Bermuda Regiment went over to help in the restoration of that island after it was devastated by Hurricane Ivan.
The cakes and breads that she managed to make in the back of a blown apart building were famous throughout the camp. So it was a no-brainer to take her lead. We came up with low-sodium soy sauce marinated sesame crusted rock fish served with julienned red and green peppers, carrots, ginger garlic and grilled baby bok choy and zucchini.
I've watched many cooking challenges on the Food Network and every one ended with the quote: "The time just got away from me."
It was amazing because it really did. There I was cutting the veggies julienne style that means sliced very thinly; here ends the condescending remarks when we were told we had 15 minutes left.
I had spent the last half hour cutting the vegetables. Fortunately the rest of the team had everything under control. We are good to go veggies sautéed, snow peas blanched, rock fish seared and bok choy grilled. What a work of art! We presented it to the judges and the verdict? Yeah, we won!
Sunday:
Location: Muse Restaurant, Front Street, Hamilton.
Assignment: Sushi.
Okay, I've never done this before. Love the stuff and watch intently as it's being made but never attempted it myself. If I had known how easy it was to make, I could have saved myself a lot of money. We had a little hiccup at the start of the cook-off no fish for the Sushi!
With fish planned as our main ingredient, it could have been a problem. A convoy of vehicles rushed down to Beau Rivage to pick up the fish. It wasn't long before we were given a quick demonstration on how to make a California roll and sent on our way. Our workstation was actually set up on the sidewalk on Front Street. It was a first for me!
We had to make two of the signature dishes and create a third. It was not that easy I started to feel nervous about 'rolling up' on Front Street with police cars driving by.
But we stood there stuffing red and green peppers with cream cheese, wrapped up in rice and Nori paper that's Japanese seaweed paper for the uninformed and that really was the last condescending remark, honestly.
The second roll was basically the same but we used tuna and sticky rice on the outside instead of the Nori stuff. For our own creation we decided to replace the tuna with salmon. We added pickled ginger and peppers and plated it with a little drizzle of hot sauce, and wasabi for presentation then handed over the plate to the judges.
Verdict: I'm not bragging or anything, but we won that one too!
Finally, I'd like to thank Tamell Simons of
The Royal Gazette who stayed through the whole production on Saturday morning. Nearly four hours' photographing and videotaping. So please check out the Gazette website to see what he produced.