A true master of his craft
Updated: Mar 25, 2011 09:48 AM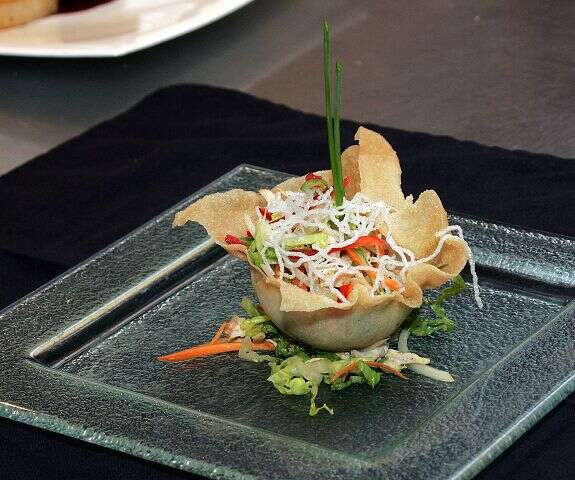 When The Reefs resort's new executive chef Jason Koppinger says his kitchen is not a democracy he's joking in a dead serious kind of way.
Chef Koppinger joined The Reefs a few weeks ago to oversee the running of their three restaurants: Coconuts, Ocean Echo and Royston's.
Although The Reefs restaurants were already known for their tasty food, Chef Koppinger was determined to make the food and service even better.
"I never try to be like the chef [Gordon Ramsay] in Hell's Kitchen, but every now and again it comes out," he said with a laugh. "But I always tell people, the kitchen is not a democracy. It is my way, or no way at all.
"You need to have a cohesion between the front of the house and the back of the house. It is like an orchestra.
"The guests don't know what we do back there and how it all works, but we have to have that even flow.
"The quality of the food here has always been up to par, but what we do with it next will be the next thing.
"We are going to take the same foods always available to us but do different things to it. We also want to get our staff more excited about what they are doing."
An acclaimed culinary professional, Chef Koppinger has appeared alongside Food Network superstar Bobby Flay in 'Iron Chef America: Battle Broccoli'.
He has also appeared on Food Network's 'Chopped' series and holds top credentials from The Culinary Institute of America, the American Culinary Federation and The French Culinary Institute. In 2006, he made history when, at the age of 30, he became the youngest certified master chef (CMC) in the United States the highest professional distinction and one that only 66 chefs have earned.
Chef Koppinger told The Royal Gazette that he was lucky enough to get an executive chef position early on in his career, which made him eligible for the CMC designation.
He then had to take a difficult, five-day examination.
"To be honest, I didn't expect to pass it the first time," he said. "Most people don't. Then later they called me and asked me how old I was. I said 30.
"They said that made me the youngest person in the United States to get the CMC. When you get your CMC you can practically pick the job of your choice."
He picked Bermuda because of its easy flight to Miami, Florida, where his mother resides. He was born in New York City, and raised in Trinidad and Florida.
He has a varied background including German, Trinidadian and Indian roots.
But he said his cooking is probably most influenced by time spent working as a chef in Tahiti in the South Pacific.
"I am especially influenced by the flavors and diversity of Asian cuisine, which I try to blend into locally-sourced foods and seasonal offerings," he said. "I have no speciality, but I always draw on my Caribbean roots and French cooking background.
"I try and pull all those together. Being part German, Italian and Indian I grew up around food. Food was always at the centre of everything."
He originally wanted to be a doctor and received his first degree in biology, which he said actually helped him quite a lot in cooking.
"At the end of the day I think having a degree in biology has given me a better understanding of how things work," he said. "I am a scientist and I always try to think of things like that.
"I try to think of what reacts with what. Right now, in the culinary world, we are really into molecular gastronomy, and using different chemicals to get different outcomes from food. it makes a big difference."
Prior to joining The Reefs he was the executive chef at the Westin Casuarina Resort and Spa in the Cayman Islands where he earned the honor of Chef of the Year on Grand Cayman.
His extensive culinary experience also includes executive chef positions at The Outrigger Keauhou Beach Resort on Kailua-Kona, Hawaii, and Royal Caribbean International.
He said as soon as he arrived in Bermuda, he knew he was in the right place.
"I am loving being in Bermuda so far," he said. "As soon as I got here, I just knew I was going to be happy working here for a number of years. You know how you get that feeling?"
He has worked on cruise ships which cater to thousands of passengers at a time but in some ways it is harder working at a small resort.
"Believe it or not an operation like this, as small as it is, is tougher than running a cruise ship with 5,000 passengers," he said. "A cruise ship never stops, whereas a place like The Reefs, with only 90 rooms or so, has peaks and valleys of business.
"We will have times where we are not really busy and then boom in two days we will go from 30 percent to 80 percent occupancy. It is sometimes hard for people to adjust to the sudden increase in pace. The guys need to always be on their A game.
"The advantage is that on a small scale like this there is a lot more interaction with the guests. You get to meet everyone and talk to everyone. I am here every night."
He said there were some cool new things in the works for The Reefs including cooking classes and demonstrations for the general public, special wine dinners, and even tapas on the terrace, among other things.
Useful website: www.thereefs.com.