Hyberbaric unit open house for divers Under Pressure
Updated: Mar 29, 2011 09:49 AM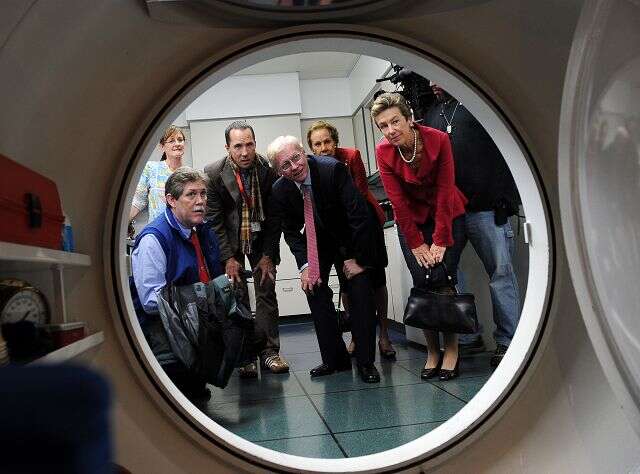 Sitting on your couch watching ocean life on TV doesn't yield the same excitement as actually being underwater with the fish and corals and well, all that sea life. But being on your couch you also don't have to think about your breathing. If you see something amazing you can gasp, you can hold your breath. You can stay on your couch all day and watch this stuff, then simply get up go to your fridge and get some snacks. This action is unlikely to make you sick or kill you.
When you are diving you have to pay attention to where you are, how long you've spent there and be extremely careful in leaving.
Still the firsthand underwater experience will always attract divers. Every year the Bermuda Hospitals Board has a dive safety campaign. Organised by staff of King Edward VII Memorial's hyperbaric chamber, the campaign always features a visit to the hyperbaric unit a pressurised chamber vital for treatment of divers who suffer decompression sickness (the chamber is also important for wound care, but that's another article).
"Every year we show people the chamber and how it works," said hyperbaric safety officer Daniel Gericke. To keep divers returning for the basic safety training year after year, KEMH also includes presentations by staff physicians on different aspects of diving.
This year's open house will take place on Friday at 7pm. Pete Malan will talk about the use of medications while diving, and Graham Maddock of Bermuda Triangle Divers will discuss the dangers of mixed-gas diving. There will also be a presentation on shallow water blackouts.
How does decompression sickness occur?
Our bodies are designed to breathe freely on land. Once we go underwater there is a change in atmospheric pressure. The pressure increases the further down we go. Scuba divers take tanks of compressed air with them to breathe while underwater. The air contains oxygen and nitrogen (it may also contain helium). Oxygen breathed in is necessary for the body's cells to function and gets used up, nitrogen however gets stored.
The deeper we dive the more nitrogen from the compressed air moves through the lungs and into the blood and body tissues. The longer we stay in the deep, nitrogen dissolves and accumulates first in those tissues with the most blood flow, eg the brain, and more progressively the fatty tissues of our bodies.
On longer dives some or all of these tissues become saturated with nitrogen and will not accept any more.
As we swim back to the surface, there is a delay before saturated tissues start to release nitrogen back to the blood. This is what causes decompression problems. As indicated by its name, the problem is in decompressing, moving from high pressure to low.
When a critical amount of nitrogen is dissolved in the tissues, a reduction of pressure, caused by moving to the surface, induces the dissolved gases to be released or 'outgas', and form small clustered bubbles in tissue cells, tissue spaces and blood. Ascending too quickly causes the dissolved nitrogen to return to gas form more quickly increasing the number and size of the bubbles. This return-to-the-gas state happens while the nitrogen is still in the blood or tissues. This causes the characteristic decompression sickness pain and can also damage cells.
"Everybody uses diving tables so everybody knows if you dive to a certain depth for a certain amount of time and then come up, you have to stop at decompression stops in the water to offgas the nitrogen that was being stored in your tissue," said Mr Gericke.
"The longer we are submerged the longer we have to stay in the water to stop and offgas the nitrogen through our lungs."
Offgassing is achieved by normal breathing through the lungs. Mr Gericke warned that although the bubbles might be quite small when we are in deep water, that they will change.
"When you come up, that bubble is going to get bigger and bigger," he said. "It gets stuck in your joints and can be very painful. If you get any of the gas in your blood it can go to your knees, your arms, your spine. Hopefully it won't go to your brain, that's the most serious form of decompression sickness arteriole gas embolism."
Hyperbaric technicians said an average of three people each year have been treated for decompression sickness in recent years.
Mr Gericke said the condition often sees divers feeling fine right after the dive, but then experiencing a throbbing pain in a joint that intensifies with time. He said treatment, as soon as possible, is best as the gas bubbles cause cellular damage. Treatment is usually a few sessions in the hyperbaric chamber. The average session is four hours and 45 minutes.