Pair honoured for their work with youth
Updated: Nov 22, 2011 08:08 AM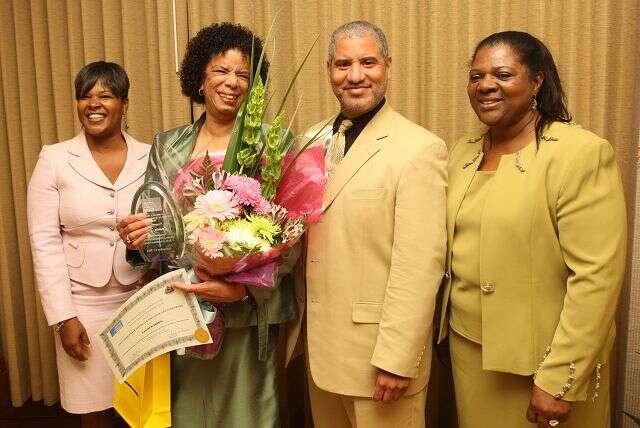 When you work with young people, there's not a lot that surprises you, but two youth addiction workers were blown away when they received awards at a special awards ceremony held at the Elbow Beach Hotel.
Youth addiction counsellor Lauren Trott was named Substance Abuse Counsellor of the Year by the Bermuda Addiction Certification Board, and Shavana Wilson was named Drug Abuse Prevention Specialist of the Year, for the second year in a row. Ms Trott works with Bermuda Youth Counselling Services and Ms Wilson works for the Department of National Drug Control (DNDC) as a drug prevention officer.
Both ladies told
The Royal Gazette they genuinely cared for the people they worked with who ranged from children to young adults.
"I began my journey in 1989 at addiction services," said Ms Trott. "I fell in love with counselling and went to the United States in 1990 to study and I was there for ten years. I studied drug addiction and counselling in Bermuda, the United States and Denmark. There was a course that Rutgers University was offering in Denmark, so I went."
She has now been the programme manager of Bermuda Youth Counselling Services for the past eight years, working with young people from 13 to 24-years-old.
Both professionals said young people today present new challenges. They are often distracted by an onslaught of technology such as computers, television and cell phones, so sometimes just getting them to listen takes a tremendous amount of patience. They are also often troubled by trauma at home or in the community.
"We just can't give up," said Ms Trott. "We generally care about the people we service. Our clients sometimes (metaphorically) sail into a series of trials, and these trials increase from gentle breezes to category five hurricanes. We have to try to calm people's lives or empower them to be calm so they can focus and become what they were created to be. I believe that each one of us was created to do something significant with our lives but if we are distracted by everything that is going on, we just spin our wheels."
Young people today are also hip to a lot of the counselling lingo. For people who work with youth, it sometimes feels like children already know it all.
"I know, I know, I didn't make good choices," one teenager told Ms Wilson. "I just need to make better decisions."
Her words parroted a now popular refrain that there are "no bad people, just bad decisions".
"You have to be on the cutting edge and constantly think about what you can do," said Ms Wilson.
As a result Ms Wilson works with a number of creative programmes targeting young people. The newest one, 'Als Pals: Kids Making Health Choices', works with children aged three to eight-years-old.
"The preschool programme is based on building resilience," said Ms Wilson. "We tell them when you see an adult smoking something, that is what the adult does, but not what you do. We use puppets and a lot of hands on stuff. The activities are developmentally appropriate for that age. We provide training for teachers. They learn how to respond to that age group and the questions they ask. Children will go home, and they share what they learned with their parents."
She said, based on feedback from teachers, many children are seeing too much (in terms of substance abuse and negative behaviour), too early. Ms Wilson also helped to pilot an anti-substance abuse after school programme in several middle schools on the island. She is partly inspired by similar programmes started thirty years ago.
"I started working in the field in the 1980s," said Ms Wilson. "I was working as the administrator for the office. I fell in love with the field of prevention. During the 1980s there was a time when programmes were being introduced to Bermuda like 'Youth to Youth', and 'Pride'. Those are the ones that are still in existence now. There were a few others. Those persons who attended those programmes are successful as a group. Those children learned early to make the right choices. A lot of them come back and help now and then. You make friends for life in the field of prevention."
Ms Trott said the numbers of young people struggling with drug addiction are growing. As a result, her organisation has seen tremendous growth in their programmes at Bermuda Youth Counselling Services. They recently moved to a new office and their staff numbers jumped from three to 13 people. They have also just begun a partnership with the charity Caron Bermuda.
"We provide outpatient group therapy for young people and their families," said Ms Trott. "Young people tend to respond well to group therapy. They are not as forthcoming with their thoughts in individual therapy. We have to be very creative in individual therapy. You sit down with an adult and begin to build a rapport. You let them know that you are going on a journey to get where they want to be as far as wholeness is concerned. With young people they have a vision that is quite different from an adult, because maturation hasn't always kicked in yet. I find in groups they work with each other and solve their problems a lot quicker."
Bermuda Youth Counselling Services also runs a family treatment system that provides assessments and recommendations for families that works specifically with gang related situations and individuals. They also have lifeskills groups at CedarBridge Academy and The Berkeley Institute, and a parent group in the evenings.
Ms Trott said a lot of parents mistakenly think that if a child's home life is stable, they won't get involved with substance abuse. She said another misconception is that smart people or young people with good grades don't abuse drugs and alcohol.
"Twelve years ago I was working in a correction facility in New Jersey," she said. "This young girl came through with the drug programme. She was about 30-years-old with a degree in geology and she was strung out. She just was having a difficult time and wanted to see her life turned around. You always think you have heard all the stories, but there is always another one. It doesn't matter what your IQ is, a lot of time it is what your emotional intelligence is."
For more information about Bermuda Youth Counselling Services telephone 294-9363 and for the DNDC control telephone 292-3049. Also see their webpage on the government portal at www.gov.bm .