Myrtle Beach step up a gear
Updated: Mar 14, 2012 08:53 AM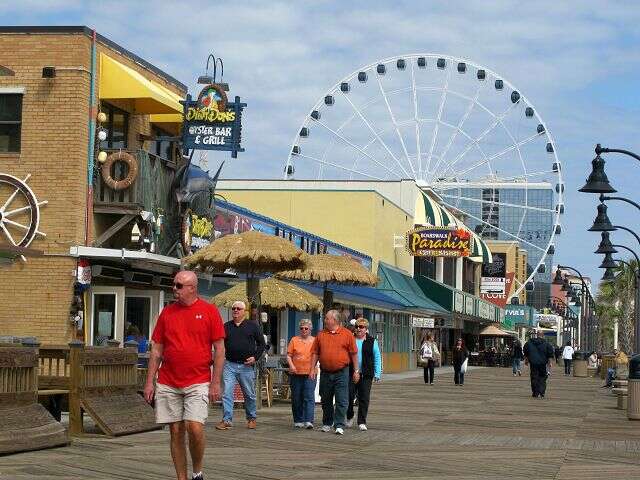 MYRTLE BEACH, South Carolina (AP) Free falling from a 60-foot (18-metre) tower, slipping down an oceanfront zip line or fighting through a curve in a car once driven by a NASCAR great are among the new attractions that will greet visitors to Myrtle Beach during a new beach season.
There are also improvements to one of the area's most popular piers and, for a change of pace, a yearlong celebration marking the local art museum's 15th anniversary.
Myrtle Beach is located on South Carolina's Grand Strand, a 60-mile (96-kilometre) reach of beaches along the state's northeastern coast that attracts about 14 million visitors a year and is the heart of South Carolina's $14 billion tourism industry, one of the largest industries in the state.
While the beach is the big attraction, many folks also find time to swing golf clubs at one of the area's 102 courses. For those who like windmills in their fairways, there are also about 30 miniature golf courses.
This year, one of the most visible changes is the zip line and free fall tower being built in the centre of downtown on a vacant tract where the Myrtle Beach Pavilion amusement park stood for decades.
The new Myrtle Beach Adrenaline Adventures attraction, opening in April, will allow daredevils to leave a platform 40 feet above the ground and, as they look out over the grey-green Atlantic, zip 600 feet to another platform 20 feet lower.
"Zip lines are becoming very popular. People just enjoy the fly," said Shane Bull, an owner of Adrenaline Adventure Courses, which operates another zip line near Mammoth Cave, Kentucky
The Myrtle Beach attraction has another free fall jump in which patrons jump off a 60-foot platform and free fall until they are slowed in their harness near the ground.
Bull's company plans a second zip line this one a course where customers can zip between four towers on the south end of Myrtle Beach. He said it should be open by Memorial Day.
The NASCAR Racing Experience comes this year to the Myrtle Beach Speedway just across the Intracoastal Waterway from downtown. Also opening next month, it will make it easier to get behind the wheel of a car that was once driven by a NASCAR driver like Jimmie Johnson or Jeff Gordon.
Based in Charlotte, North Carolina, the company offers its classroom training and track driving experience at 10 NASCAR tracks around the country. But because it now owns the Myrtle Beach track where NASCAR drivers drove decades ago, it will be more accessible to would-be stock car drivers.
"If you come off the beach and you want to drive a race car, you can come up here," said Bob Lutz, the president and CEO of the company. "We would like people to make reservations but we will accept walk-ups. In other locations like Charlotte, we fill up the experiences two or three months in advance. Here we will have a lot more flexibility."
Last year, about 70,000 people participated in the NASCAR Racing Experience at the other tracks. This year, in Myrtle Beach alone, Lutz expects 40,000. His company is planning several million dollars in upgrades to the track during the next three years and plans races and other events beyond the driving experience.
About 75 percent of those who sign up for the experience are men. But the Myrtle Beach Speedway is in an ideal location with the Tanger Outlets complex just across the street, Lutz said. Couples and families can split up and take their pick, with shoppers heading to the nearly 100 stores and thrill-seekers taking on the challenges of the speedway's half-mile oval.
For those wanting a more sedate beach experience, the Franklin Burroughs-Simeon Chapin Art Museum is celebrating its 15th anniversary with a year of events, including plans for an art-themed miniature golf course, collector's events and runway fashion competitions.
The museum is located on the south end of Myrtle Beach in a beach house once owned by Elliot Springs of Springs Industries. Built in 1924 in the city's north end, in 1984 it was moved eight miles to its current location. It expanded and opened as an art museum 15 years ago.
Just outside the museum is the popular Springmaid Pier, the longest pier in the city at more than 1,000 feet with sweeping views of the Myrtle Beach oceanfront. Both the pier and its restaurant, BARnacles, have recently undergone renovations.
In downtown Myrtle Beach, the iconic Peaches Corner restaurant near the new zip line has undergone renovations and now features a new facade with a giant spinning peach.
If you go...
MYRTLE BEACH ADRENALINE ADVENTURES: Located at Ninth Avenue North and Ocean Boulevard. Planned opening April 1.
MYRTLE BEACH AREA CONVENTION AND VISITORS BUREAU: http://www.visitmyrtlebeach.com/
PEACHES CORNER RESTAURANT: Located at Ocean Boulevard and Ninth Avenue; http://peaches-corner.com/.
SPRINGMAID BEACH PIER: Located off South Ocean Boulevard; http://www.springmaidbeach.com/amenities/springmaidpier/.
TANGER OUTLETS: Located on U.S. 501 north; http://www.tangeroutlet.com/myrtlebeach501.
ART MUSEUM OF MYRTLE BEACH: Located at 31000 South Ocean Blvd.; http://www.myrtlebeachartmuseum.org/
NASCAR RACING EXPERIENCE: Located at Myrtle Beach Speedway off U.S. 501 north of Myrtle Beach; http://www.nascarracingexperience.com/NRE/, Opening April 18.