A unique approach to teaching
Updated: Apr 09, 2012 09:13 AM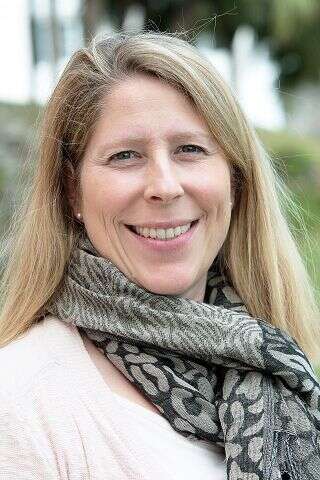 Karolyn Lack has wanted to be a teacher ever since she was five-years-old, when she had a classroom of pretend students in her basement in Canada.
Her interest never waned. On completion of her studies she worked for ten years in the Ontario school system before moving to Bermuda with her husband.
In February she became director of experiential learning for Bermuda Education Network.
"I always liked to guide and impart knowledge," she said. "I like when you see the light bulb go on; it is a great feeling. I like dealing with students. They are little sponges and they want to learn."
BEN was started by Becky Ausenda to bring various community organisations and schools together to better meet students' needs. One of their initiatives has been the Art and Me programme that allows students from Gilbert Institute to take art lessons at Masterworks Foundation, Kaleidoscope Arts Foundation and the Bermuda National Gallery. The idea is to eventually expand the programme to other schools.
An exhibit of the students' work is now on display at the Bermuda Society of Arts Gallery until Wednesday.
"In Bermuda, I wanted to continue with education, but I wanted the flexibility with my home life," she said. "I am the mother of two children, one five years old and the other seven. I needed flexibility in my job, and the job at BEN suited me perfectly. I don't miss teaching in the classroom. I was more of a leader in the school as opposed to working in the classroom. That is why I use a lot of my strengths to help support teaching."
When she tells people she is the "director of experiential learning" she gets some raised eyebrows and there is frequently some misunderstanding about what it is she is doing.
"Experiential means hands-on type of learning," she said. "We use different and unique strategies to help children learn."
Through the Art and Me programme, not only do students get extra art lessons, but their teachers learn strategies for incorporating art into different classes such as maths, science or social studies. For example, one science teacher took what she learned in Art and Me and created a habitat out of an old refrigerator box and placed it in the school hallway for the children to enjoy, and pique their interest in science.
Mrs Lack said the schools are very open to what BEN is doing. The idea for the Art and Me programme came from discussions with the former principal at Gilbert Institute, Eunice Jones.
She felt there was a need for more art in the public school system several public primary schools were sharing art teachers, and the curriculum did not give much weight to art.
Ms Jones also wanted her teachers and students to go beyond the classroom; Art and Me became a field trip programme as a result.
"Through that collaboration, we developed this Art and Me programme," said Mrs Lack. "We are also trying to link various community organisations with the Ministry of Education objectives and the school curriculum. We have just set up a new website, so that if a teacher is looking for somewhere to take their child on a science field trip, for example, she has her options at her fingertips on our website."
An average week for Mrs Lack sees Friday afternoons spent in classrooms at the various art organisations involved. She facilitates, and also just acts as another pair of hands. Last week she met with the Bermuda Education Council subcommittee now preparing for a professional development conference in April.
She also met with the St George's Historical Society to talk about their programmes.
"They wanted to develop programmes for children," she said. "I gave them a format to do that. They went over to one of the schools to get the social studies curriculum to see how they can link up with that. They also borrowed copies of text books from the school."
Judging by what she has seen in the classroom, and also the artwork in the current exhibition, she said it is pretty obvious that the students love the programme.
"The students can be really creative in terms of art," she said. "Through art, students have an alternative way to communicate and a different way to express their individualism. For example, the exhibition that is going on at the BNG with Jamaican artist Ebony Patterson is all about self-expression and clothing in Jamaica dance hall culture. We took the children out to Victoria Park. The children designed their own clothing and put their own being and bedazzle on it and wrote their own statements about how they feel as an individual. It is a different way of bringing out what the children need to learn."
In her spare time she loves reading and belongs to a book club comprised of a group of friends. She also enjoys sports and is a road runner. She has run various charity road races and taken part in International Race Weekend.
Useful website: www.ben.bm.