Trip to the dark side a voyage of discovery for Eva
Created: Apr 23, 2013 09:00 AM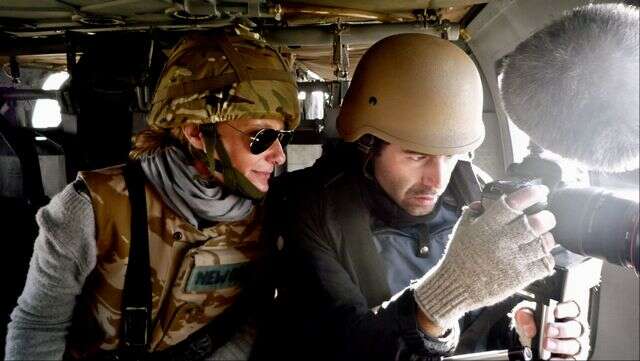 It was an exciting moment when film producer Eva Orner was called up to the stage to receive an Oscar for her work in the documentary 'Taxi to the Dark Side'.
The self-described "girlie-girl" had the chance to borrow a beautiful designer gown and wear diamonds for the occasion. She was even able to accept her 2008 Academy Award for Best Documentary from Oscar winner Tom Hanks.
But she said the glitz and glamour of Hollywood was typically very far removed from what she does as a documentary film producer.
Ms Orner was recently on Island serving on the judging panel for the Short Film Competition at the Bermuda International Film Festival.
The producer said it felt surreal to be at the Academy Awards ceremony, but the accolade provided new opportunities in her career.
"I think it's interesting because when you win an Oscar for a feature documentary, it's not like you are a recognisable person," she said. "It's not Best Actress or Best Film. You are not a celebrity and [producers] are all very aware of that and very down to earth.
"'Taxi to the Dark Side' was a very serious film, so sometimes it felt a little bit odd being in such a frivolous situation when it was such a high stakes, meaningful film.
"But [getting an award] is incredible for exposure and great for your career and [it's] really fantastic to be known as an Oscar-winning producer or filmmaker; that opens a lot of doors."
She said the award meant that people in the business took you more seriously and wanted to hear your ideas, but didn't necessarily mean your films would be automatically financed for the rest of your life.
As a youngster, Ms Orner never imagined a career in film would be possible and actually aspired to be a lawyer.
She attended a conservative, academic school called Mt Scopus Memorial College in Melbourne, Australia. But as fate would have it, she started hanging out with the filmmaking crowd.
"I started making films in college and when I was 23 years old I produced my first documentary ['Untold Desires'] with a friend I met at university. We were really lucky we got it financed really easily and it was about people with disabilities and sexuality.
"It was pretty out there, won tons of awards and sold really well internationally and it was really successful. And it was kind of a crazy way to start because we were quite young and didn't know very much."
Her early upbringing played a small role in shaping her suitability for the film business. Her parents, both Jewish, were born in Holland in 1937. Most of her family died in the Holocaust.
"I had one surviving grandparent and really very few cousins from two very big families on both sides," she said. "And I think culturally growing up that I was very aware that bad things happen to good people.
"I also remember being very aware of injustices and that they happen all the time and I think that must have informed me."
Because of her background, Ms Orner said she might seem like the least likely person to want to travel to fundamental, war-torn Islamic countries, but she has developed a love for the region.
'Taxi to the Dark Side' (directed by American Alex Gibney) tells the true story of an Afghan taxi driver named Dilawar, who was beaten to death by American soldiers while being held in extrajudicial detention. It examines US torture practices used in Afghanistan, Iraq and Guantánamo Bay.
Ms Orner wrote, produced and directed her latest documentary, 'The Network'. It tells the story of NOLA TV, the largest television network in Afghanistan, and how media in that country work to bring about social change.
There wasn't any media allowed in Afghanistan under the Taliban, until one business-savvy family decided to start a radio station and then a TV station.
Ms Orner's next project is about gay Iraqi refugees trying to get to America. She said the worst places in the world to be gay are Uganda and Iraq where they kill homosexuals "very freely". After hearing the story of two young Iraqi men who met and fell in love, she had to tell their tale.
She finds the Middle East a fascinating region and filming there has also taught her a lot about herself.
"It really gets under your skin and just changes the way you see the world and live your life. That's why I do what I do," she said.
"You just get to know people who have been through so much and suffered through so much after 30 years of war. I am 43 years old, so someone my age [in that area would have] had a really tough life. I just can't imagine what that is like."
She said many of their stories have stuck with her and she feels compelled to share the information with the rest of the world.
She described the people she has met in parts of Afghanistan as "brave, courageous and resilient" and hopes the film will bring about change that will help them in the future.
"I'm a bit of a softie and a bleeding heart kind of person and I definitely feel a responsibility when people share their stories with me. If there is a way I can help them I will," she said.
Ms Orner said she is proud of every film she has worked on, although one can always look back with the knowledge of time, and think of ways you could have made it better.
"When you are in it sometimes it's hard, it's like with anything. But I never look back and think 'It's a masterpiece, it's perfect and amazing'. I just say I am glad I was a part of something and I think it was a good thing to do."
She said she has recently discovered a new passion for directing and hopes to continue on that route. 'The Network' premiered last month at the South by Southwest Festival; it recently screened at BIFF and will be released in the US in the autumn.
She said there was some added pressure when you do everything yourself because there is no one to hide behind if a film is not well received.
"The buck stops with me," she said, with a laugh. She had to come up with the idea for the film, convince the real-life players to be in it and raise the finances herself.
It was also just her and the cinematographer who travelled to the Middle East to work on the project.
"Our crew was really small because it's really dangerous in Afghanistan and I didn't want to take a lot of crew and be responsible for them," she explained.
"Also it's very hard to shoot in the streets with a lot of people. People come up to you all the time with guns and scream at you and tell you to stop filming and I just thought a very small crew would be better."
She described 'The Network' as a "very much a handmade film", but said it was also something very personal to her.
Documentaries were "great" because they have the power to educate, pass on opinion, shock, expose or fight corruption, she said.
They can also show you the world or paint you a picture, she said.
"Of course not as many people see docs as blockbuster films, but I think it's great there's a hungry audience worldwide for docs and there are festivals which show them and television stations that buy them.
"I hope people watch the films I have been a part of and are either moved or provoked or changed by them. I don't like to overstate the power of filmmaking, but I always think if you change or start a dialogue about something or change the way one person thinks then that's a great thing and with docs you can do that on a larger scale if they are good."