Pat's book is 'one of a kind'
Created: May 04, 2013 09:00 AM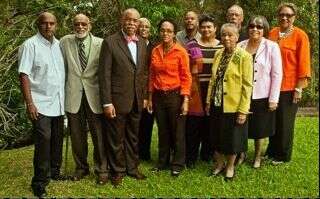 Having spent the past week reading from cover to cover Patricia 'Pat' Hall's book 'Fond Recollections' of Prospect Secondary School for Girls (PSSG) I have come to the conclusion that it is a 'one of a kind' work. It should be required reading for those in positions of authority, official or otherwise, involved with students and programmes existing in our school system. And certainly would be most insightful helping parents and guardians determine whether or not their offspring are getting good measure in the schools of their choice
For generations the quest to perfect a sound and dynamic public education system has been a hot button political issue. We can start from the current OBA Government, going backwards through the Progressive Labour Party and the decades, generations before the advent of party politics, examining how the quality and standard of education one received was predicated upon both class and race. It was predicated on a ruling colonial mindset that black boys were intended to be hewers of wood and drawers of water; and girls even more restricted, destined to be housekeepers, cooks, maybe teachers and nurses.
For the last 50 years public education has been through a metamorphosis ranging from a highly racially segregated system of the 1950s to a racially integrated system of the 1960s, and on to a two-tier private versus public school system of the 1980s and beyond.
Prospect Primary School for Girls emerged against an historical backdrop with the elite Berkeley Institute for education of black students. There was Bermuda High School for Girls and Saltus Grammar School for education of the indigenous white Bermudians and the transitory colonial patriots who travelled from the mother country in the UK. After all Bermuda is Britain's oldest colony
Pat Hall has not set out to produce a dissertation on politics in Bermuda with special reference to a seemingly never-ending, educational mix-up. She merely tells her own story. Likewise, she has compiled recollections of teachers and students making up the sisterhood of PSSG, over its 30-year existence.
Alumnae tell their 'then' and 'now' stories illustrated with fantastic photographs, all proving theirs was a unique, awesome and vibrant school. Teachers also write their stories. All fascinating and intriguing.
PSSG was located in the old, damp and cold former British barracks, Pat relates, adding, it was not conducive to learning. The buildings did not have the facilities and amenities that are standard in our schools today. Without alluding to the official mindset. Without any reference to the studied Colonial mindset that launched PSSG in the first place, as I stated in the opening paragraphs above, Pat details in her own words, some of her motivating factors.
She states: "Take a walk through the corridors of major institutions in Bermuda and you will encounter PSSG students......still shining, serving and leading. Our alumnae can be found in numerous careers from medicine to personnel.....having a profound impact on every facet of Bermuda, civil servants, politicians, teacher, nurses accountants, entrepreneurs, journalists."
While Pat did not single out any of the foregoing for special mention, this writer has undertaken to cite in passing, a few whose careers I have seen blossom over the years. There's the President of the Bermuda Senate, Sen. Carol Ann Bassett, and her career in the insurance industry, former Cabinet Minister MP Neletha Butterfield, MBE. Also Judith Hall Bean, Assistant Cabinet Secretary, the second highest position in the Civil Service. There is also Anthea (Rogers) Earls, whose 30-year broadcasting career began in Bermuda soon after graduating from PSSG, continued with NBC and ABC in New York and CNN headquarters in Atlanta. Also Frances (Jordan) Eddy, of CURE (Citizens Uprooting Racism in Bermuda) and the founder and owner/manager of Bermuda Farmers Market. Also Lynn Wade, Administrative Assistant to the Senior Medical Officer in the Ministry of Health; Rev Judith Ann Marie Gardner of the Department of Court Services who is senior associate Pastor of St Paul AME Church. And continuing, mentioning only a few, Miriam Isaac Rogers, admitted to Bermuda Bar as a Barrister and Attorney, now Assistant Parliamentary Counsel in the Attorney General's Chambers.
Pat states at the outset of her book that PSSG was not her first choice or a high school education. She was born November 21, 1945, the second eldest of seven children of the late Bishop Charles Foster (Holy) Fubler (a cousin of this writer) and his wife Phyllis Louise. There was a perception in the community that it was just another secondary school where girls would only learn to sew, have babies and move on. Little did they realise we were excelling in the academics, functioning just as well and even better than the elite schools.
Some girls who were not doing well at other schools transferred to PSSG and succeeded. Stories abounded that some of our teachers were being persuaded to leave us and join other schools. Stories abounded that teachers in other schools would warn their students they would be transferred to PSSG if they did not improve — as if that would have been a bad thing, Pat emphasises. Senator Bassett was aged 13 when she transferred from another school in St George's where she was the target of a nasty bully who went out of her way to make her life miserable.
However, she wrote: "My first day at PSSG was frightening. I had heard lots of stories about 'this girls school where everybody got pregnant', which of course was totally untrue. "
Pat declares unreservedly that her book is dedicated to the first headmistress of PSSG, Dr Dorothy Thompson, describing her as an intellectual, spiritual and powerful woman, and an efficient school administrator. She also names other teachers.
However, there are two teachers who seemingly have been given immortality through the book, being mentioned on page after page by students crediting them for the impact and influence they had on their careers. They are Mrs Georgine Hill, the art teacher, and her sister-in-law Miss Carol Hill. Speech and drama teacher Mrs Hill is cited as an excellent, genuine, well spoken, confident, well dressed teacher who passed her qualities on to her students easily and most effectively.
Miss Hill worked diligently getting students to master the art of speaking well. Speech training was a required subject for every girl. Classes were devoted to oral interpretation, choral speaking, informal debating, public speaking, organising club meetings with emphasis on Parliamentary procedure. Miss Hill's Theatre Arts programme was most popular with senior students who displayed a wealth of talent.
Miss Hill was awarded an MBE in 2002 for her services to education and the arts. Years earlier she was awarded a Queen's Certificate and Badge of Honour for over 36 years in education as the first speech and drama teacher in the government high school system, nearly all at PSSG.
Pat was unsparing in her praise of David Wellman of OMAX Graphics, Ltd, for the design of 'Fond Recollections', and to Bob Croft of Total Print Solutions for what is a first class, locally produced 'one of a kind' book, preserving the rich legacy of PSSG during its existence from December 1957 through to August 1987. It took Pat four years to get it all together.
JACOB'S LADDER MOVES TO MOUNT ZIONDale Butler's "We are Climbin' Jacob's Ladder" moved this past weekend to Mount Zion AME Church, Southampton. Having seen the premiere of the show the previous Sunday at the First Church of God we were invited to see the adaptations that had to be made to suit the contours of the new venue. And we saw variations of a theme that were just brilliant.
Again the show lived up to its billing of being an inspirational, motivational, spiritual mystery, embodying Dale's new style of using this medium of projecting local history, singing and enacting Negro spirituals backed up by the Giants Step Band. Again the star-studded cast comprised superstar Glen Iris as minister; national soprano Toni Robinson in a dual role as director of music; mother June Caisey and daughter Phiemma Caisey, Darlene Hartley, Cleveland 'Outa-Sight' Simmons and John Holdipp in the Amen Corner of the Church along with Lavette Fuentes. And again giving realism to the 'mystery' part of the show was the voice of ZBM's ace newsman Gary Moreno.
This time there was a new distinguished patron, Sis Doyleen Trott. She was brought to the pulpit to be honoured by none other than her regular pastor Mount Zion's Rev Dr Jahkimmo Smith with the indulgence of actor minister Glen Iris. Sis. Trott has served several years as Sunday School superintendent, 40 years as a member of the church's Stewards Board, eight years as president of Mount Zion Lay Organisation and consultant to the executive board of the Bermuda Conference.