Bermuda roofs inspire jewellery designer
Updated: Jan 27, 2014 07:01 AM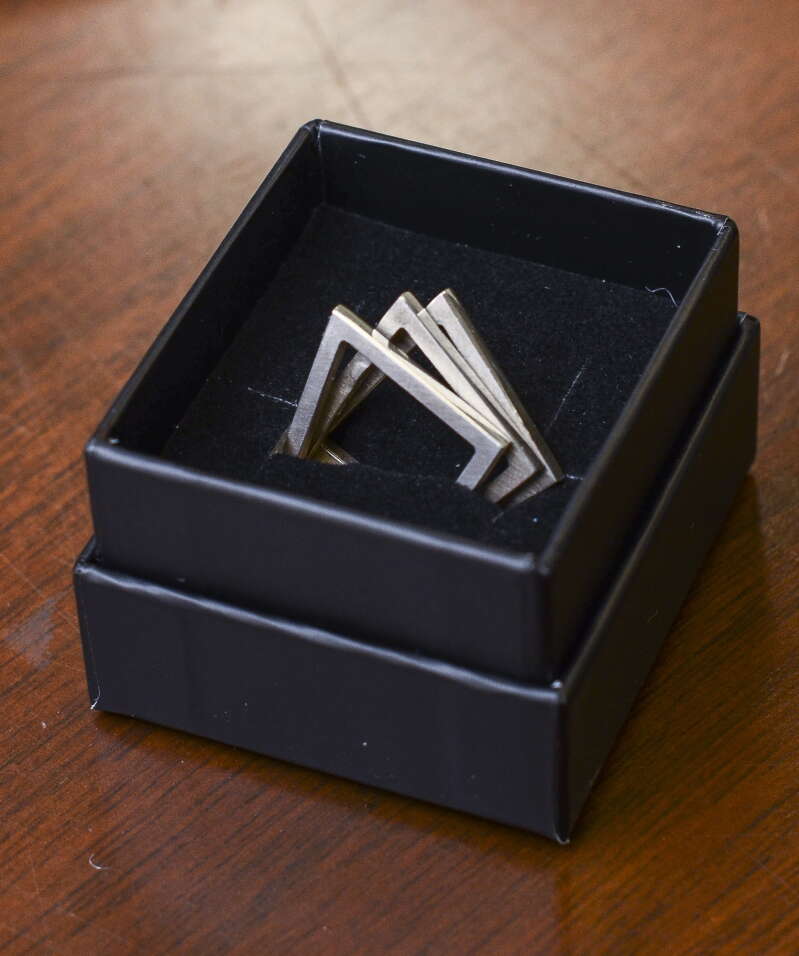 Emerging jewellery designer Rebecca Little loves a challenge, which is probably why Bermuda's current economic climate doesn't scare her, much.
She has just released her third collection, an angular line inspired by Bermuda roofs, and her fans are loving it.
"My work hasn't always been so angular," she said. "My original inspiration was textiles and fabrics and the fluidity of them. Since then I have evolved to a more geometric style."
The current collection is inexpensive ranging from $30 to $300 and is quite austere, in a trendy sort of way. The current work is noticeably less expensive than the last collection. Although people in Bermuda often aren't willing to spend as much as they once did, Miss Little said the news wasn't all bad.
"I think right now people want to buy unique pieces," she said. "They like to know who made the piece. They would rather buy jewellery from an individual that they have met than a faceless large company. They are quite supportive of local designers and they want to Buy Bermuda."
Miss Little said she has always loved making jewellery. When she was a child she spent a lot of time stringing beads and making friendship bracelets. She received a degree in jewellery making from the University of the Creative Arts (UCCA) in Farnham, Surrey England, and from the Bishopsland Postgraduate Training Course in 2007.
In England, her work received a number of awards including the Association for Contemporary Jewellery Professional Development Award, in 2011 and the Goldsmiths' Fair Graduate Bursary and Stand, 2008, among others.
She returned to Bermuda in 2012.
Miss Little, 33, is not yet able to devote herself fully to jewellery. She also works part time at Swiss Timing. She hopes that one day she might be able to do it full time. That is the dream.
"I am trying," she said. "I did a lot of crafts markets at Christmas. I did a Bermuda Society of Arts (BSOA) show as well which was great. It was my first single show with a lot of space to fill. It was fun but also nerve racking. It was fun designing the space to fill."
She used a refurbished old Bermuda shutter to display her work at the show, and the shutter is quickly becoming one of her trademarks.
"I had it for Harbour Nights and all the other shows," she said. "People say 'there is the girl with the shutter'."
She enjoys constantly coming up with new ideas and structures for her jewellery and is always sketching and researching.
Her work will appear in a crafts show planned for February 22 at the Bermuda High School for Girls. It is also available for purchase in the Masterworks Foundation gift shop at the Botanical Gardens, at Windjammer II in the Fairmont Hamilton Princess.
For more information see her website at www.rebeccalittlejewellery.com.