Rikkai rides high in Birmingham
Updated: Mar 18, 2022 01:59 PM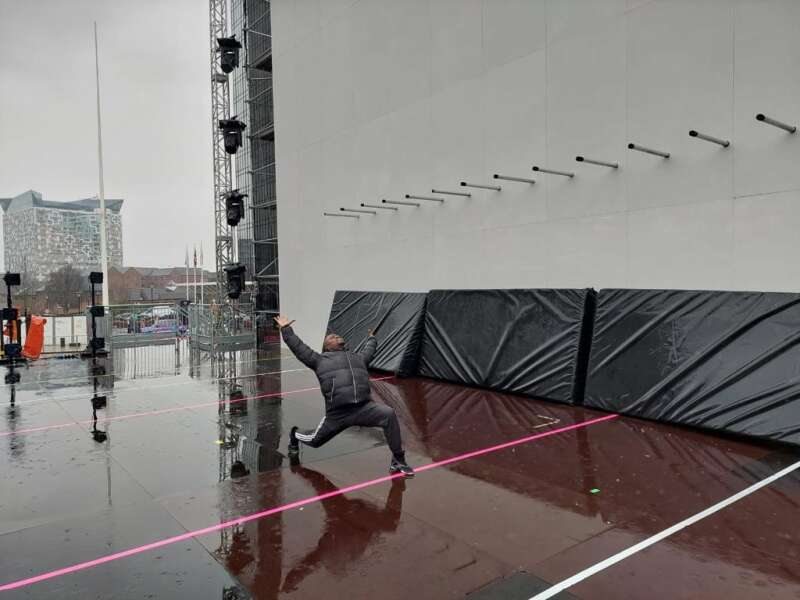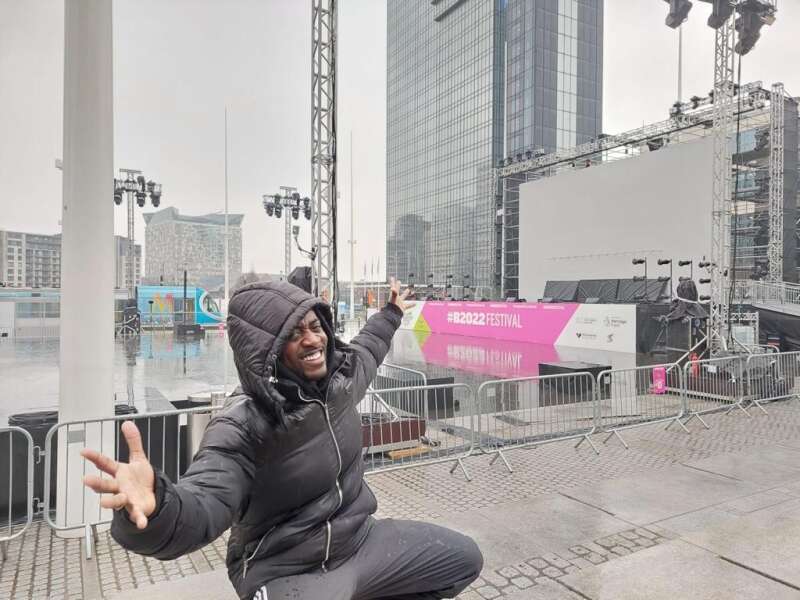 On YouTube at 5.30pm tomorrow, watch as Rikkai Scott rides a bike suspended 82 feet in the air.
It's part of Wondrous Stories, a grand spectacle opening the Birmingham 2022 Festival, a forerunner to the Commonwealth Games in July.
Rikkai is performing with Motionhouse, the dance-circus company he joined in June. The live, open-air show takes place at Centenary Square in Birmingham. A "mass cast of hundreds" is promising "large-scale immersive action and plenty of thrills as stories, a giant book and characters tumble out of the night sky".
https://cdn.jwplayer.com/players/5Mp26XmK-XpQnop1y.html
"It is a big outdoor piece, basically a piece about stories and storytelling," Rikkai said. "It's taking place in Centenary Square which is in Birmingham and surrounded by buildings that house stories. It's around the Library of Birmingham, Birmingham [Reparatory Theatre] and the Hall of Memory. So it's basically a piece telling different stories, different memories."
Dancers will move their way through the air on bikes, around a globe and while hanging from a string in the show, which is being held in collaboration with a handful of Birmingham companies.
Rikkai, who moved to England more than a decade ago in search of greater opportunities, was once "very afraid of heights".
"I went into this company having no aerial experience [but] when you join the company you start to get comfortable with the tricks [through training]," he said. "I am kind of getting used to it. It has pretty much taken away my fear of heights just because of all the training that we do.
"Many of the pieces that Motionhouse does are on top of outdoor or indoor sets [that stand] very high. We go up there and we give it a try first and if we say no, absolutely not, then we don't do it. That's the good thing about Motionhouse: if we're not comfortable with certain things we don't do it. They give us the chance to try it out first."
He does it all while keeping a steady hand on Rhythmflow, the tap fusion company he started in 2016.
The group won most votes for best film in the Online Creative Film Award Performance last year for Tapout, its eight-minute entry.
Rhythmflow was also part of the Bermuda Festival in 2021, showcased in a virtual performance with dancers Malachi Simmons, Arielle Lee Ming and Krystal Lowe.
Finding the time to do it all is a lot less difficult than it might appear, Rikkai said.
"I balance it out so it works. A lot of artists do two to three jobs. It can sound quite tiring but that's how we make money, that's how we survive. When [Motionhouse goes] on tour I have to adjust but at Rhythmflow I have a team, which helps. When I'm not there I trust my dancers and I trust my producers to handle the event."
His plan is to eventually develop it into a full-time company, offering tours and workshops and "giving back to the community".
At the moment however he is pleased with all he is being exposed to at Motionhouse.
"I'm working with different artists, getting some different experience in aerial [dance] so I can bring that to my repertoire and develop myself as well."
Tonight's opening is "a massive, massive platform" for the artists and "a big deal" generally, Rikkai said.
"I'm not just in the [bike piece]. I am actually involved in another part with MotionHouse Youth where we're doing a big dance on the stage. I'm super excited of course.
"It's an open event. It's free for the public to come and watch. We're performing seven times over the next four days. We'll probably have a lot of people coming to watch it every day."
The lights and the costumes will add to the experience, he said.
"A lot of people will be watching it. A lot of people in Birmingham will be coming to see it. People who are probably not based in Birmingham will come to see the performance. So yeah it's quite a big deal.
"There are a lot of Bermudians in Birmingham. It would be good to see some Bermudians come out as well."
Rikkai, who was last here two years ago, hopes to return as soon as his schedule allows. His hope is that Rhythmflow can tour with Sense, the piece the company performed here in 2018.
"But I plan to come back home just for myself, to go on vacation and see my family and friends but also to give back and do some work.
"That's what I like to do when I go back home, do some workshops and classes; keep the buzz going down there in dance."
Watch Rikkai Scott perform at the Birmingham Festival 2022 here: https://youtu.be/SGTukQOMTkI