Dancer hopes City Hall show will bring Return to Paradise
Updated: Aug 10, 2011 09:30 AM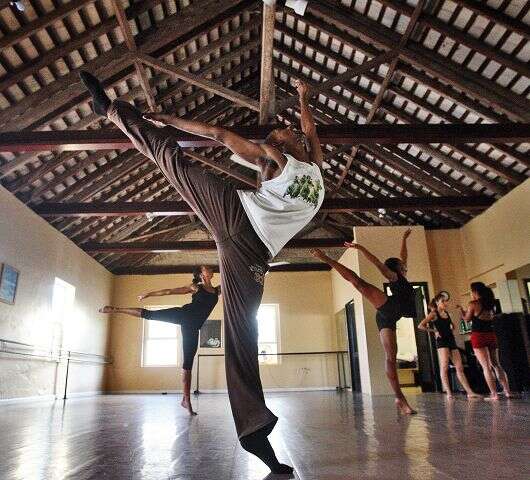 A show focusing on the violence in Bermuda is being brought to the stage.
Bermudian dancer and choreographer Eric Bean, Jr remembers a time when residents left their doors unlocked; today crime and gang violence make headlines on a regular basis.
From that came the idea for a show that will be held at City Hall this weekend 'Return to Paradise'.
The production is a first for Mr Bean's Jaricco.Dance: An Arts Company who will use movement and spoken word to examine love and loss as they are affected by violence.
Part funding for the show came from the Bermuda Arts Council.
Mr Bean's aim was to stimulate positive dialogue about the violence plaguing Bermuda today.
The 26-year-old was hired by the Philadelphia-based Koresh Dance Company on graduating from university in 2007. Although he resides in the US family in Bermuda keep him abreast of what is happening here and he returns to the Island every summer to teach dance classes.
He recalled his immediate reaction to local shootings: "I was like, 'What? That doesn't make any sense. Guns are illegal here. And I thought that they [the police/community] would get it taken care of, but then I came back the following year and the violence had gotten worse. It had escalated."
The Island was safer when he was growing up, Mr Bean said.
"I remember leaving the door unlocked and walking to the neighbour's house, but now you have to be so cautious about everything.
"And this whole thing about the gang violence, the East side and the West side, it's like they are trying to emulate the US or parts of London and the Caribbean, but that's not our culture. Our culture is designed to be friendly and welcoming to people. This will start to scare [tourists] away and they will not want to come and visit."
He shared his thoughts with friends and family.
"I said, 'I think I need to do a show about this to try and find a way to use my medium to express myself and my feelings about the violence that is going on'."
The 70-minute 'Return to Paradise' is the result of his efforts. He said: "As the piece progresses you see all the different relationships and all the issues start to build up to little conflicts to the point where we have a large conflict, where somebody is taken out of the picture.
"From then it sparks off into hope and it is a very sad section, because they are mourning of the loss of this person."
The poem 'Community', by Bermudian Lauren Francis, is used to illustrate that loss in the performance.
"The poem speaks of a boy that was completely lost," Mr Bean explained. "From the Hope section, we go into 'The Return to Paradise', which is a joyous celebration of where we used to be."
Mr Bean, who is the artistic director and founder of Jaricco.Dance, began dancing with United Dance Productions when he was 15.
He received a bachelor's degree in fine arts from Philadelphia's University of the Arts before joining the Koresh Dance Company.
He has since had the opportunity to perform all around the world but returns to Bermuda every summer as an instructor with the National Dance Foundation and the Civic Ballet. He also teaches pre-professional and professional students while here.
"I want to give back to my community," he said.
"It's hard for young dancers, because they don't have what I had when I was growing up. I had the [Government-sponsored] road show and the Bermuda Dance Company and both things aren't in existence any more.
"So these young dancers have all this potential, but a lot of them have nothing to strive towards, because they have no strong solid examples other than the teachers they are working with. Whereas in the States, the kids who want to do ballet have ABT (American Ballet Theatre), they have the Geoffrey Ballet and the New York City Ballet.
"And the kids who want to do modern have Alvin Ailey... they have all these different avenues they can look towards and say, 'I want to be a part of that'. But in Bermuda we don't have any of that.
"So hopefully be doing this, I can have a little company that does a summer show every year."
Six Bermudian dancers will take part in the show Krystal Smith, Sierra-Renae DeSilva, Dawnita Smith, Fredrika Hill, Dominique Anderson and Rhia Simons.
Mr Bean received assistance from the Bermuda Arts Council as well as a grant from the Bermuda National Dance Foundation, which is subsidising student tickets.
Tickets, $25 for general admission and $40 for patrons, are available on 735-2414 or by e-mail: JariccoDance[AT]yahoo.com.
Tickets may also be purchased online, www.JariccoDance.com.
Student tickets are $5 each with the National Dance Foundation discount. The Gino Group is sponsoring a further 100 children. For more information telephone 296-2605.
Part proceeds will got to UDP's Jump Start Dance Programme and to Bermuda Magic. The show runs Friday and Saturday at 8pm and Sunday at 7pm.