Art helps to tell story of Cambodia genocide
Created: Mar 09, 2015 09:00 AM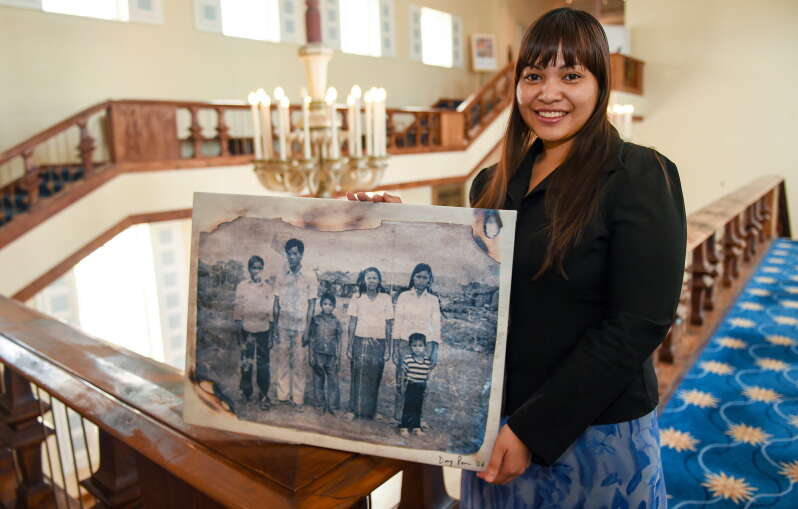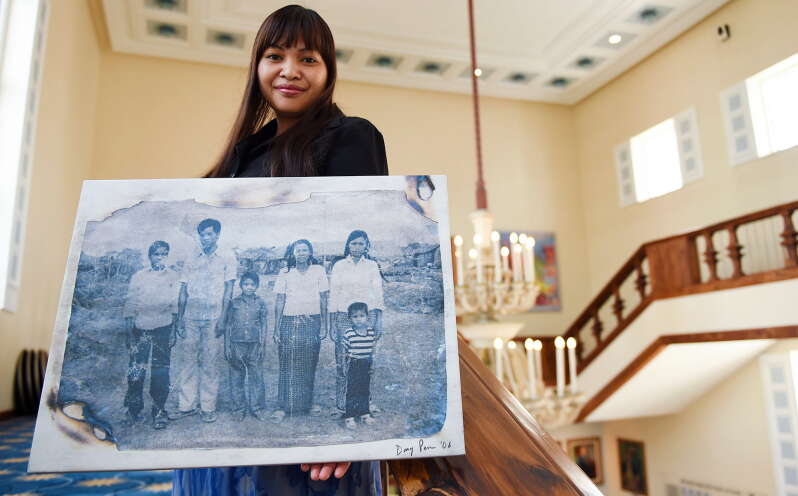 A few cherished photos are all that remain of Dany Pen's family history in Cambodia. One of them was snapped the day her mother, Yean Chham, arrived at a Thailand refugee camp in 1979.
She escaped there after fleeing from the Khmer Rouge.
The picture will be featured in an exhibition about genocide at the Whistler House Gallery of Art in Lowell, Massachusetts.
"It was taken at the Khao-I-Dang refugee camp," said Ms Pen, the Bermuda National Gallery's education coordinator.
"In the picture you can see my four uncles, my grandmother and my mother. Only my mother made it to Toronto, where I was born."
The Chham family was in the camp for seven years. About 2.5 million people were murdered by the Khmer Rouge, the ruling party in Cambodia between 1975 and 1979.
"To get out of the refugee camp, the Red Cross put people on different planes," said Ms Pen, 28.
"Whatever plane you were on led you to what country was willing to take in refugees. Some ended up in New York, while others went to Canada, Australia and France."
The refugees were not told their destination beforehand and were assigned to planes with little regard to family structure.
It was several years before Yean Chham was able to find her mother in Cleveland, Ohio.
"It took time because the Red Cross received thousands of letters from Cambodians trying to find family members," said Ms Pen.
Two of her uncles, Yut and Duong Chham, are still missing.
"They are not in the picture," said Ms Pen. "They went missing during the war.
"Everyone was captured and turned into slaves in the internment camps in Cambodia.
"My mother said an older man whispered an escape plan with them when they were working on the fields. The plan was to escape on a night where there was no moon.
"My mother, who was 14, escaped the internment camps along with a group in the middle of the night by jumping over the barbed wires.
"Everyone ran in different directions and hid in the jungle. All the children just kept running. My mother managed to find four people and ran with them.
"It took her three months on foot through the jungles to get to Thailand. Yut and Duong ran in other directions and that was the last time she saw them."
Her generation is going through a silent period today, she said.
"During my research I have spoken to Dr Ben Kiernan of Yale University," Ms Pen said. "He said that the Jewish community also went through a silent period after the Holocaust.
"It's because it hurts to talk about it and it brings back a lot of bad memories. A lot of people experience post-traumatic stress after escaping genocide. It is very difficult to deal with the memories."
Her mother reacted with tears when she learned that Ms Pen had been studying the family's history.
"My mother came to my show at Switch Contemporary in Toronto and was at first shocked at the sight of my work," Ms Pen said.
"She didn't realise I had been working on our family history for some time. I had a moment with my mother where we sat down and I told her I wanted to know our family history, what happened in the internment camps.
"She cried and told me she didn't want to talk about it because she was afraid of confronting emotions and memories.
"Once I told her that her story meant so much more where it could help the younger generations understand what had happened, she began to open up.
"It was a needed conversation between my mother and I and one that brought us much closer together."
After showing her work in Toronto, New York and Bermuda, she has had a lot of positive feedback from Cambodians around the world.
"People are very happy that I am doing this," she said. "A lot of people are looking to my work for information, because there aren't many textbooks about it.
"My work is a means for visual education. A lot of art was burned under the Khmer Rouge."
Ms Pen sees herself as a voice for the Cambodian community.
"I always knew I wanted to be an artist," she said. "I did not see myself as taking on the political and social arena until I was older."
Ms Pen has two children Aries, nine, and Sokiera, seven.
"We have discussions about it all the time," she said. "This is their history. I want them to know about it."
Ms Pen had her first solo show at the Bermuda Society of Arts in 2010, and won the Source of Inspiration Charman Prize in 2013.
• Pursuing Justice Through Art 2014: Multi-Cultural Genocide Exhibition and Symposium runs from March 18 to April 25. For more information see www.whistlerhouse.org