Art by Keile
Updated: May 07, 2021 08:19 AM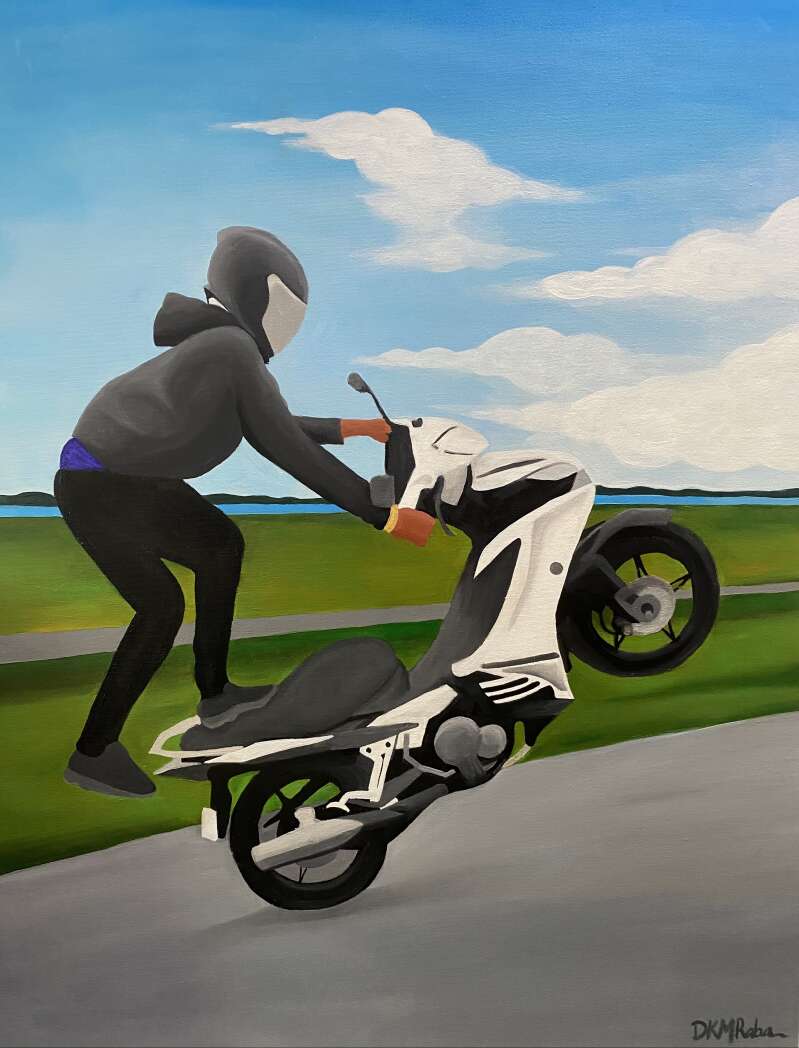 Last February DaeNyce' Rabain looked around her and wondered why no one else seemed to be taking Covid-19 seriously.
Then in England, in her final year of an undergraduate degree in fine art, she started bugging her teachers: "There's a virus going on. What are you guys going to do to prepare for us not being in the [art] studio?"
Nobody paid her any mind but she began planning how she might make her way back to Bermuda before the end of term.
And then her great grandmother died.
"I ended up having to come back and, literally the week that I came back, they closed the airport. My flight was the first flight to have to quarantine. If my great grandmother had not passed away when she did would I have had my ticket booked in time? Probably not."
It allowed her to complete her studies here – she's hoping for "a proper graduation" in the coming months – and get reconnected with Bermuda's art scene.
Three of her oil portraits are now on show as part of 441, an exhibit in the Rick Faries Gallery at Masterworks Museum of Bermuda Art.
"I never had a show in Bermuda other than when I was little, with the Agricultural Exhibition, because I moved away to the UK when I was 16," she said. "I enrolled in an art course at the [school where I was] taking my GCSEs. I wasn't really thinking I was going to continue on with it just, this is something I know that I like, something I know I'm good at, so why not just focus on that aside from my other studies."
Art was something that had appealed to DaeNyce' ever since she was a student at Elliot Primary School. Mr Smith, her art teacher there, encouraged her at every step and would enter her work in the Ag Show each year.
She thinks hers is an inherited skill. Her father Damon Rabain "is an artist as well; just someone with natural talent". Meanwhile her mother Sakeena Talbot was a graphic designer.
"I grew up in an artistic household and my mom used to buy me a lot of art books as a child because I guess that's what I was always interested in and it was just an easy way to keep me occupied."
At Nottingham Trent University she was a founding member of All Black Connect, "a collective highlighting the contemporary black experience through artistic expression, events and discussions". She also managed to attract the attention of one of the largest contemporary art galleries in the UK.
"University was very intense. I had a lot of things going on. I was part of a lot of collectives and I also worked at Nottingham Contemporary, a really prestigious art gallery."
While in her first year of university, she beat out master's degree candidates and recent graduates for the role of exhibition intern.
"I was really thankful. I stayed there for a year and it was going so well they hired me to stay on as the assistant registrar," said DaeNyce', who gave up the job last Christmas to focus on the final portion of her studies.
She was thrilled when Jasmine Lee, Masterworks' museum and gallery exhibitions officer, invited her to show her work as part of 441.
"I just felt it was an opportunity I couldn't pass up on. I always used to go to Masterworks as a kid with my mom. I've always had a Masterworks membership and I've always just enjoyed being in a gallery space. I felt really thankful to even be chosen to be a part of it."
She submitted three pieces for the show. All oils, they are a departure from her typical drawings and acrylics and also the digital illustrations she has done more recently.
"I like working in different mediums because I like to see how I can challenge myself artistically. I'm always trying new things. I just kind of float between whatever medium I feel is the most appropriate for what I'm trying to do.
"The one titled Mel was actually my first oil portrait ever. I worked really hard on them. I [spent] two months really focusing on working in layers. In Bermuda it's really humid so oil takes a really long time to dry and with layers of paint, I would maybe have to wait a week sometimes if it was thick. It was interesting trying to get this all done within [a] deadline but I made it work."
On Instagram she allowed followers to track her progress by posting her work at various stages.
"I got a lot of feedback on my posts and my family are really proud. I'm thankful for that. I've just been getting a lot of feedback on social media, on Twitter."
At the moment she's looking to build her brand, Art by Keile.
"I'm trying to work on a few different products – a colouring book; I'm also interested in making a home sip and paint kit. I'm working with my friend to do some children-led things. I'm trying to branch out artistically as much as I can and create products that are beautiful. When we were growing up we didn't have books and colouring books [by a Bermudian] so I could see myself, recognise myself in them. I want to be able to create stuff kids can interact with and see themselves in it as well. And other than that, I want to continue to create in every way I can really."
Follow @artbykeile on Instagram, Facebook and Twitter; visit artbykeile.co. 441 will run at Masterworks Museum of Bermuda Art until May 25. For more information: https://bit.ly/3b4ZpZ9