Taylor's journey home
Updated: Jul 16, 2021 08:12 AM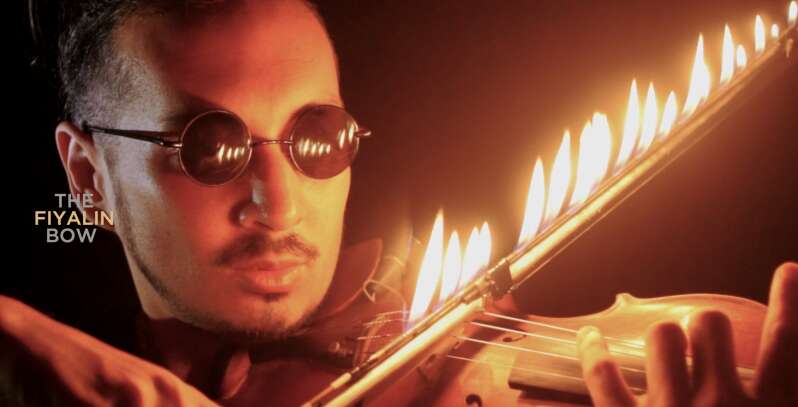 Reggae, classical, gospel, jazz…..Taylor Rankin and his violin Leroy are mixing music with a bunch of surprises in a live concert tomorrow night.
The show is free, the latest in the Bermuda Festival of the Performing Arts' 2021 virtual series.
Rankin, who has been in Switzerland since last summer, is excited to get back to entertaining after a long period of limited work and travel brought on by Covid-19.
"It's been an interesting journey," he said. "My living has been primarily from music these past ten years or so, and I tour. That's what I do. I was lucky enough to go to a number of different countries and immerse myself in the culture, eat the food, play the music, make incredible friends and contacts. And my music is very much inspired by the people I play for and the countries that I visit and the countries that I'm from as well.
"So not being able to travel, not being able to tour, really took a bite out of, not only the contact with other places, but basically my work was demolished in that way."
The musician rode out the start of the pandemic at home in Bermuda but left for Zurich to be with his fiancée Tiffany ahead of their wedding in April.
The couple was lucky to catch a "sweet spot" that allowed them to marry before 20 guests in the Swiss city despite the restrictions that had been in place because of the pandemic.
"They've been changing [the regulations] quite readily – very much like other places – but they've tried to keep things open as much as they can," Rankin said. "They were quite confident during last summer and actually through the winter as well and then they had to really, by the end of the year, tighten up. By the wedding time things were just starting to open up a bit and we were able to have a wonderful little service where we could actually gather.
"We were actually going to do it in Bermuda this coming September but then we [decided to] do it sooner. It was a very cool process."
Tomorrow's performance will be his first with the Bermuda Festival; he's grateful for the push it gave him after the pandemic shut down live entertainment around the world.
"It's funny because a lot of people, even people that are quite close to me, would say 'Oh just start streaming.' Streaming is its own art form. The people we hear about that are making a real living from streaming – they're a very small percentage. It's a whole different can of worms.
"In my opinion, performing live is performing live and performing on stream is performing on stream. I did do some streaming [early on] during the pandemic but I would say it wasn't easy in many regards, especially as an artist in the way I do things."
Despite that, he continued experimenting. By the time the invitation came to be a part of this year's festival Rankin felt confident he would "be able to stream and stream well".
"I love to create and perform no matter what. I think what was interesting to me was that everyone was jumping on-board, everyone was doing streams. I feel that if you're going to do a stream it's got to mean something. It's got to come from somewhere. It's got to feel right."
Drummer Marcel Aubert will help Rankin move through all the musical genres in his improvised concert tomorrow night.
"The core of what I do is my violin, Leroy and I. Leroy is a spirit. My genre is incredibly influenced by all the different kinds of music that I come in contact with – jazz, classical, gospel, funk, reggae, touches of Arabic, gypsy, they're all in there.
"I have songs that I've been creating over time …. I kind of mix storytelling with a lot of different genres [but] at the end of the day what I'm doing with Leroy and the drummer is just building groove. So with the violin you'll hear me looping – you'll hear Leroy sound like an electric guitar, bass sitar, basically just stretching and pulling what the violin can and cannot do. And then I'm also utilising my voice and experimenting with that at all times. So it's very much a genre exploration that I'm creating live – for you, the audience member – and kind of also exploring myself in that same moment."
He is thrilled that the festival is celebrating Bermudian artists this year and feels "very honoured to be a part of it".
"That really means a lot to me. For me music is about connection and I think that it is so important right now to connect and explore our own culture and artistic expression and for the Bermuda Festival to keep the bell ringing and to also explore into new territories where we could go."
Rankin took part in the Bermuda Red Cross's 70th anniversary celebrations last year. In 2016 he held Leroyfest, a series of concerts with an all-Bermudian line-up.
"The thing is that it's not something that will ever be the same when I'm performing," he said. "I know that myself as a musician today, going through this pandemic, going through life as it has been not only for the last many years but especially this year, I'm a different person than I was only a year ago. I think many of us are. So I'm excited to see what I create."
As far as his next step, he is planning to return home.
"There's been some things brewing as far as doing some things musically there," he said. "But that's also the other hard part with the restrictions, not knowing exactly when things might close down again – because we can see some of the trends that are happening."
Watch Taylor Rankin and His Violin Leroy live, on www.bermudafestival.org or YouTube, tomorrow at 8pm