UDP celebrates 30 years
Created: Jun 09, 2022 08:00 AM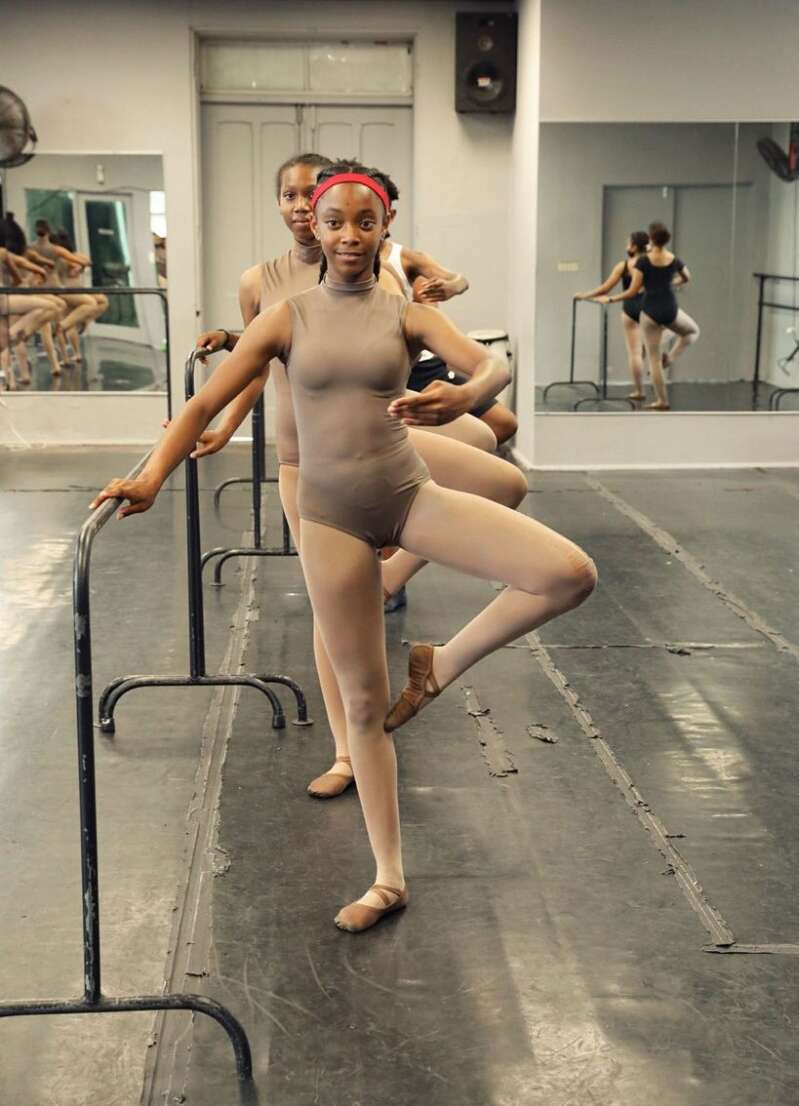 Suzette Harvey had a degree in dance education and had trained and performed internationally with some of the best in the industry.
But, when she started UDP in 1992 out of a tiny "shack" on Court Street, none of that was enough.
"It wasn't easy in the beginning. I only had three kids when I started – [PLP MP] Lovitta Foggo's two daughters, Amne, who's now Dr Osseyran, and her sister, and another little girl. I remember many people used to say, 'I'm not sending my children up to that shack called Black Box.'
"Little did I know I was even being labelled and defined. It wasn't called Black Box because we were trying to be pro-Black, it was called Black Box just because we painted it black and that's what theatre boxes were called."
As she was then "naive, young and energetic", she "continued to push forward".
"I just was trying to do what I love to do. That was it. Three kids turned into 25 kids and it just started to sort of take off. You just have to keep focused and do what you love to do and that's pretty much what has happened."
Thirty years later, the Dame Lois Browne-Evans Building has taken over 58 Court Street. UDP has moved into Alexandrina Hall which sits just down the road a bit, at number 75. About 150 students regularly walk through the doors. Each offers "Auntie Suzy", as they all call her, a chance to instil the passion she discovered when she was a little girl.
"I was always very good at organising backyard events after school; little sports days. I probably had it in me to be some sort of a teacher. But I think the real light bulb went off in my head when I went to boarding school in Boston."
Back in the 1980s when only boys were breakdancing, she was on stage doing the same as an opening act for the likes of New Edition, a popular R & B group.
"But it wasn't until when I went to boarding school, it was my guidance counsellor that really sort of put me on track for pursuing a career in dance. Because at Bermuda High School that was never the thing. Academics was always top of mind; the arts were never a place that anyone really thought about as a career choice."
Her father, John Harvey, had built his way up in the hotel industry and she was contemplating following in his footsteps until he suggested she look at performing arts colleges.
"I did four years at [University of the Arts] and ended up getting the student teacher award and that's when I realised I really do like to teach."
Being in the US without a Green Card posed challenges for someone who wanted a career on stage and so Ms Harvey returned home where veteran educator Donald Dane offered her a job at Devonshire Academy.
"I believe it was the first time that dance was even in a curriculum," she said. "Somebody was on maternity leave and I got the job."
The role was a good fit. She moved from there to St George's Secondary and then with Pat Pogson, opened Black Box on Court Street.
"We started doing little things there and eventually UDP came out of that."
The company has always operated as a "very tight family knit environment"; the first show was held in her mother's backyard "in the heat of the summer", in August.
At UDP today, nine instructors teach "all types of dance". One, Heather Shrubb, taught Ms Harvey while she was a student at what is today Jackson's School of Performing Arts.
"We offer everything. And we've always offered everything but for some reason I've been asked that question over the years: 'But you don't teach ballet?' But I understand, I guess I kind of overstand, that for some reason people think I just teach hip hop and African dance, I guess."
She's still waiting for the tipping point, when it becomes generally accepted that UDP's doors are open to everyone.
"I've had tons of cousins that have walked right cross this school and gone down to another school. I think the school's been stereotyped as a 'Black' school. I never got it until I came back to Bermuda. I've always had tons of White friends. I've been at White schools all my life so I never saw this whole Black and White thing; I was probably ten years into the school when it hit me.
"It's crazy. Just because I've done pro-Black things – because I did a tribute to Nelson Mandela and I did For Colored Girls who Considered Suicide – doesn't mean that White people can't come to my school."
She had a similar response with the Bermuda Dance Company, which folded in 2005 due to a lack of financial support.
It had been her idea that a professional troupe that performed here and represented the island abroad, might incentivise young Bermudians to pursue careers in dance.
"I really had great support from the University of the Arts in Philadelphia and my mentors over there to do something more international. And so I started with the Bermuda Dance Company which was six Bermudians and six Americans – White, Black, everybody in it."
In Bermuda, she started hearing how certain dancers wouldn't approach her because everyone knew she didn't "deal with White girls".
"There were so many tears I cried because of the fact that I just couldn't understand why these types of things would go around. Where was it coming from? It's so ridiculous. I never felt like this when I was outside of Bermuda and then I come home and feel like I'm being boxed in by my own people, even my own Black people; my own family.
"Before it used to push me back and upset me but now I'm just like, 'You know what, just keep moving on. The proof is in the pudding. You just do what you've got to do.'"
Also driving her was her love for Bermuda and its children.
"I love my school and I love my team and I love my children so there's no way that I could have just dropped the ball and just decided to take off and just leave it."
Teaching aside, Ms Harvey challenges her students with summer intensives outside Bermuda and brings in guest choreographers and teachers from abroad "to really keep the calibre high".
"We are committed to excellence; dedicated to that. And I believe that shows in the kids that really want it."
Students who show promise have access to UDP's Junior Company which meets for free, intensive classes every Saturday.
The pay-off comes when the students travel for overseas intensives where teachers are surprised at the limited hours of instruction they have each week.
It also comes with the success of students such as Eric Bean, now performing in The Lion King; Rikkai Scott, who is in the UK "doing great things" on his own and with dance-circus company Motionhouse; Dawnita Smith who took the stage with Aladdin in London's West End and actor Darren Herbert who got his start after Ms Harvey guided him into a full scholarship with her alma mater.
"They [say], 'You can't stop. Look what you've done for us. If it wasn't for you I wouldn't be doing this.' When I sometimes feel like giving up, when I feel burnt out, or when people don't see me in this light – they do. And that's all I need. They give me the fire to continue."
The pandemic hasn't allowed for a grand production this year. UDP will "put on a very nice show" but the focus will be on giving back to the community.
"As far as the 30th year it was important for us to get back out and do [the Bermuda Day] parade; our community events that we've always been known for.
"It was two weeks in front of our showcase and, even though it was a lot for me, it was important for me to still be able to do that. So we're going to try to just do as much as we can for the community, to give back now that we have some normalcy."
United Dance Productions' 30th anniversary recital takes place tomorrow and Saturday at Ruth Seaton James Centre for the Performing Arts at 7pm. Tickets are available at bdatix.bm. For more information: www.uniteddanceproductions.com.