Celebrating Bermuda's Black artists
Created: Feb 24, 2023 08:00 AM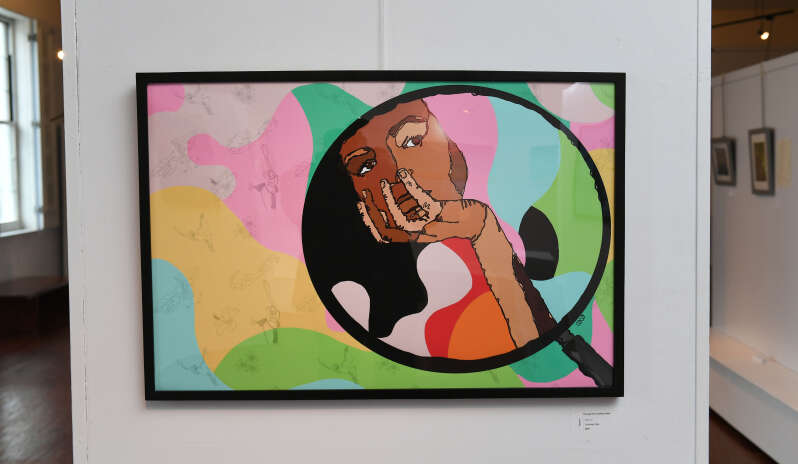 As Black History Month approached, Nzingha Ming decided to widen the space for Black artists in Bermuda.
It's what led to Bredrin, a collection of work by nearly 40 artists in the Onions Gallery at the Bermuda Society of Arts.
Each piece was put forward in response to Ms Ming's invitation to "submit work in a variety of media that explored their feelings and thoughts about the Black artist's position within the culture of Bermuda".
"I was really wanting to create an area where they have a lot of freedom in exploring their position as Black artists in the community and what it looks like in the Bermuda landscape," the BSoA director said.
"Because for everyone that's something different, right? It's a joyful show, kind of showing the best of you and not worrying about whether you might not sell your art because you didn't make a landscape or that type of thing. I invited a large selection of Black artists to submit a medium that they wanted to work in and just sort of explore their feelings – maybe it's frustration, maybe it's just the honesty of how they see their position; whatever it is, they were open to interpret that."
She chose the title Bredrin because she recognised it as something "positive", "a term of endearment".
"And it aligned with Black History Month, and so it just sort of became magic from there."
To her delight, as soon as the invitation went out she received "call after call after call after call" from artists interested in participating.
"A lot of people couldn't do it because I didn't give everyone a lot of time, but everyone was on board [with the idea] immediately. I think that's where I kind of feel like it was magic – I didn't know how anyone else was going to receive it and it was very well received. I was really excited."
With only three weeks' notice most people chose to create work specifically for the exhibit rather than dust off pieces that were sitting in their homes.
"This show was very empowering for the artists. And I think once the audience gets here they will feel empowered by what has been created, which is exactly what I wanted. I think the artists liked that they didn't have to hide behind the normal; that they could dig deep – and I think they really did."
There is work on display by both well-known and lesser-known artists: Frank Dublin, Jahbarri Wilson, Liana Nanang, Barbara Dillas and Marc Rodrigues are among them.
"I hadn't worked with them all before. I was getting a lot of calls from people who were really excited, who had never done this before and it turned out great," Ms Ming said.
"Barbara Dillas – she's an art educator and artist – she has exhibited for the first time. Frank Dublin, who I think came out publicly as an artist in Bermuda at Bermuda Society of Arts maybe 30-plus years ago, he hasn't really shown here that often. He brought an array of work which was really, really exciting. And there was a new young artist, it was his very first time, and he had some awesome drawings."
The question now is when, not if, to hold a similar exhibit again.
"I sort of feel like I have to," she said. "I think it's necessary. There's a certain part of the community that has never felt art is for them or that there's a place that reflects them in art. And I think what this show has sort of created is a feeling: 'I feel good here, this feels familiar, I belong here.' It has created a very welcoming space for a lot of Bermudians who do not always feel welcome in spaces."
Bredrin is on at the Bermuda Society of Arts until March 7. For more information visit www.bsoa.bm