Jamaican reggae monarch headed to Bermuda
Updated: Apr 19, 2023 08:06 AM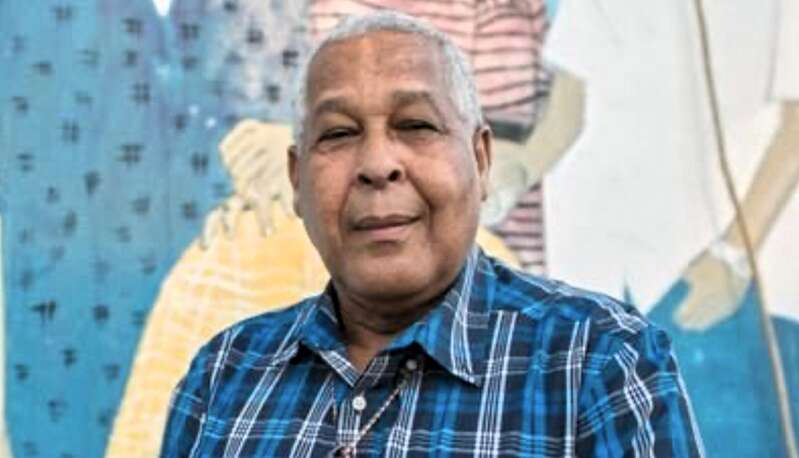 Bermuda is expecting a royal visit, but the monarch in question does not wear a crown.
Jamaican dub mixer Lloyd "King Jammys" James is coming for a concert One Love Promotions is to hold in his honour.
"This will be my first time in Bermuda," he told The Royal Gazette. "I never had a chance to come before because I was always touring Europe, Japan and South America."
King Jammys has a career stretching back five decades. Concert promoter Jamal Hart describes him as the "Quincy Jones of reggae music".
"He was responsible for giving a start to countless Jamaican artists including the late Dennis Brown, Beanie Man and Bounty Killer," Mr Hart said. "I have always been a big admirer and I have always been a big believer in giving people their flowers when they are here to enjoy them."
King Jammys' plan while here is to "catch the place on fire, musically".
"I am coming to really impress the people and teach them a different side of the music," he said. "We will play exclusive music. It is roots music, or dancehall music."
He got his start sometime around the age of 17 when he realised he enjoyed pulling radios apart and put them back together.
He was soon building amplifiers and repairing electric equipment; eventually he built his own sound system that "consisted mainly of two boxes and an amplifier".
After working in Canada for a few years, he returned to Jamaica and set up a studio in Waterhouse, a suburb of Kingston.
He started producing albums for Yabby You in the late 1970s then started releasing his own projects such as Black Uhuru's 1977 debut album, Love Crisis, and Sugar Minott's Ghetto-ology in 1979.
He then began mixing, using R&B hits from groups such as The Impressions.
"We never used to produce a lot of songs in Jamaica in those days," King Jammys said. "I stuck with those songs until we started in the ska era and then the rocksteady."
In the 1980s, he was the first dub mixer in Jamaica to move into digital, with his Sleng Teng Riddim, which revolutionised the music scene.
"We created that rhythm from the capsule keyboard in 1985," he said. "From the time we heard the rhythm we could tell that it would be different, but we could not tell if it would be a number one hit."
That question was answered when he sent a sample dub plate of Sleng Teng Riddim to a dance in Kingston.
"I was not at the dance, but the DJ told me that when they played the song, the people kept crying for more and more," King Jammys said. "Every artist started coming to me because they wanted to do a song on the rhythm because they liked it."
Wayne Smith, for example, used it in his 1985 hit, Under Mi Sleng Teng.
Today it is one of the most used Jamaican "riddims" of all time, and has more than 500 versions.
At 75, King Jimmys has no plans to stop working.
"Retirement is not in my thoughts right now," he said. "I love what I do and I am feeling good, so why stop? I am not at the pinnacle of my career yet, but I am at the top.
"There are always new things coming every day. And I am always on the lookout for new artists."
His sons Lloyd "John-John", Trevor "Baby G", Jammy "Jam 2" and Christopher "CJ" James are all involved in the business.
Many of his 42 grandchildren and 15 great grandchildren also participate.
"Some of my grandchildren are already recording," he said. "It is in the blood and DNA."
He also has engineers that he has trained and people who write music in his studio.
"I give them the work to do and they do it," said King Jammys, who is building a museum in Kingston that will include examples of the equipment he has used to mix music over the years, awards he has won and a theatre where visitors can watch documentaries about his work and hear his music. He hopes to have the place open next year.
His work is popular worldwide, and he says the bigger the crowd, the better it is for them.
"We have performed for as much as 50,000 people," he said. "I think the biggest concert we performed at was in Spain. We perform better if we see more people, because they rave a lot."
The pandemic stopped his touring for the past three years, but he is now on the move again.
"This year we will be going to Europe, the UK and Bermuda," he said. "In August we will be playing for the Overjam Fest in Tolmin, Slovenia."
He will also be honoured in Kingston on July 22 at "one of the biggest festivals in Jamaica", Reggae Sumfest 2023.
See King Jammys in Bermuda at Catch A Fire at the National Sports Centre on May 7 from 7pm until 2am. Advance tickets start at $50 and are available at www.ptix.bm. Contact 1lovepromotionsbda@gmail.com for ultra VIP ticket pricing.
Jamaican artists Johnny Osbourne, Admiral Bailey, and Jose Wales will take the stage along with local acts First Choice, Pappa Lenny, Juggling Jason, OGS Genesis, Live Wires, Delijah and others.