Butterfield buys trust business from Credit Suisse
Updated: Sep 07, 2022 08:00 AM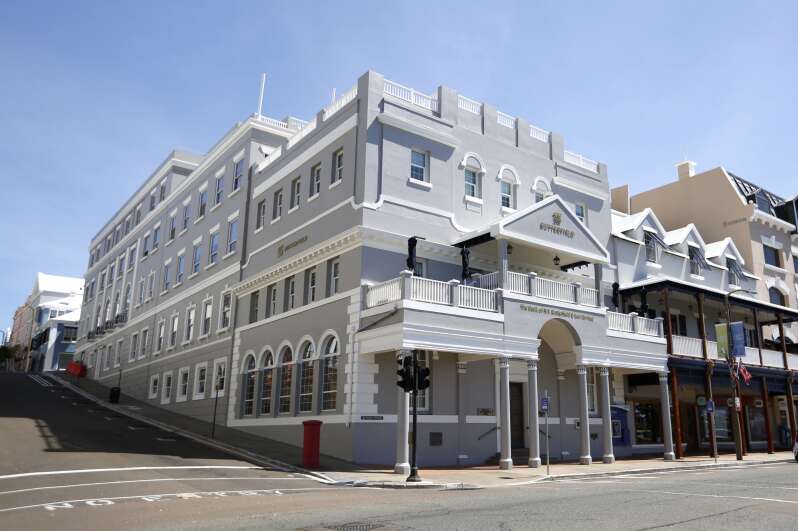 The Bank of N.T. Butterfield & Son Limited is buying trust business from one of Switzerland's largest banks.
An announcement datelined out of Zurich, Hamilton and Vaduz, said Credit Suisse has signed two agreements to sell different parts of the Credit Suisse Trust business separately to Butterfield and Gasser Partner.
The statement said: "All parties are committed to ensuring a seamless transition with a focus on the continuation of services for clients.
"Credit Suisse has signed separate agreements with The Bank of N.T. Butterfield & Son Limited and Gasser Partner Trust reg for the sale of Credit Suisse's global trust business, Credit Suisse Trust, while CST entities will continue to operate with a limited number of clients.
"Under separate agreements, Butterfield will acquire CST's businesses based in Guernsey, Singapore and the Bahamas, while Gasser Partner will acquire CST's Liechtenstein business.
"The transaction with Butterfield is expected to close in the first half of 2023 and is subject to customary conditions, including regulatory approvals.
"The transfer of the trust structures in Liechtenstein will occur on a rolling basis and is also expected to complete in the first half of 2023. Upon completion of the transactions, Butterfield and Gasser Partner will take over the ongoing management and administration of most of the trust structures in the respective jurisdictions.
"A significant portion of CST's employees are expected to transfer to Butterfield.
"The CST-related legal entities and any residual business will be wound down by Credit Suisse over the next few years.
"All parties are committed to ensuring a seamless transition with a focus on the continuation of services for trust clients.
"With the completion of the transfers, clients will have continued access to sophisticated and comprehensive trust services through either Butterfield or Gasser Partner.
Butterfield has been providing international private trust services for more than 80 years and has grown through a combination of ongoing organic growth and successful acquisitions, examples of which include the trust and company administration businesses of the Guernsey-based Legis Group in 2014, the Bermuda-based trust unit of HSBC in 2016 and Deutsche Bank's Global Trust Solutions business in 2018.
"Today, Butterfield's trust business employs more than 230 professionals and consists of independently incorporated trust companies located in the Bahamas, Bermuda, the Cayman Islands, Guernsey, Singapore and Switzerland as well as a support service centre in Mauritius."
The statement added that Gasser Partner is a registered trust company and forms part of the Gasser Partner law firm in Liechtenstein, which advises high-net-worth individuals and institutional clients in all areas of law, including fiduciary services, employing more than 50 professionals.
It has been operating for more than 70 years and has offices in Vaduz, Zurich, and Vienna. Today, Gasser Partner already partners with CST's Liechtenstein business in providing quality trust and fiduciary services to clients.
Michael Strobaek, head of investment solutions and sustainability at Credit Suisse, said: "Credit Suisse regularly reviews its product and services portfolio to meet the evolving needs of our clients.
"Over the past months we have carefully considered how we can best continue to serve our clients who have sophisticated trust needs.
"Both Butterfield and Gasser Partner specialise in full-service trust structures and solutions dedicated to clients with bespoke needs."
Michael Collins, Butterfield's chairman and chief executive officer, added: "Credit Suisse is a pre-eminent wealth management franchise, and we are delighted to be acquiring its trust management activities in strategically important markets for our company.
"This transaction expands our global trust operations in Singapore, Guernsey and the Bahamas and enhances our fee-based revenue income. This is another important step in our strategy to grow through M&A in markets where we have scale and have a market leadership position.
"It underscores our continuing commitment to expand Butterfield's presence in Asia, the Channel Islands, and the Bahamas."
Gasser Partner is one of the leading and largest law firms in Liechtenstein.
Johannes Gasser, senior partner at Gasser Partner, said: "We have been privileged to provide services to Credit Suisse Trust in Liechtenstein during many years in the past — as lawyers and as a licensed fiduciary.
"Over time, we have had the pleasure of building relationships with clients and employees of Credit Suisse Trust and these relationships enjoy a level of trust we strive to earn every day.
"We know what privilege and duties we will be taking over from Credit Suisse Trust, and we are determined to live up to them."