Martínez frustrated by opponent's 'running'
Updated: Nov 29, 2018 12:18 PM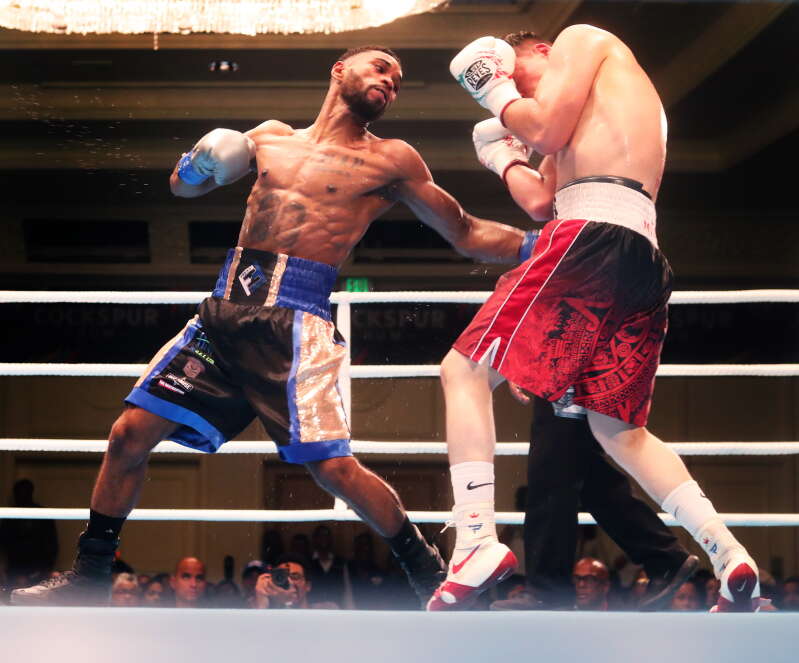 David Martínez has accused Nikki Bascome of "running" and "hugging" and believes the Bermudian is undeserving of his International Boxing Association welterweight title.
Martínez lost by a unanimous points decision, the fourth defeat of his 16-bout career, and is adamant he did enough to secure the win at the Fairmont Southampton on Saturday night.
He criticised Bascome's "spoiling tactics" and in the sixth round tried to goad his opponent into trading blows, although the Bermudian refused to be enticed into close-quarters combat.
"I came here to fight, but Nikki Bascome did not come here to fight tonight," said Martínez, speaking through an interpreter.
"I feel as though I won the fight, as you cannot win a fight just by hugging. He would give me a jab and then embrace me ... jab me and then embrace me. I came here to give the people a show."
The 25-year-old admits he became increasingly frustrated at having his offence stymied by Bascome's clinching and reluctance to go toe-to-toe.
"I wasn't impressed with his strategy," he said. "By running around the ring [Bascome] did not allow me to fight. By him not allowing me to fight, he won the fight."
Believing Bascome could be susceptible to hooks and uppercuts, having studied his defeat by Portuguese Fábio Costa at the same venue a year ago, Martínez landed several blows to the chin during a dominant opening round.
"I work on my right hook very hard and it's one of my qualities," Martínez added. "I could hear that I hurt Nikki [in the first round]. When I punched him I could hear him make a noise. I know I did some damage."
Martínez, who trains at the Miura Boxing Gym in Mexico City, said his boxing future is now uncertain and believes Bascome benefited greatly from home-town advantage.
"I'm not sure what will come of my future," he said. "I came here to win and I thought I won. My goal was to defend the [the IBA welterweight] title.
"It's difficult because the crowd was against me and the whole fight was designed for the local to win. I've been in other overseas fights and it's always a challenge."
The Mexican had to wait inside the ring for about 20 minutes while Bascome broke in a new pair of gloves after being forced to change his original pair moments before his ring walk.
"The wait did not affect me at all," Martínez said. "I took that time to stay ready and keep warm. I loved Bermuda and the people here really took good care of me."