Roach pays fitting tribute to Burgess
Created: Jan 20, 2020 08:00 AM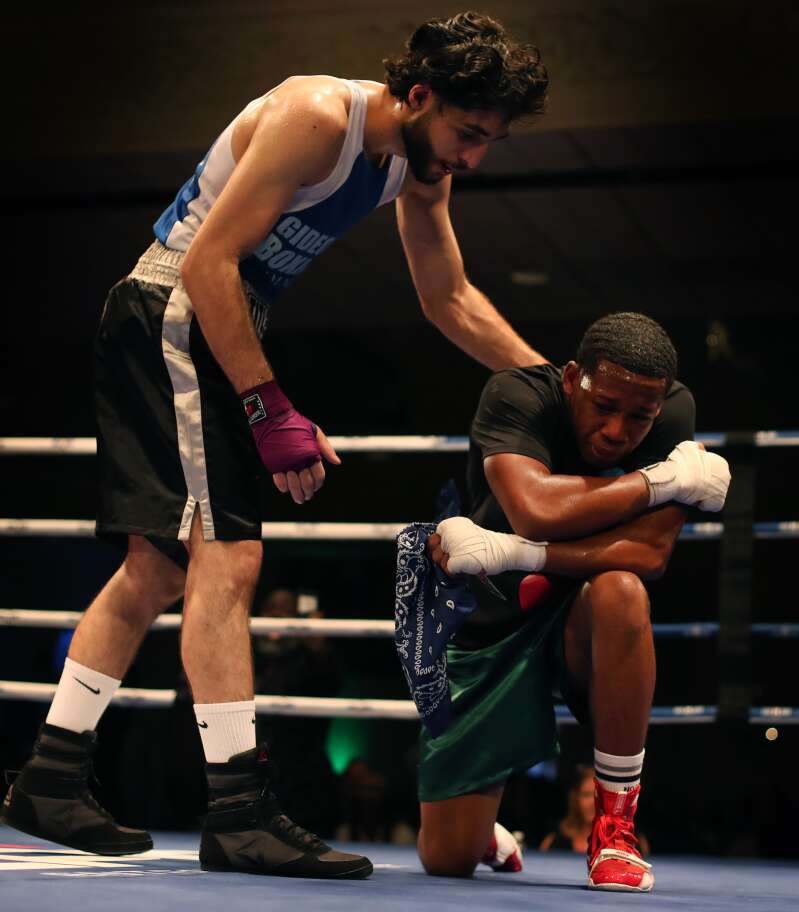 Adrian Roach dedicated his impressive unanimous victory over Canadian Hamza Zarwari to close friend Kijani Burgess who was killed in a road accident.
The 16-year-old died on Monday after his scooter hit a taxi and he fell into the path of a fire engine on its way to an emergency call-out with its lights and sirens on.
Roach held back his visible grief to give a composed and controlled display dictating all three rounds against his opponent with a flurry of eye-catching combinations and stinging right hooks to take a clear decision from the judges.
At the conclusion of the decision, a tearful Roach dropped to his knees as he finally allowed an outpour of emotions to overcome him.
"Kijani lost his life in a bike accident on Monday and I told myself from that day I was going to win this fight for him," Roach said. "It means so much that I managed to do it and I just want to dedicate the victory to him and his family.
"He's gone far too soon, but I'm glad I managed to secure the win to him and remember him in my own way.
"It's a little bit of love to all the people that have lost their lives on the roads.
"I've never really felt like this before until now but this is all for Kijani. He was such a good kid and I'm just sorry to see him go so soon.
"Before I came out to the ring I was crying in the changing room, but I told myself I had to get it together for him.
"It was a tough evening, but I know he would be proud of me."
Roach's bout was one of nine amateur boxing fights as part of the sold-out Fight Night Champion card at the Fairmont Southampton on Saturday.
There was also an impressive performance from Lovintz Tota who beat Zaheer Ishan, of Gideon Boxing Academy in Toronto, with a third-round stoppage.
Having controlled the first two rounds, Tota grew in confidence, exuberantly dropping his hands and baiting his opponent before unleashing a vicious flurry of shots, forcing the referee to halt the fight with a little more than a minute left in the final round, much to the delight of the vociferous home crowd.
"I just want to make the crowd and people at home here happy," said Tota, who took his unblemished amateur record to 4-0.
"The first round I was feeling it out, the second I picked a couple of shots but the third is when I managed to show the judges that I had total dominance of the fight. I could see he was starting to get tired during that final round and my shots were affecting him a lot more. His punches didn't have any real sting, so I seized the moment and took it.
"To fight in front of all those people is electrifying. I come alive in front of people, I try to be a showman and I really enjoyed the crowd out there."
It also proved an enjoyable evening for Jaylon Roberts, who despite encountering a stern test from Canadian Michael Sánchez, secured a unanimous victory.
Having bloodied Sánchez's nose with a flush uppercut in the opening round, Roberts contained his opponent in the next two rounds to claim the decision.
"It was a great fight and one I really enjoyed it," Roberts said. "He had good style and was moving a lot, but I just had to implement my speed and range and thankfully it worked out.
"I threw an uppercut and caught him clean on the nose. I could see he was bloodied, so I just tried to press on a bit more and dictate things from there.
"He was a tough opponent and really took a lot, so I had just to keep hitting him and break him down. When it's a close fight like that you have to show the initiative."
There was less joy for Scott Brown and Robert Somner, who both suffered unanimous decision defeats.
Somner enjoyed the best of the opening round catching Donovan Samari with two clean right hooks but allowed the bout to become more scrappy in the proceeding two rounds resulting in his opponent doing enough to claim the decision.
Meanwhile, neither Brown nor Milad Zareian pressed home their authority during the three rounds, with the judges opting to give the decision to the latter.