Nikki Bascome remains hungry to keep stepping into the ring
Updated: Jan 31, 2022 12:39 PM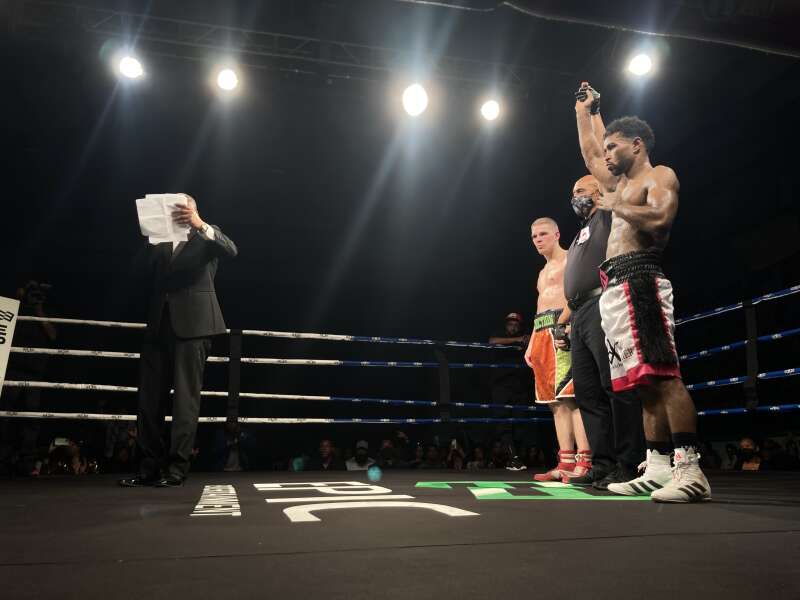 Nikki Bascome remains as determined as ever to prolong his professional career, after securing a unanimous points decision against Canadian Dylan Rushton, in the main event of the Fight Night Champion promotion at The Shed, Dockyard, on Saturday.
Returning to the ring after a two-year absence, the 31-year-old dictated much of the eight-round bout, seemingly never in any real trouble, as he connected with the cleaner shots and combinations throughout.
Despite not asserting his dominance in search of the knockout that the passionate capacity home crowd was desperate for in the closing stages, Bascome did enough throughout, to claim a tenth professional victory, with all three judges scoring the bout 79-73 in his favour.
"I knew he was going to be tough. I watched his last fight and I know he likes to fight on the inside," said Bascome, who had to deal with a late opponent change, having originally been scheduled to fight Waseem El Sinawi.
"Obviously, with it being a late opponent change, I didn't have a lot of time to prepare and I had changed my preparations because I had been training for a taller guy.
"In my mind, I knew if he stepped in to me, I was going to stick right there to show him that I wasn't going anywhere.
"My coach kept telling me to move, so I had to pick my times to go into the centre of the ring with him and exchange shots. I felt like when I was moving, I was having a lot more success."
Bascome pointed to the delayed start to his fight and the effect that had on his body, as a mark of disappointment.
"Being out of the ring for the last two years didn't actually affect that much because I have been sparring continuously," he added.
"The only negative about the fight from my point of view is that it was a bit late getting into the ring; I'm normally asleep by that time, so my body clock was a little off. Other than that, I have to give credit to him because he's a tough fighter.
"I knew he was going to be; he's had a similar amount of fights to me and has been in with some strong guys. The most important thing is that I got the victory and that's what matters."
Reflecting on his immediate future in the sport, Bascome, whose record now stands at 10-1, is adamant the desire remains to keep fighting in the years to come, with the likes of exciting talent Andre Lambe and Adrian Roach keeping him fully motivated, to keep stepping back into the ring on fightcards on island.
"I've definitely got a few more fights in me," he added. "I think what keeps me going is just the love for the sport.
"It definitely motivates me to see the guys like Adrian [Roach] and Andre [Lambe] shine. It keeps me on my toes sparring with them and that's certainly strong motivation."
The two-year period of inactivity and any lingering uncertainty about his rescheduled opponent, were arguably evident in the early stages of the bout, as Bascome got off to a tentative start.
Probing with the left jab throughout the first two rounds, the Bermudian started to find his range, with a swift and precise left-right combination leaving Rushton bloodied from the nose.
However, failing to seize on that initiative, Bascome's intensity dropped somewhat, allowing his opponent back into the contest, with a number of solid body shots and strong right hook, connecting on the Bermudian, visibly giving Rushton renewed confidence.
As he had promised pre-fight, the Canadian continued to step into Bascome, with the pair going toe-to-toe for much of the fourth round. However, the home fighter continued connecting with the cleaner shots, including a stinging straight right and flurry of one-two combinations, resulting in Rushton again returning to his corner bloodied at the bell.
The theme continued into the proceeding two rounds, Rushton attempting to entice his opponent into slugging it out at close quarters, with Bascome content on weaving and stepping in when necessary, ending the sixth with a flourish to keep safely ahead on the scorecards.
Dictating the bout on his own terms, Bascome remained patient throughout the seventh, moving fluently around Rushton and connecting well with swift combinations.
While the Canadian landed a number of combinations of his own, Bascome was never seemingly affected by anything thrown at him, as the final round loomed.
Refusing to get drawn in by the crowd's vociferous pleas for a grandstand finish, the Bermudian did what was strictly necessary in the eighth, moving freely and working the space, before landing counter body blows, and combination jabs to keep Rushton safely at bay.
As the bell rang, Bascome looked content, safe in the knowledge he had done enough and so it proved, with the judges awarding him the bout on unanimous decision.
Fight Night Champion 2022
Enzi Johnston bt Samantha Knight, pts (kickboxing)
Kallan Todd bt Schaeffer Underwood, pts (kickboxing)
Ashton Bell bt Cole Durham, pts (kickboxing)
Che Durham bt Tyler Kerr, pts (kickboxing)
Krista Dyer bt Taylor Gerow, pts (kickboxing)
Ethan Daniels v Noah Andrews, exhibition
Ismail Mohammed bt Dejon Benjamin, pts
Ngai Franklin v Michael Parsons, exhibition
Adrian Roach (Ber) bt Jack Cabotaje (US) pts
Andre Lambe (Ber) bt Jose Ceja (US) TKO 3
Nikki Bascome (Ber) bt Dylan Rushton (Can) pts