New East End bridges delayed for cash to be found
Created: Mar 03, 2021 07:57 AM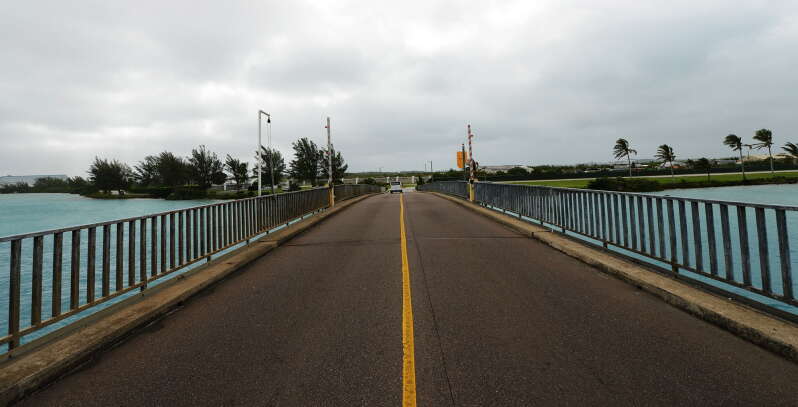 The price tag for the replacement of two old East End swing bridges will be about $100 million, the public works minister revealed yesterday.
Lieutenant-Colonel David Burch said staff were ready to start work on the Swing Bridge, from St David's to St George's Island, and Longbird Bridge, which St David's Island to the Causeway.
But he added: "The only thing missing is a critical component and that's money.
"We are in discussions with the Ministry of Finance about how we can bring that to fruition."
He said he project was expected to start in the first quarter of 2021, but the Covid-19 pandemic hit in March last year.
Colonel Burch was speaking as he outlined economic stimulation projects and other works for the 2021/22 financial year.
He did not give a timeline for the work to be completed.
Colonel Burch ruled out charging a fee to help cover costs and that a move to a toll would face "resistance from Bermudians".
He added: "That would take us three lifetimes to pay for it from a toll.
"There are a number of funding mechanisms being discussed with Finance, but we've not made a decision."
Colonel Burch also discussed the Bermudiana Beach Resort in Warwick, a condominium hotel on the former Grand Atlantic site on South Shore.
He highlighted that Curtis Dickinson, the Minister of Finance, announced in the Budget statement on Friday that "the Government is guaranteeing a $10 million loan in order to complete the conversion of the majority of units".
Colonel Burch said that no sales had been made at the resort yet.
He added: "It's been delayed for Covid and the fact that people cannot come and see what it is they're buying.
"But we are optimistic that the Hilton brand and Hilton reservation system that is being used will aid in the sale of those units and it will be up and running before the end of this year."
The 78-unit Grand Atlantic, a former affordable housing complex, was converted to a Hilton brand boutique hotel made up of 71 condos.
Robert MacLellan, the developer, said in 2019 the condos would be priced between $400,000 and $1 million as "an investment as well as a vacation home".