Tania finds her crew in England
Updated: Sep 29, 2021 08:04 AM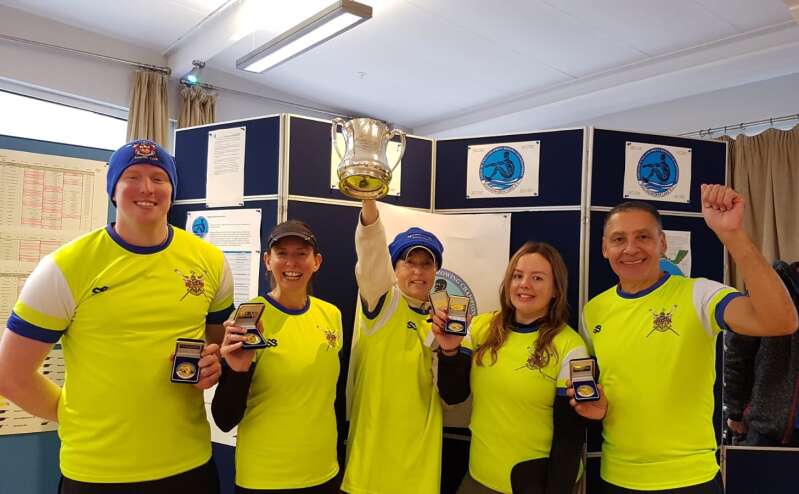 Tania Stafford is tearing up the rowing world in the north of England, after moving there nine months ago.
The 64-year-old led a "newish" team to victory at the North of England Sprint Rowing Championships.
One of the biggest rowing events in the UK, with more than 900 rowers participating in 215 races, the championships were held on Lake Hollingworth in Rochdale, Greater Manchester 45 minutes from Ms Stafford's home in Warrington, Cheshire.
September 4 was blustery and cold and saw Ms Stafford wearing four layers, including a life jacket, by the end of it.
"The first sight that greeted us was a boat over turned on the water," she said. "Because of the arrangement of the hills, there was a bit of a wind funnel and it was hitting the smaller boats hard."
That unnerved her four team mates, who were part of a group in the club that rowed for fun and personal development. She was unruffled.
"I have been rowing in Bermuda since 2008," Ms Stafford said. "I have navigated the Town Cut in St George in 25 knot wind."
She took on the role of cox, or team leader, as the group raced single boats from other clubs. After a difficult start because of the weather, they won their first race and then the semi finals.
By the final race, Ms Stafford felt her team-mates were getting a little too cocky.
"I had to crush their confidence a bit," she said, explaining how she held them back a little. "We could still lose."
She then let them fly. They won by quite a lead.
"Everyone from Warrington, was standing on shore cheering," Ms Stafford said. "The wife of one of my crew members had my dog, Maili. I could hear her barking."
Her team won The Sprint Championship Trophy, which will sit on display at their club in Warrington. The individual winners received medals and bragging rights. But for Ms Stafford the reward was deeper.
"It was an affirmation," she said. "It showed that it was worth moving to England."
She bought her house in Warrington, her mother's birthplace, in November 2019 but put off moving, even though it was becoming harder and harder for her to get by in Bermuda.
Because she suffers from severe depression, Ms Stafford needs to have access to good mental healthcare for the rest of her life.
"I have found here is better," she said. "The National Health Service is stretched but not as stretched as Bermuda's mental health services are.
"And because of this pandemic, more and more people in Bermuda are going to need mental health services," she said. "They were already lacking."
Having been a teacher and then an officer at the Department of Planning, she switched to working part-time to reduce the stress in her life.
"I was 52," she said. "I didn't have retirement funds. It is all about trade-offs. Because of my mental health challenges, I had to move to HIP, because I simply did not earn enough to pay major medical with any of the insurers."
"I was eating poor quality foods in order to keep taking my medications, keep paying my rent and have a little bit of fun. I was only buying one form of fruit a week. The worst I ever paid was $13.99 for [a net of] tangerines. They were basically, a dollar each."
By comparison she can now buy the same for £1 and have it delivered to her door for another £1.
"I know significant numbers who have [moved to England] and there are more coming," she said. "People who know that I have moved will reach out to say, 'How did it go? I am thinking of moving'."
Bermuda needs to sort out its healthcare if it wants to keep older community members on the island, Ms Stafford said.
"If you work and your employer pays 50 per cent of your healthcare, you are happy," she said. "You have an incredible package.
"Until I stopped working [full-time], I didn't know how much my medication cost. It is getting that balance readdressed that needs to happen."
Although she misses Bermuda and her friends she feels the move was the right decision.
Meanwhile, she is helping her team develop a fierce reputation in rowing.
"I went to an event the other day in Lancaster, and someone asked, 'Is this the same group that won at the championships?'. When I said 'no' and that we were from the Warrington Rowing Club, but a different group of rowers, they breathed a sigh of relief."