Thomas aims to inspire with memoir
Updated: Dec 16, 2021 08:03 AM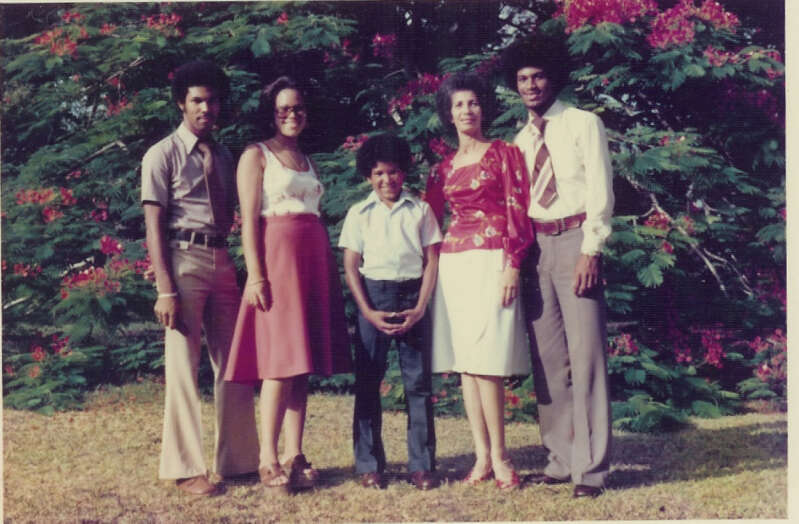 When Bermudian Thomas MacDonald published his memoir earlier this year, he was so excited he did not want to wait more than a week to receive his free author's copy.
Instead, he went to Amazon and paid for a copy of his own book, Here Is What Happened: A Black Man's Discoveries and Decisions. He received it in three days.
"When I opened the box, I was looking at the book and thinking, that's me," said the 67 year old Salem, Massachusetts resident. Jokingly he said: "One day this will be $2 in a resale shop somewhere. Isn't that great?"
He wants the book to be an inspiration.
"My hope is that younger people and people of colour read this and say, he did it, and he had very little to start with. I think I can do it too," Mr MacDonald told The Royal Gazette earlier this month. He was here briefly to give a reading at the Bermuda National Library on Queen Street.
He grew up on Sound View Road in Sandys in a single-parent home.
"We knew we did not have what everyone else had but we did not think we were poor," he said.
He can remember day dreaming about the places he would go when he grew up.
"I would see a plane flying overhead and think one day I'll fly first-class in that plane," he said. "Or I would see a cruise ship going by and think, one day I'll take a cruise in that ship."
But it seemed improbable due to the intense racism in Bermuda at that time.
"You learn as a person of colour that Bermuda is two Bermudas," Mr MacDonald said. "I grew up listening to my elders who would say you had to know your dress size and shoe size before you went shopping because you were not allowed to try the clothes on in the store. And if it did not fit when you got home you could not return it. And you could not sit in certain sections of the Island Theatre or go in through the front door of a hotel."
After high school, Mr MacDonald went straight into the workforce to help his mother, Gladys MacDonald Mussenden, and three younger siblings Carla Mussenden-Hassell and Larry and Francis Mussenden. With the extra pay cheque in the house, his brothers were able to go to college. Carla Mussenden-Hassell worked for many years for an exempt re-insurance brokerage firm as assistant vice-president of corporate governance. Larry Mussenden is now a Puisne Judge of the Supreme Court, and Francis, now retired, was chief executive officer of the Bermuda Telephone Company.
Early on, Mr MacDonald realised he was gay. It was a time when homophobia was rampant in the community.
"I thought how will I make this work?" he said. "I shut my mouth and stayed in the closet. I did what a lot of Bermudians my age are still doing on this island."
But he grew increasingly worried that someone would say something to his mother before he did. He finally came out to her one day, when he had a male friend visiting from New York.
Her response was complete acceptance.
"She put her arm around me and said, 'you are my son and I love you'," Mr MacDonald said. "She said, 'if you need something, I will always be here'."
He felt as though a burden had lifted from his soul.
"I felt no one can hurt her now," he said. "She is armed. That is when I decided, I am living my truth."
Between 1977 and 1985 he worked for Ramus Insurance, a Dutch held subsidiary of two companies based in Rotterdam, Holland. He started as their assistant accountant and was promoted to vice-president and general manager.
"I believe I was the second Bermudian of colour to head up an exempt company at that time," he said.
But he still felt there were many "ceilings" stopping him from succeeding in Bermuda due to racism and homophobia.
"I knew I was not going to be allowed to progress the way I wanted," he said.
So in 1986, he moved to Chicago and found a job working in the corporate department of the Marshall Field's department store.
"The money had been good in the exempt company," he said. "The job at Marshall Field's was the only job I could find. But over the years I was promoted and the money did come."
He met the love of his life, William 'Bill' Henning at Marshall Field's. Mr Henning worked in operations. They started dating after working on a Christmas project together.
In 1989, Mr MacDonald got a call from Darlene Ming. They had become friends years ago when they both worked at ZBM for a time. Ms Ming had been working in the Chicago office of the Bermuda Department of Tourism, but was heading home. She suggested he might want to replace her.
"She said, ' you're well travelled, and you love Bermuda'," Mr MacDonald said.
He applied for the job and got it.
But selling Bermuda to this audience was an uphill battle. An attempt to start a direct flight to Bermuda failed and he found that people in the Midwest mainly wanted heat and gambling. Despite it all, he did well in the office. When he was offered a place in the tourism office in Boston he took it.
He and Mr Henning moved to Salem, an hour northwest of Boston. The couple were married there on March 26, 2005, a year after same-sex marriage was legalised in Massachusetts.
"We sent out invitations expecting that a handful of people would show up," Mr MacDonald said. "But the novelty of getting an invitation to a gay wedding meant that they all showed up."
Mr MacDonald is now retired.
He and his husband are active in the LGBTQ+ community in the area, and helped to organise the first gay pride parade in Salem 11 years ago.
The couple often speak to young people in the North Shore Alliance for Gay and Lesbian Youth.
Mr MacDonald thinks that things are better for today's LGBTQ+ young people.
"Today they have people in the LGBTQ+ community that they can look up to that are successful," Mr MacDonald said. "They have people like Anderson Cooper, Elton John, Ellen DeGeneres and Rue Paul.
"I had none growing up. Back then people were suspicious that maybe Liberace or some other people were gay, but that was it."
He started writing his memoir four years ago at the encouragement of an editor friend, Ethan Casey, publisher of Blue Ear Books in Seattle, Washington.
Copies can be ordered at the Bermuda Bookstore on Queen Street in Hamilton.