Sue wears her love for Bermuda on her wrist
Updated: Jan 04, 2022 10:02 AM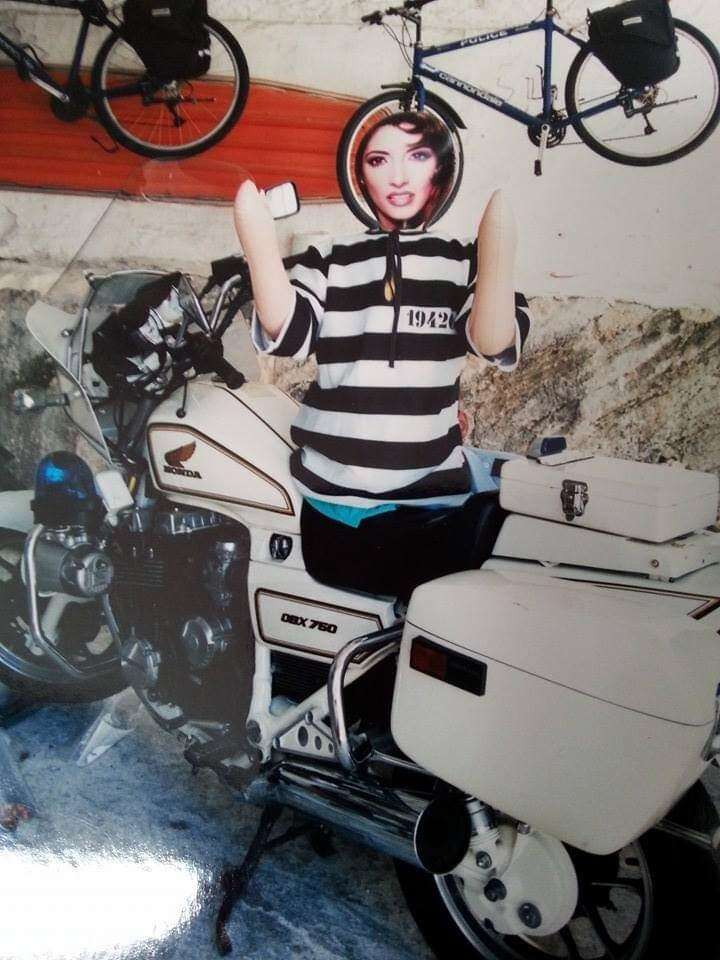 Sue Behrle is one of Bermuda's biggest fans.
She has visited more than 50 times in three decades, and has 'Going to Bermuda' tattooed on her wrist. She uses the same phrase as her e-mail username.
"I first came in the 1990s," the 66-year-old, Landsdowne, Pennsylvania resident said. "I don't even remember how I first heard about Bermuda, but I know its closeness made it attractive. You only had spend about an hour and a half in the air."
The Royal Gazette caught up with Ms Behrle at the Salt Kettle Guest House in Paget in the middle of a 17-day visit.
Covid-19 has not slowed her down.
"I've been here five times since the pandemic began," she said. "It's not hard if you know how to do it."
For Ms Behrle, visiting the island is a great way to relax. Her job, working for a retina specialist, can get stressful.
"I am in charge of the drugs and injection approvals," she said. "It is high-stress because each injection is worth about $1,500. This is my happy place where I can come and unwind."
She semi-retires at the end of this month.
She has seen the island change over the years. When she first started coming to Bermuda, she loved renting a moped. Now, her enthusiasm for mopeds has cooled a little.
"It is just a means of transportation," she said. "It is not fun driving any more, with people passing you on the left and the right, and you are doing a decent speed."
Ms Behrle likes to get off the beaten track in Bermuda. As many times as she has visited, she still finds new things to do. Often, she just likes to drive around taking pictures of what she sees.
"I have probably driven down 50 per cent of the streets and neighbourhoods in Bermuda," she said.
She makes notecards out of the photographs she takes and gives them away.
"They are all different," she said.
She has stayed at the Salt Kettle Guest House many times and remembers its late owner Hazel Lowe with great fondness.
"She was like a grandmother to me," Ms Behrle said. "She had her opinions."
Ms Behrle was here this time over Christmas.
"I bought my own Christmas lights and decorated," she said. "We did a gift exchange in the lounge. Everyone here typically comes a lot. We have gotten to know each other. It is just like family."
There are not many things she has not done on the island at different times of the year.
"I love the Christmas Walkabout in St George," Ms Behrle said. "I love the Christmas Boat Parade. That was held the night I came in so I could not go into town. Instead, we watched the boat parade go right by Salt Kettle."
She used to get up every morning and be out of her accommodations by 8am, following a strict schedule of sightseeing.
"Now I have no agenda," she said. "I just say which way am I going to go today? Am I going towards Somerset, or St George's?"
She is not a 'sit on the beach' kind of person, but a 'walk the beach' type.
"I love to walk Horseshoe Bay in Southampton down the left end when it is low tide and you can go all the way through to Warwick Long Bay in Warwick down to Jobson's Cove."
She loves walking the beaches in search of sea glass or shells.
"It is therapy for me," she said.
She only just started swimming in Bermuda five years ago and now loves it.
St George's is one of her favourite places in Bermuda.
"I love it because of the history," she said.
But she is a little disappointed at how run down the Old Towne has become in recent years, especially with the new St Regis Hotel newly opened.
"You'd think the Government would have made sure everything had a fresh coat of paint before the hotel opened," she said.
She has often brought groups of 15 to 20 friends with her when she visits.
"We all met here a number of times," she said. "We all stayed at different places. They come because they like the Bermuda experience. Everyone knows I go to Bermuda. They ask me about it and then they come."
She thinks Bermuda needs to work harder to dispel its image as an expensive destination. She has developed a few tricks for saving money while on the island. For example, she often brings her own meat and condiments, to last a couple of days of her stay.
"The best deal on the island, is to go to Art Mel's (on St Monica's Road) for a fish sandwich," she said. "That feeds my best friend and I. We both have half. The lunch truck at the head of Hamilton has a great hamburger. You don't have to have a drink out. You can just have soup and a coke, and spend $20 with a tip."
She feels that a lot of potential visitors to Bermuda are turned away when they first research hotel prices.
"They see hotel rooms available for $400 a night or even $1,200 a night," she said.
But she said there were many good accommodation options available in Bermuda that should be promoted.
"I once stayed in a house on White Sands Road for $400 a night," she said. "It was two-bedroom, two-bathroom, and had a pool and dining room. If you get another couple to come with you, that's $200 a night, instead of $400."
She has had plenty of laughs while here. One July she rode around Bermuda in a full Santa suit.
Then she and her friends lunched at the Swizzle Inn in Hamilton Parish.
"You can believe I was sweating," she said. "But we went outside and took pictures and I waved to people passing by. The next day I went back. The regulars there were like 'where's the Santa suit'?"
Five or six years ago, a Wisconsin friend called Cathy could not come on the trip to Bermuda. Ms Behrle blew up a photo of Cathy's head and put it on a stick, so that wherever the group took pictures, Cathy could be included. Then she went a step further and bought an inflatable doll to represent Cathy.
"I rode around with 3D Cathy on the back of my bike," she said. "She was facing traffic and had a helmet and a Bermuda T-shirt. It was just hysterical."
One day, Ms Behrle was on the way to St George when Cathy's leg started to deflate after catching on part of the bike. Ms Behrle popped into a cycle shop, and they happily performed emergency surgery on Cathy with a patch.
3D Cathy was soon posing on the back of a motorcycle belonging to some amused St George police officers and then had her picture taken in a jail cell.
"You have to make your own fun," Ms Behrle said.
Once she held a mock wedding for her friends on the beach at the Coco Reef Resort in Paget at sunrise. She catered for the event with mimosas and cannolis brought over from Philadelphia.
"I was there from about 5am setting this up," she said. "I had an aisle set up. I wrote vows. It was just a great time and good food. There was a guy from South Africa walking on the beach, who joined us for the whole thing."
She already has three trips to Bermuda planned for next year.
Ms Behrle believes the Bermuda Government should be offering incentives to get more tourists on the island, to help recover from the pandemic.
"They have to get people here," she said.
She thought they could offer small discounts in the hotels and restaurants.