Kinship parents: family helping family
Updated: May 31, 2022 07:58 AM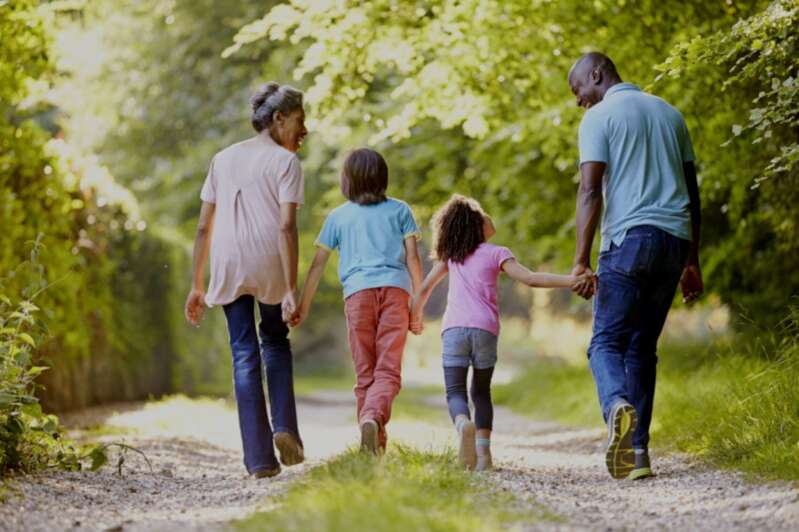 May is Foster Care Month. The Royal Gazette is highlighting people who have made the decision to "spend a season" working with the Department of Child and Family Services whenever there are children in need of help.
It's been a long road for Lisa and Scott and the eight-year-old they took in eight years ago.
The couple stepped up as emergency caregivers only a few days after the birth of their nephew. Once it became evident that long-term help was necessary they went through the formal process of becoming "kinship parents", people who foster their relatives.
"Every situation is so unique so it's hard to capture the whole picture by one experience," said Lisa who, out of respect for her family, decided not to share her real name.
"For us it was something that we didn't plan for and just stepped up to do what we felt was best. Our nephew has been through soooooo much in such a short time, that being able to provide love, care and a safe place for him to call home means the world to us. Through all his trials he is still the happiest, most loving person you will ever meet."
She and her husband, who have two teenagers of their own, had never considered becoming foster parents before their nephew was born.
"We became foster parents so that we were able to keep our nephew in our care," she said. "It's better in most cases if they are with someone that they know. Sometimes it might not be possible but it's more beneficial – the kids are with their family, they're still surrounded by familiar faces. He's not been taken from his family, he has people who love him, he feels wanted; he feels part of a family.
"For our situation, it just kind of happened. So we just did what we needed to do to ensure he was safe and loved."
Despite the many advantages kinship parenting offers a child it is a decision that requires careful consideration, Lisa said.
"If someone is considering doing a kinship the best thing is to do it for love, do what's best for the child. A lot of times people get in these predicaments and they let their feelings or personal opinions play a role. But you have to do what's best for the child – if it's having visits with the parents, if it's not having visits with the parents, whatever it is in that moment then do it out of love. You have to put your personal feelings aside when it comes to caring for someone else's child.
The need for foster parents
There are nearly 70 foster families in Bermuda assisting 65 children in foster care.
It's not enough, according to the Department of Child and Family Services whose job it is to respond to concerns and remove a child from their home whenever their safety is an issue.
"Ideally, it is appropriate to have a surplus of ten approved foster families to answer the calls when new emergencies arise and/or when something goes wrong in a current foster placement and a child has to be moved to a new home," said Selena Simons, foster care coordinator.
Half of the people who foster are single parents; 30 per cent are kinship foster families.
At present, the island only has seven therapeutic foster parents. Ms Simons would like to see a greater buy-in from people with specified areas of training such as nurses, teachers and professionals with expertise in dealing with children with special needs.
The vetting process can take anywhere from six to ten weeks.
"A foster family can be approved and literally called upon the very next day or they may wait months," Ms Simons said. "It totally depends on the nature of what types of emergencies arise."
Anyone interested in becoming a foster parent should contact Selena Simons, the foster care co-ordinator at the Department of Child and Family Services: 294-5871; smsimons@gov.bm
The role brings "difficulties and obstacles but having/raising your own children does as well", Lisa added.
"A lot of times you find it more difficult because you know the [family] situation," she said. "And sometimes when it's a family member they feel like they [should] have more access or they don't have to follow the rules; they can go through you instead of through the social worker. That's why I say you have to do it out of love and you have to do what's best for the child, whatever that is.
"I find being open and honest with our nephew has helped foster a good relationship that he feels safe to just be himself. I have great communication with my nephew. We talk about everything."
From the start she and her husband made it clear to that she was "auntie" and he was "uncle" and that he had "parents that love him".
"It was never even a thought we would have him long-term. We were just stepping up to how we were needed at the time and here we are eight years later. It isn't something that we chose but that chose us. That's why you have got to do it out of love – because it's not always easy.
"But at the end of the day the children don't ask to be born and they deserve to feel safe and to feel loved and to feel wanted. And if you can't provide that, then it's really not an easy shirt to wear, I think is the best way to put it."