Doctor son of former Premier guilty of assaulting female patients in Los Angeles
Updated: Aug 16, 2011 09:24 AM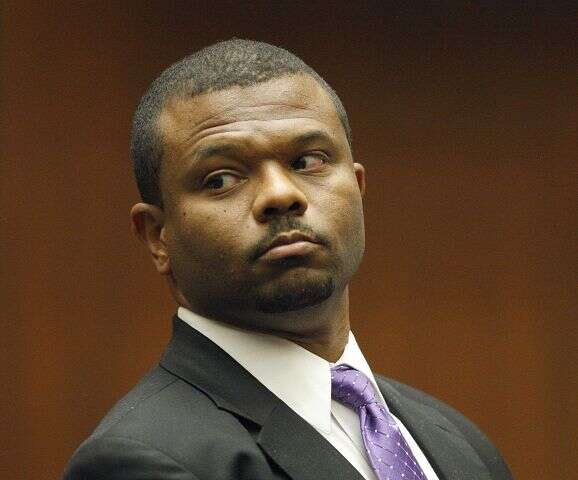 Kevin Brown, the doctor son of former Premier Ewart Brown, has been convicted of sexually assaulting nine female patients under the guise of breast and pelvic examinations.
A jury in Los Angeles convicted the 40-year-old of 21 counts yesterday, including sexual battery by fraud, sexual exploitation by a physician, sexual penetration by a foreign object and committing a lewd act.
The panel deadlocked on eight other charges.
The disgraced doctor stared forward and shook his head in response to the verdicts.
He was denied bail, handcuffed and taken into custody pending sentencing on September 21.
According to Deputy District Attorney Ann Marie Wise, he faces a maximum term of 16 years and ten months in state prison.
"I am extremely pleased with this verdict, and the women who came forward were very brave," she said.
Kevin Brown pleaded not guilty to counts ranging from sexual exploitation to forcible rape. Several counts were dismissed during his three-week trial.
Ms Wise said he attacked 11 female patients, including an undercover cop, over five years at three of his clinics.
He gave the women inappropriate breast or pelvic examinations for unrelated complaints like lightheadedness or flu-like symptoms.
The jury deadlocked on all counts involving two women and one count involving another woman.
In the trial's closing arguments, the prosecutor cited the testimony of one victim who came in to be evaluated for weight loss treatment and said she had her breasts fondled after being told she needed a mammogram.
Another victim came in to discuss a lump on her breast only to have the doctor put his face on her chest and his mouth on her breast as part of the supposed examination.
No physical evidence was ever collected, and some of the women waited years to report the doctor to the authorities. He was arrested after a police sting involving an undercover cop in 2008.
Defence lawyer Edi Faal dismissed the allegations as lies, and questioned the credibility of the witnesses.
Ms Wise told the jury Kevin Brown had been acquitted in 2004 and 2006 of similar charges. The state is also investigating him over allegations he was involved in healthcare fraud schemes and allegedly overprescribing the painkiller Oxycodone, according to court documents.
Kevin Brown hit the headlines in Bermuda in May 2008 over charity fundraisers he organised at the Playboy Mansion to raise funds for his charity, the Urban Health Institute. His father and then-Premier Ewart Brown attended one of the events and handed out prizes, including three donated by the Tourism Ministry.
Dr Ewart Brown and his wife Wanda Henton-Brown were in court to support him throughout the trial. The former Premier, who stepped down last year, could not be reached for comment last night. Kevin Brown is the eldest of his sons. The second-eldest, Maurice Pitt, 29, is currently in prison in California. He was sentenced to ten years for armed bank robbery in 2002.
According to US prison records, Pitt is due for release next February.