Accusations against former Regiment Major stretch back to 1989
Created: Feb 07, 2012 09:00 AM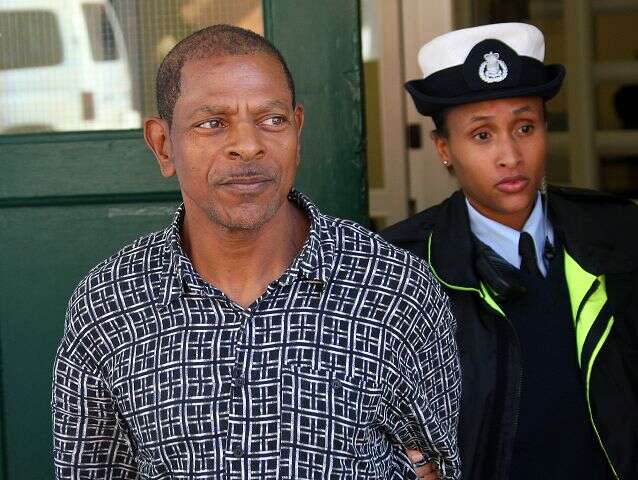 He served for more than three decades in the Bermuda Regiment but Major Glenn Brangman's latter years in the military were marred by a string of sex assault claims.
A lengthy investigation by
The Royal Gazette uncovered evidence of 13 separate allegations made by young male soldiers against the man known as "Q" between 1989 and 2002.
Police were called to Warwick Camp to deal with the first two incidents, in 1989 and 1990, but decided not to prosecute, according to a former Regiment commanding officer.
And we obtained court papers, filed by Brangman's own lawyers for a civil lawsuit, which reveal he was given a written warning about physical contact with soldiers in 1994, after a third allegation.
Four years later, police questioned Brangman about a fourth accusation, but chose again not to press charges, according to a top Regiment source.
The same source says a fifth claim was made to Regiment bosses in 1998, but the Quartermaster kept his job after it was dealt with internally.
The Supreme Court documents disclose that eight further allegations were made against Q between January 2000 and July 2002 and that he got another memo about physical contact in July 2000.
The claims from male soldiers under Brangman's command eventually led commanding officer (CO) Lieutenant Colonel David Gibbons to recommend to the Governor of the day that he be compulsorily retired.
The Governor complied, ordering Brangman to finish on August 31, 2002: 30 years and nine months after he joined the Regiment as a 19-year-old.
Brangman, 59, of Limehouse Lane, Hamilton Parish, began his long military career on December 6, 1971, becoming a full-time employee of the Regiment seven years later, when he was made a storeman.
On June 1, 1985, he was appointed Quartermaster, earning him the nickname Q. He still refers to himself by the initial.
As Quartermaster, his responsibilities included training soldiers and cadets, being in charge of stores, the kitchen and dining hall, and discipline. Regiment sources describe him as first-class at his job; a model employee who placed great importance on attention to detail.
He became a Major on September 28, 1991, the rank at which he was to remain until he left the military.
His time in the Regiment was certainly distinguished; he became the second of only three members in the Regiment's history to earn both the efficiency decoration and medal for exemplary military service. Brangman also received the Queen's Certificate and Badge of Honour in 1995.
But his reputation began to unravel when rumours surfaced about the unusual way he went about uniform inspection.
Soldiers at Warwick Camp would joke about Brangman's overzealous inspection technique and tease those who had to do extra duties with him to watch out for his wandering hands.
Behind the banter, there were more serious concerns. So serious, in fact, that police were called in to investigate the claims of improper conduct in 1989 and 1990.
Officers interviewed Brangman, who denied the allegations, and decided that the cases were not worth pursuing.
The CO of the day, Gavin Shorto, told this newspaper that the Regiment had little authority to deal with such serious complaints, under the Defence Act 1965.
"Offences against the Defence Act, which we can deal with, are relatively minor," he said. "It's a terribly difficult situation to be in for an organisation like the army. Anyone with any authority is in a perfect position to prey upon private soldiers, who have none."
Lt Col Shorto said he spoke to the officer. "I advised him about his future behaviour very strongly and told him that if it ever could be proved, he would lose his job overnight and then probably go to jail. I don't think he made any response."
The Quartermaster kept his job but in 1994 another accusation was made. This time a soldier claimed the Quartermaster made an inappropriate sexual advance while he was "on orders" i.e. carrying out extra duties as a punishment.
The young man was questioned about what happened but balked at the idea of taking it further by giving evidence in court or at an internal hearing.
The CO of the day, Lt Col Allan Rance, gave Brangman a directive ordering him not to touch soldiers or adjust their uniforms in any way that could be wrongly construed.
All appears to have gone quiet until 1998, the year in which two formal complaints were made. The high-ranking Regiment source told us: "The police were called in to deal with the first claim but decided not to charge Major Brangman.
"It all took place in camp in the Quartermaster's stores. It involved a private soldier, again on extra duties, cleaning the kitchen and dining hall at night. Brangman basically cornered him and assaulted him."
The source said of the police inquiry: "It fizzled out. They came and took statements from everybody involved. The police said 'We have done our bit'. They didn't feel it was criminal. They didn't arrest him but they did question him. They presented their findings to the Defence Board."
The source said the second allegation also went before the Defence Board but once again the Quartermaster walked away with what appears to have been a rap on the knuckles.
The source added: "There were so many complaints over the years, the same modus operandi, the same thing that happened before.
"But you have to remember that these soldiers were very wary. They did not want to go up against a senior officer of the Regiment. To them, it was a losing battle. They did not want to make complaints.
"These were young kids aged 19, 20 on up. They are private soldiers. Here is this guy who was a Major. It's really sad. He was a senior officer and they seemingly knew that nothing would happen."
At the start of the last decade, when Lt Col Gibbons was CO, a spate of abuse claims were made. He told this newspaper that the majority of the complainants refused to continue with their complaints after lodging them.
Most were already in trouble at Warwick Camp, usually for bad attendance, and some were not the most articulate or credible witnesses.
Lt Col Gibbons, who described Brangman as "incredibly hard-working and excellent at his job", said: "Most if not all of the individuals who came before me had credibility issues.
"Brangman, on the other hand, was held in high regard by bosses, had an unblemished military record, was deeply religious and gave detailed denials in each case. He was willing to go before a tribunal, known as a board of inquiry, to assert his innocence."
One young man who spoke to this newspaper was willing to go a step further. At the urging of his concerned parents, he went to the police and Brangman was arrested in November 2000, when he attended Somerset Police Station.
The Quartermaster was suspended from active duty in March 2001 and stood trial at Magistrates' Court that August, when he strenuously denied the allegation.
He was cleared of sexual assault by Magistrate Edward King, who said the complainant's testimony was inconsistent, tenuous and unreliable.
The alleged victim, who is now 32, told this newspaper: "I was terrified the whole time. I was telling the truth but they made it look like in court when I gave the first statement that I was lying about things."
Before that case ever got to court, assault allegations from two privates were made to Regiment bosses, in January and February 2001.
The court papers, filed by Brangman's lawyers in 2003 for a civil case contesting his compulsory retirement, reveal that he remained suspended even after his court acquittal.
In July 2002, Lt Col Gibbons made his recommendation that Brangman be retired on the following grounds:
l He admitted physical contact with soldiers notwithstanding written directions in February 1994 and July 2000;
l Five further allegations of sexual misconduct were made against him after September 2001;
l His actions rendered him unable to serve effectively as an officer;
l He had not exercised the level of judgement expected of an officer of his rank;
l He regularly exhibited behaviour prejudicial to the maintenance of good order and military discipline;
l He left Bermuda while suspended, without permission; and
l The CO no longer had trust and confidence in him and it was neither in his nor the Regiment's interest for his service to continue.
One source suggests compulsory retirement may have been the only real option for the Regiment to get rid of the "Brangman problem", since they say the "very weak" Defence Act does not allow for the dishonourable discharge of an officer.
And it may have been impossible for a board of inquiry to come up with any findings of fact, when witnesses were so unwilling to give testimony. To have held one, and have him found innocent, could have made it difficult to justify removing him from Warwick Camp.
Brangman, according to his lawyers, contested the grounds set out by Lt Col Gibbons for his retirement in a letter to the Governor on July 26, 2002.
He wrote that he had not admitted physical contact with soldiers and had not been given an opportunity to rebut the "baseless and unproven" allegations made by the two privates at the start of 2001 or the five later unproven allegations.
The compulsory retirement prompted Brangman to issue a writ against the Governor and the CO in January 2003, in which he said his termination was "unreasonable and unlawful".
In the statement of claim, his lawyers said the Major repeatedly asked Lt Col Gibbons to resolve the allegations made against him.
"On each occasion the plaintiff has made these requests of the second defendant, he has been met with the answer that there was no one in the Bermuda Regiment who could try the matters," said the statement.
A defence filed on behalf of the Governor and Lt Col Gibbons in the civil case said the Major was suspended from active duty "pending determination of the criminal proceedings in Magistrates' Court and other allegations made against [him] by other serving members of the Bermuda Regiment".
It denied that Lt Col Gibbons said no one in the Regiment could deal with the allegations but rather that he was waiting for the court proceedings to be determined before resolving the matter.
The lawsuit disappeared in December 2005, when Brangman signed a notice of discontinuance.
The same month, he was appointed quango consultant to Government by then Housing Minister David Burch, who was second-in-command at the Regiment at the time of the 1994 "physical contact" memo to the Major.
Brangman was tasked with reorganising the Island's three property quangos: Bermuda Housing Corporation (BHC), the West End Development Corporation and the Bermuda Land Development Company.
In April 2006, he became acting general manager of BHC and was given the post on a permanent basis a year later.
Sen Burch, Regiment CO between summer 1994 and autumn 1997, was full of praise for Q when he announced the appointment.
He said a number of important projects had been completed under the Major's leadership, including moving the Canadian Hotel's homeless male residents to accommodation at Southside and rehousing the Club Med squatters.
Sen Burch described a "more caring atmosphere" at BHC under Brangman. But claims of the same behaviour which ended the Major's military career were to surface again.
In June 2009, a 20-year-old man working there as a temporary clerk, who was also a conscripted Bermuda Regiment soldier and a BHC tenant, made a complaint of sexual assault against Q to police and BHC bosses. His was the 14th allegation that this newspaper is aware has been made against Brangman.
The accusation came just days after the former Quartermaster was asked by Sen Burch to help the Guantánamo Bay Uighurs settle on the Island.
Police investigated the complaint and charged Brangman in January 2010. BHC's board looked into it and told the employee in a letter dated July 28, 2009, that its findings were "inconclusive", due to a "lack of sufficient evidence".
BHC board chairman Charlton Dill confirmed in his letter to the alleged victim that the Major's contract at the quango ran out on July 31, 2009, and had "not been renewed".
Yesterday, Brangman finally became a convicted sex offender when he was found guilty in Magistrates' Court of repeatedly assaulting the clerk, now aged 22, between January and June 2009.
Magistrate Khamisi Tokunbo convicted Brangman of four counts of sexual assault and cleared him of a further four. He said he did not believe the defendant was being honest when he denied all eight charges against him.
A separate sexual assault case was thrown out of Magistrates' Court in 2010 after the complainant, the 15th man known to have made allegations against Brangman and a BHC tenant, failed to show up at the start of the trial.