Accused claims she was 'blind drugs mule'
Created: Jan 28, 2021 07:58 AM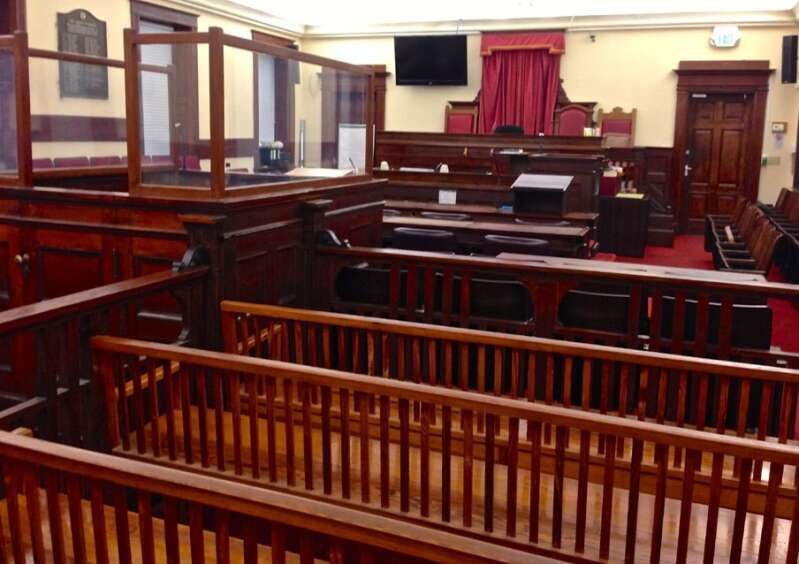 A former airport security officer accused of smuggling more than $700,000 worth of cannabis into the island claims she did not know the drugs were in her luggage when she returned to Bermuda from an overseas trip.
Ranae Furbert, from St. George's, told a Supreme Court jury that she only became aware that her suitcases had been tampered with after she stepped off the plane at L.F. Wade Airport – and saw a WhatsApp message on her phone telling her that "packages" had been placed inside.
Ms Furbert left the airport without picking up the luggage, which was later seized by police. More than $700,000 worth of cannabis, cannabis resin and shatter – a glass-like cannabis product – was discovered concealed behind hard plastic barriers in the backs of the suitcases.
In Supreme Court yesterday, Ms Furbert said she flew to Toronto in January, 2018 to show her six-year-old son the sights, do some shopping, and visit her aunt, who lived near the city.
During the trip, she also saw a man she named as Justin Clark, whom she said she had first met in Bermuda six months earlier.
Ms Furbert told the court that she became friendly with Mr Clark when she was working at the Rosewood Tucker's Point resort in July, 2017 and he was a guest there.
They kept in contact and she saw him again when she took a trip to Toronto in November, 2017 with a girlfriend. She claimed that, on that trip, she spent two evenings with Mr Clark and two of his friends, a woman named Savannah and a man named Michael.
According to Ms Furbert, Mr Clark contacted her again at the end of the year and suggested she make another trip to Toronto in January, 2018. She agreed, and decided to take her son with her because he had never seen snow before.
Ms Furbert and her son flew to Canada on January 7 and stayed at an Airbnb property during the four-day trip. She claimed that, on her final night in Toronto, Mr Clark called on her with three suitcases, which he suggested she could use for the return trip because hers were old and damaged. She said she checked over the suitcases and packed them herself.
Ms Furbert told the court that she returned to Bermuda on January 11 and switched on her phone while waiting in line at Immigration. Shortly after, she received a brief voice note from Mr Clark's friend, Savannah, saying Mr Clarke had placed packages in the suitcases.
Ms Furbert claimed she panicked and went to the bathroom to calm herself. She then made the decision to avoid the three suitcases, even though they were labelled with her name. She passed through Immigration and Customs control with just her carry-on luggage, left the airport and headed home. After speaking to an attorney, she went to the police the following day to explain her story.
Ms Furbert's lawyer, Charles Richardson, said the defendant was a "blind drugs mule" who had no idea her suitcases contained drugs until she landed in Bermuda, at which point "she distanced herself from them like the plague".
But Nicole Smith for the Crown poured scorn on that explanation.
She said that, as a former airport security officer, Ms Furbert should have known not to accept the suitcases offered by Mr Clark.
She asked: "So you were in the position more than many people to not trust just anyone with something they give you to bring to Bermuda?"
Ms Furbert agreed.
Ms Smith refused to believe that Ms Furbert had deleted the voicemail note informing her that packages had been planted in the suitcases.
"There never was a message," she said. "This was a message that could have made things go very differently for you.
"It would have been your golden nugget – your ticket to freedom. You would never have deliberately deleted that message."
She also questioned why Ms Furbert did not speak to someone in authority at the airport as soon as she discovered her predicament.
"You could have brought that voice note to the attention of someone," she suggested.
"If you had told the Customs officers what you had learned, you might not be here today. You could have caused yourself a lot less pain.
Ms Smith also suggested that "this name of Justin Clark is a fabrication – a phantom – he does not exist".
Ms Furbert denied that allegation. But she was unable to provide the court with any details about her friend, such as his address in Toronto or the name of his construction company.
The trial continues tomorrow.
• It is The Royal Gazette's policy not to allow comments on stories regarding criminal court cases. This is to prevent any statements being published that may jeopardise the outcome of that case.