Chief Justice to rule on 'All Lives Splatter' case
Created: Jul 15, 2021 08:00 AM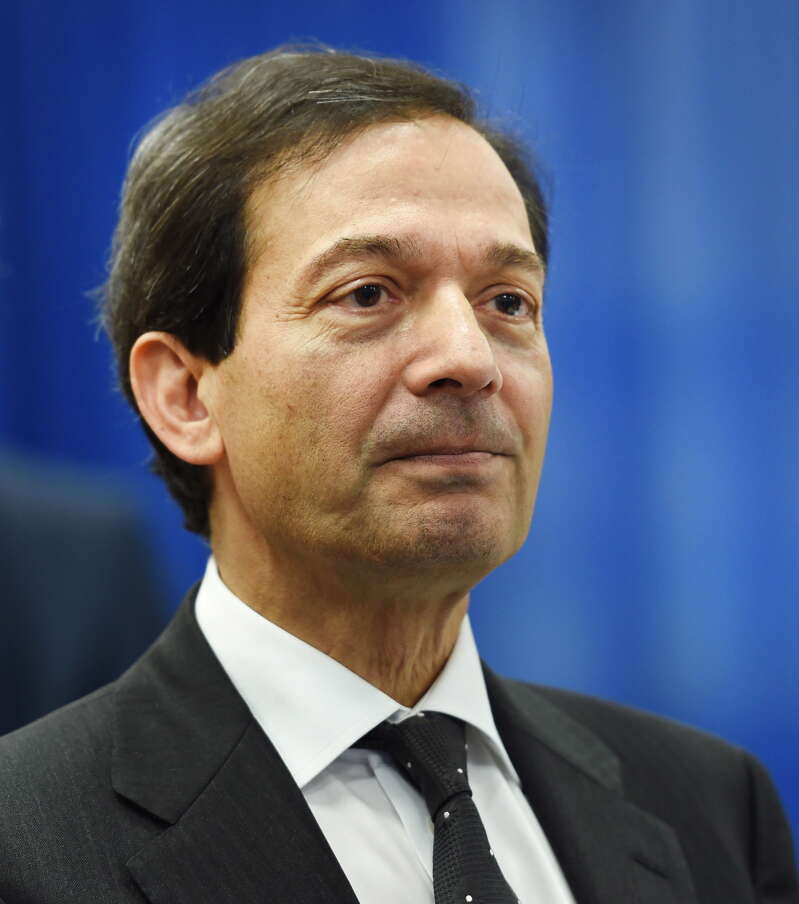 The island's top judge will rule whether an online cartoon shared by a police officer shortly before the island's Black Lives Matter march last year qualifies as freedom of expression – or could get her charged with a "grossly offensive" social media post.
Narinder Hargun, the Chief Justice, heard arguments from counsel for Barbi Bishop that the cartoon shared with friends on her Facebook page on June 4, 2020 "could be argued to be distasteful, even offensive", but fell short of criminal offence.
In the Supreme Court yesterday Victoria Greening, who represents the suspended officer, called for the case against Ms Bishop to be dismissed.
She said charging her client infringed on Ms Bishop's constitutional rights, of conscience as well as freedom of expression.
Ms Greening said the Crown was "attempting to attach social, racist and political connotations to the illustration, meme or post without any evidence of that".
She added it was "purely speculative" to argue that an image showing stick figures hit by a car, including the words "All Lives Splatter", was directed specifically at the Black Lives Matter movement.
Shakira Dill-Francois, for the Crown, argued that the Director of Public Prosecution's decision to charge Ms Bishop under the Electronic Communications Act was allowed under the Bermuda Constitution Order.
Ms Dill-Francois noted that section 9 of the Constitution, which enshrines freedom of expression, also references the application of law – in this case, section 68 of the Act covering public electronic communications.
She added: "We know the All Lives Splatter meme had been in circulation since 2017 and represents the death of a protester killed by an alleged neo-Nazi and white supremacist."
The meme was "in contrast to the Black Lives Matter campaign dedicated to fighting racism and anti-Black violence, especially in the context of police brutality".
The court heard Ms Bishop posted the cartoon on social media four days before the march.
Ms Dill-Francis added: "It could therefore be argued the post seems to be directed at the march and is mocking the Black Lives Matter movement by posting this indecent, offensive and menacing comment."
The officer, who was suspended by the Bermuda Police Service one year ago, denied in Magistrates' Court last November she had posted a "grossly offensive" message on social media
But Ms Dill-Francois said the offensiveness of the post was compounded by the fact it had been put online by a serving police officer who had "a higher moral duty".
She added the post was made "when tension regarding Black Lives Matter in Bermuda was heightened" ahead of a march that brought as many as 7,000 demonstrators onto the streets of Hamilton.
Two objectors to the post were cited in the prosecution's case, including one who wrote online that he felt intimidated by it, adding: "Are you serious? This is not funny, actually this is racist. I don't know if I should delete you or watch out for you."
Ms Greening countered that the image had been widely shared over nearly four years, and appeared on billboards and baseball caps.
She said the "fleeting" cartoon, which was "nothing more than a black and white illustration, somewhat childlike", had been quickly taken down by her client once she realised it was "not viewed favourably".
Mr Hargun responded: "Arguable, it could be said this amounted to hate speech."
He said the meme had a history of such use.
Ms Greening said the post could not be said to single out a specific group – adding that finding it "unpopular, unfashionable, painful" was "simply not enough".
Among cases referenced was Ayo Kimathi, a US lecturer whose 2015 lecture in Bermuda on African culture got him placed on the island's stop list.
The speech was laced with comments calling for the killing of White people and graphically denouncing homosexuality.
The then Chief Justice, Ian Kawaley, upheld the move banning Mr Kimathi, finding his talk amounted to an "unfiltered message of hate".
Ms Greening said drawing a comparison between Mr Kimathi's lecture and a cartoon online was "like comparing apples with oranges".
She pointed out that the activist group Social Justice Bermuda, which denounced Ms Bishop over the post, depicted "the exact same meme" on its own Facebook page.
The Chief Justice rose after a two-hour hearing, with his ruling to be delivered later.