Woman denies knowledge of guns and ammunition found in police raid
Created: Aug 27, 2021 07:56 AM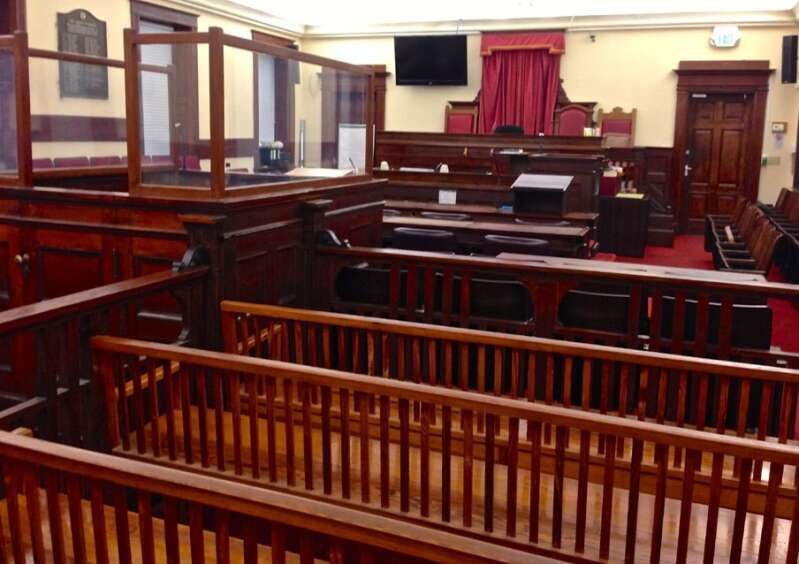 A woman accused of storing two guns and almost 500 rounds of ammunition told a judge yesterday she had no knowledge of the weapons.
Tonae Perinchief-Leader, 31, told the Supreme Court that she had told police she owned one of the two suitcases that contained the weapons and ammunition as police searched a house.
But she insisted in court that she had been mistaken and, although she had used the suitcase in the past, it belonged to her mother.
Ms Perinchief-Leader said: "I had no idea about anything regarding this or that there was anything in those suitcases at all."
She also denied that the room the weapons were found in after a police raid was her bedroom.
Ms Perinchief-Leader said she had only come back to her family home a day or two before the police search.
But Ms Perinchief-Leader admitted that she gave the family home's address as her own to police several times after she was arrested.
She said: "It was the address that I used for all my mail and everything, but I hadn't lived there for years."
Ms Perinchief-Leader denies charges of possession of two firearms – a revolver and a shotgun – along with 485 rounds of ammunition, which were discovered in a search of her family home on the Railway Trail, Sandys, on July 6, 2015.
She told the court that she had been living with her boyfriend in Warwick until a day or two before the search, but they had argued and she returned home.
Ms Perinchief said that she had slept in a spare room which she had once shared with her sister and that the night before the police search her brother had stayed over and slept on the floor.
She added when she was woken up by police her first thought was that the officers were looking for her uncle.
Ms Perinchief said her uncle had been on drugs for most of her life and was a "lackey" for a west end gangland figure.
She added that he had lived in the spare room before she and her sister did, but he no longer lived at the house and was not supposed to visit, although he sometimes did.
Ms Perinchief said that when an officer asked who owned a brown suitcase that was in the room, she said it was hers because she believed it was.
But she told the court she now thought it belonged to her mother because it was her name on the luggage tag.
Ms Perinchief-Leader said she believed she had used both suitcases found to contain the guns "years ago" but had not used them in recent times.
Alan Richards, for the Crown, suggested that Ms Perinchief-Leader was trying to distance herself from the suitcase and her family home.
He added that when police asked her for her address, it was clear they were not interested in her mailing address.
Mr Richards said: "If you were not in fact living there, you would not have given it as your address once, much less three times."
But Ms Perinchief-Leader denied the suggestion and maintained she did not live in the family home.
Detective Constable Damon Hollis earlier told the court that he was involved in the raid – one of several carried out that day as part of "Operation German Bite" and designed to target a gang based in the West End.
Mr Hollis said police believed the defendant's uncle lived at the house and that the property was being used to stash money and drugs for the gang.
He said he and other officers arrived at the home at about 5.15am and that by about 5.40am the search had moved to a bedroom, where they found Ms Perinchief-Leader and her brother.
Mr Hollis said one of the officers opened one of the two suitcases and found two plastic wrapped packages.
He added Ms Perinchief-Leader said the suitcase was hers and that her tone of voice was "nonchalant".
He said: "She was laying across the bed. She was calm. That was my take on it. She was unperturbed."
The suitcase was later found to contain a Taurus revolver and several packages of ammunition.
A second suitcase contained a Mossberg 12-gauge shotgun and more ammunition.
Mr Hollis said that Ms Perinchief-Leader, her brother and her mother were all arrested, but only the defendant was charged.
Charles Richardson, who appeared for Ms Perinchief-Leader, suggested to Mr Hollis that the only reason she was charged was that she had honestly answered the question about who owned the suitcase.
The jury were also told that Ms Perinchief-Leader's DNA was not found on any of the contraband and that the only sample recovered belonged to an unidentified male.
The trial continues.
•It is The Royal Gazette's policy not to allow comments on stories regarding criminal court cases. This is to prevent any statements being published that may jeopardise the outcome of that case.