Murder trial defence lawyer says evidence against his client is 'unreliable'
Created: Feb 22, 2022 11:50 AM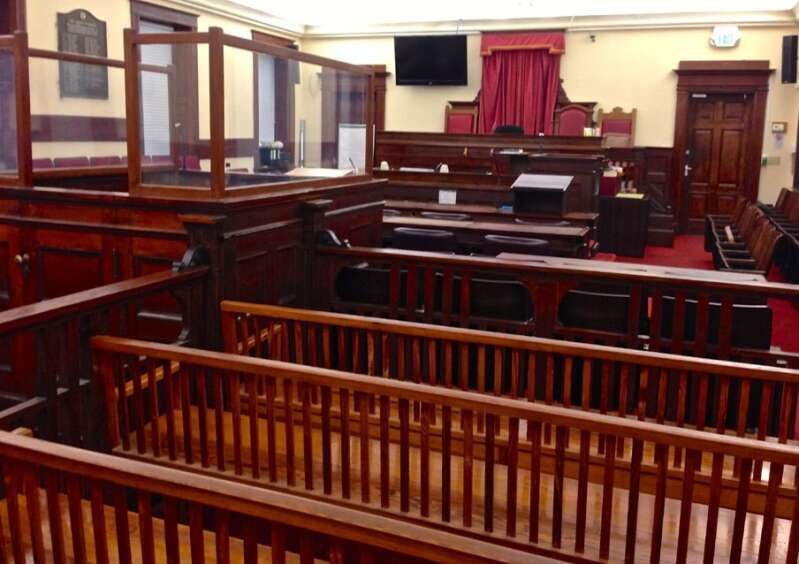 Counsel for a man accused of the gun murder of a man as he left a Christmas party appealed to a jury yesterday to scrutinise the evidence and weigh the motivations of witnesses.
Charles Richardson, who appeared for defendant Taaj Muhammad, said the evidence against his client — including an alleged confession to the killing of Ronniko Burchall to a former girlfriend — was unreliable.
Mr Richardson added that the former girlfriend "hated" Mr Muhammad and was keen to find a way to start a new life overseas.
He said: "She had already decided that if the police were willing to give her protection and help her relocate, then she was going to tell them that he said that."
Mr Richardson claimed the witness had hit "rock bottom" when she contacted police and had everything to gain and nothing to lose.
But he said some of the details she said Mr Muhammad had given her about the shooting were "stupid and crazy".
Mr Richardson highlighted the claim that Mr Muhammad had told the woman that he swam from St David's to St George's after the shooting at St David's County Cricket Club.
He said: "No one in their right mind is going to say that, but a scared little girl might say that, not knowing how stupid it sounds."
Mr Richardson added that the identification of Mr Muhammad on CCTV cameras from the night of the shooting could not be relied on.
He said the former girlfriend, who cannot be identified for legal reasons, told police that Mr Muhammad was the killer before she was shown footage of the gunman.
Mr Richardson told the jury that the quality of the footage from inside and outside the club was too poor to make a proper identification.
He said that the only other identification of Mr Muhammad from the footage came from a police officer who had only spent about an hour with him.
Mr Richardson added that her assertion that she had seen him in the CCTV footage had been made in the course of the trial.
He said the Crown had failed to explain why police had started to investigate Mr Muhammad as a suspect hours after the crime was committed and before any evidence was collected.
Mr Richardson added that the Crown had failed to provide a motive for Mr Muhammad to commit the murder.
He said: "People do not kill each other for no reason. There's always a motive.
"There is no evidence before you that Mr Muhammad had any motive to kill Mr Burchall. None whatsoever."
Mr Muhammad, 26, from St George's, has pleaded not guilty to the murder of Mr Burchall and a charge that he used a firearm to carry out the offence.
The court heard earlier that Mr Burchall, 30, was shot in the head as he left a Christmas party at St David's County Cricket Club, just after 1.30am on December 29.
He died from his injuries the next day.
Carrington Mahoney, for the Crown, insisted in his closing speech that the evidence against the defendant was strong for a conviction.
Mr Mahoney said Mr Muhammad's former girlfriend had gone to police because she was afraid for her life.
He added that Mr Muhammad had already told her he had killed someone and knew all about her and her family.
Mr Mahoney said: "When she called Sergeant Jason Smith, she said she didn't know what was going to happen."
He said that the court had heard Mr Muhammad was a strong swimmer and could have covered the distance between St David's and St George's as was alleged by the woman.
But Mr Mahoney added that the case did not hinge on how the gunman had fled the scene.
He said: "Whether he swam across St George's Harbour, whether he walked across the water, whether he flew, whether he was taken by bike or whether Scotty beamed him over to his granny's is neither here nor there.
"He is on trial for the murder of Ronniko Burchall."
The prosecutor said that the witness's version of events was supported by circumstantial evidence such as CCTV footage from the cricket club.
Mr Mahoney said two witnesses had identified Mr Muhammad inside the club hours before the shooting.
He said that the man identified as Mr Muhammad in the footage could be seen looking out over the club's balcony just before Mr Burchall arrived.
Mr Mahoney said: "He was cool, but once that bike arrived he went straight inside to get his ace boy.
"They both came out, looked over the railing and suddenly phones start to light up."
Mr Mahoney said that minutes after Mr Burchall arrived, the man identified as Mr Muhammad left the club.
The trial, before Acting Puisne Judge Juan Wolffe, continues.
• It is The Royal Gazette's policy not to allow comments on stories regarding court cases. As we are legally liable for any libellous or defamatory comments made on our website, this move is for our protection as well as that of our readers.