Court hears drugs accused told to act like he had been to a funeral on arrival at airport
Created: Mar 03, 2022 07:51 AM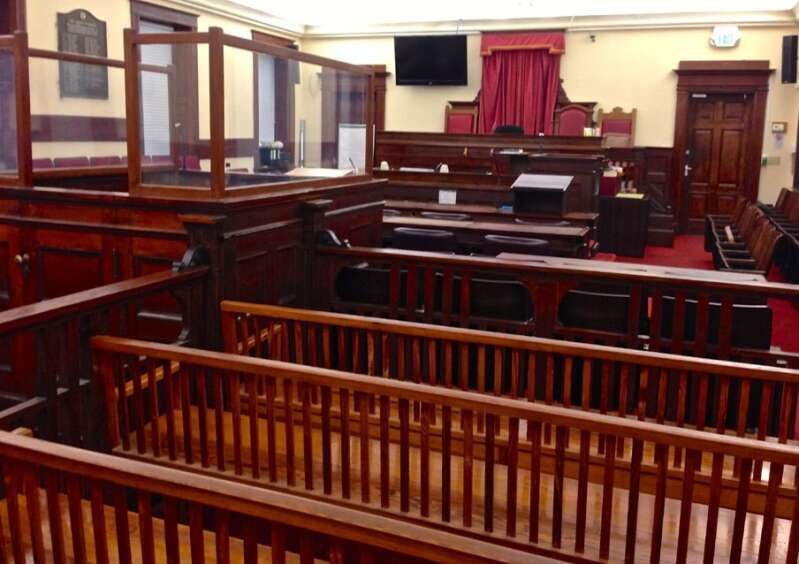 An alleged drug smuggler was told to pretend he was on his way back from a funeral days before he was found with drugs in his bags at the airport, the Supreme Court was told yesterday.
Detective Sergeant Leanda Johnston told the court that phones that belonged to Zadun Robinson and Kanhai Fray were seized after Customs officers discovered concealed packages in their luggage after they flew back to Bermuda from Toronto.
She said that police were not able to retrieve information from Mr Robinson's phone, but they were able to collect records from Mr Fray's phone, including a string of WhatsApp messages.
One message sent two days before Mr Fray flew back to the island in August 2018 told him to act like he had been to a funeral.
The message read: "Make sure when you guys are coming back you look like you guys went to a funeral. Church clothes. Go with the whole thing."
A later message added: "Make sure you guys get what you need to play out the movie and look right."
Mr Fray replied that he would.
The court also heard Mr Fray discussed selling "shatter", which he said was a concentrated form of THC, the active ingredient of cannabis, and "fireballs", which he said was "kush soaked in shatter", in another WhatsApp discussion.
The court heard that no record of any communication between Mr Robinson and Mr Fray were found on the seized phone.
Ms Johnston told the court that Mr Robinson and Mr Fray were arrested, but released on the condition that they returned to the police station at a later date.
She said Mr Robinson complied with the requirement, but that Mr Fray did not and also failed to attend court.
Ms Johnston added she had received information that Mr Fray left the island in December 2018 and had not returned.
The witness also told the court that Mr Robinson had no previous convictions and a search of his home after his arrest revealed no drugs or drug equipment.
Ms Johnston said that an itinerary found on Mr Robinson showed his plane ticket was bought on August 15, 2018 and he left for Canada on August 22, 2018.
Mr Robinson, 22, has denied allegations that he conspired with Mr Fray – who is not before the court – to smuggle drugs into the island.
The court earlier heard that Mr Robinson and Mr Fray were stopped by Customs officials at the airport on August 28, 2018.
The men told the customs officers they were travelling together.
Mr Fray said he had gone to Canada for a funeral and Mr Robinson said he had been on holiday.
A search of their bags revealed several silver wrapped packages hidden behind plastic barriers.
The three suitcases associated with Mr Robinson were alleged to contain $446,000 worth of cannabis and $27,450 of delta-9 tetrahydrocannabinol or THC – the active component of cannabis – in 16 packages.
Both men were also found to have matching "memorial badges" – although Mr Fray's had a different date on it.
Mr Robinson's badge listed a "sunrise" date of October 17, 1932 and a "sunset" date of June 24, 2013, but Mr Fray's badge had a "sunset" date of June 24, 2018.
The trial, before Acting Puisne Judge Juan Wolffe, continues.
• It is The Royal Gazette's policy not to allow comments on stories regarding criminal court cases. This is to prevent any statements being published that may jeopardise the outcome of that case.