Jury shown CCTV clips of night when man was shot dead
Created: Nov 10, 2022 10:08 AM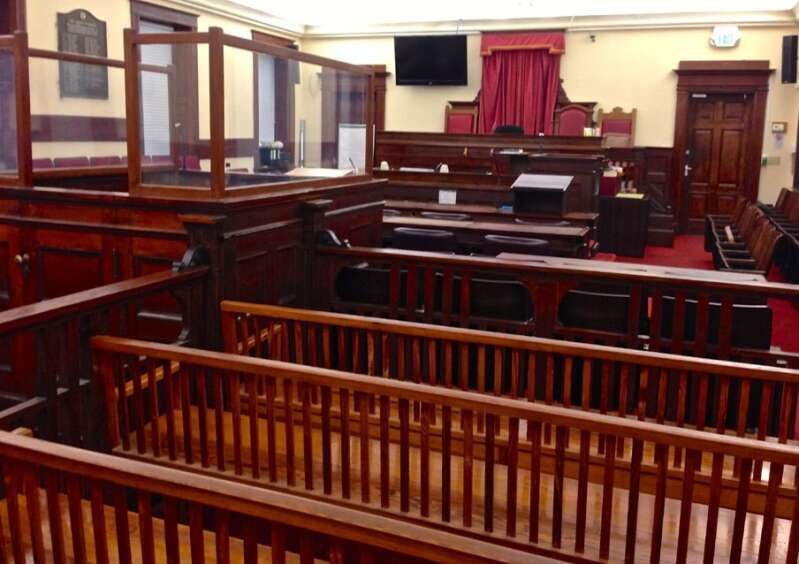 A Supreme Court jury yesterday was shown CCTV footage of the night a man was shot dead.
Detective Constable Christopher Sabean showed clips taken on the night of November 3, 2017, when Morlan Steede, 30, was chased by a gunman through the Deepdale neighbourhood in Pembroke at about 9.40pm.
The footage then showed a dark figure, alleged to be Kiari Tucker, 25, fire at Mr Steede three times before escaping by motorcycle.
Mr Tucker, from Warwick, has denied the murder of Mr Steede and the use of a firearm to commit the indictable offence.
The first piece of footage, taken from the corner of One Way Deepdale and Parsons Road, showed a figure in dark clothing walking through Two Way Deepdale at about 9.14pm.
Mr Steede was later seen running through the area at about 9.40pm and shortly followed by a motorcycle.
The video showed the same dark-clothed figure raise an arm, and a flash appeared from the raised hand before the figure ran towards the One Stop Variety supermarket.
The same motorcycle could be seen later speeding down Deepdale East as several people chased it.
One of the men, said to be Mr Steede, had a large dark spot on the lower left side of the torso that could be seen against his white shirt.
CCTV footage showed the motorcycle return to Deepdale a few minutes later and slowly drive up Two Way Deepdale.
Several people were later seen running down Two Way Deepdale and followed by a police car.
Jurors also saw footage taken from Court Street, which showed Mr Tucker join several other men outside the Spinning Wheel club.
Footage taken from Court Street after the shooting showed a man in a bike helmet, whom Mr Sabean identified as also being Mr Tucker, cross the street while covering his face with his shirt.
It also showed the helmeted figure watch Till's Hill before meeting up with a motorcyclist in the parking lot of Jamaican Grill. An ambulance was then seen rushing down the street.
The trial continues.
• It is The Royal Gazette's policy not to allow comments on stories regarding court cases. As we are legally liable for any libellous or defamatory comments made on our website, this move is for our protection as well as that of our readers.