Lawyer's murder trial hears of violence in relationship
Updated: Nov 18, 2023 08:22 AM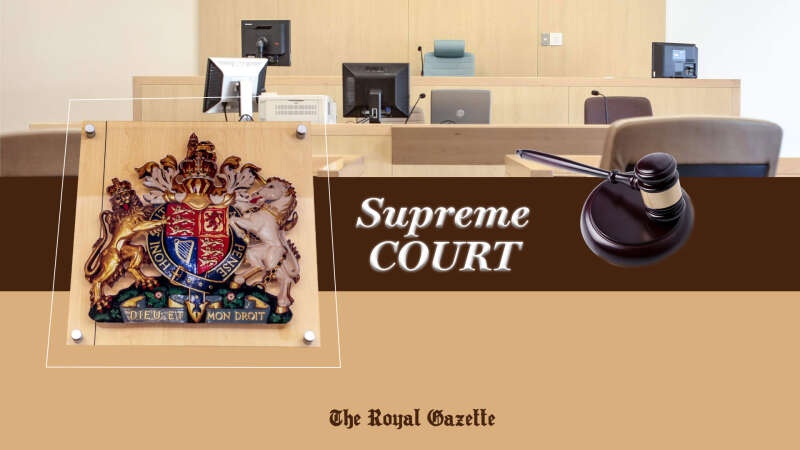 A lawyer accused of murdering his partner had a "toxic and abusive relationship" with her, the Supreme Court heard, and was party in his legal career to discussions of a murder case that included disposing of a victim's body.
Chavelle Dillon-Burgess had considered taking court action against Kamal Worrell not only with regard to their infant son but also "to be away from him".
Jurors in the trial of Mr Worrell, who denies murder on a date unknown between April 10 and June 11, 2020, also heard from his former legal colleague that the alleged victim had revealed that the lawyer had choked her.
Mark Pettingill recalled discussing a murder case with Mr Worrell from the time they worked together, in which the accused, David DeSilva, choked his former wife to death.
He added that they reviewed case particulars including the method used by DeSilva to hide her corpse.
Mr Pettingill said he had defended DeSilva in 2012, with DeSilva convicted of her murder that year.
The court heard that Mr Worrell was Mr Pettingill's pupil, joining his firm, Charter Chambers, in 2011 to work as a junior assistant.
Asked to describe him, Mr Pettingill told the court: "He candidly was one of the brightest."
Cindy Clarke, the Director of Public Prosecutions, questioned Mr Pettingill on when he would have spoken with Ms Dillon-Burgess.
The 26-year-old, who had not been seen since April 11, 2020, was reported missing later that month by her mother, at a time the island was on lockdown for Covid-19.
She was never found, leading police to declare it a murder investigation.
Mr Pettingill recalled speaking to Ms Dillon-Burgess in April 2019, when she attended his firm to give instructions to another lawyer "in relation to matters pertaining to her son and allegations she wished to bring to family court".
He said he spoke with her in the firm's front room and she "effectively confirmed to me she was in what I would describe as a toxic and abusive relationship".
Questioned on the DeSilva case, Mr Pettingill told the court: "Ultimately the cause of death determined by the forensic pathologist was choking to death."
He confirmed Mr Worrell's involvement in the case, including talks on DeSilva's method of disposing of the victim's body, which had been wrapped in a tablecloth, as well as "what could have been done to prevent the body being found".
Asked by Ms Clarke about his conversation with Ms Dillon-Burgess, Mr Pettingill said: "She expressed to me that she had been choked by the defendant.
"I very specifically recall that conversation. It was not a long conversation."
Cross-examined by Mr Worrell, Mr Pettingill agreed that he had probably not spoken with him since Mr Worrell left his firm.
Mr Worrell continued: "When I left your employ, it would have been very acrimonious."
"I would not describe it as acrimonious," Mr Pettingill said. "I would describe it as disappointing."
He conceded there had been a threat of a lawsuit, but did not recall it ever going to court.
Mr Worrell then asked him about times he had spoken with police "with respect to what you knew about me and Chavelle".
Mr Pettingill said it had been "shortly after my conversation with Chavelle and subsequent to her disappearance — I also had occasion to speak with police informally".
He said he knew "a lot of police officers" and had discussed the matter with Detective Inspector Jason Smith probably two weeks after the woman was reported missing.
He added he would likely have happened to meet Mr Smith in the street.
Mr Pettingill remembered giving a formal statement to another officer after he was contacted either last year or early this year, when he shared "information I felt was relevant to the investigation", including the same details given in his testimony to the court.
With reference to Mr Pettingill's conversation with Ms Dillon-Burgess in his firm's waiting room, Mr Worrell asked him: "You were aware there was a violent domestic history between us?"
Mr Pettingill replied: "That was correct. That was indicated."
Asked why he had not gone to police earlier for a formal interview, Mr Pettingill said that "when she disappeared, like everyone else, I hoped that she was not dead, that she would be found".
"I was not automatically thinking she had been murdered."
Mr Worrell stated: "You went to a vigil in respect of Chavelle."
Mr Pettingill said: "I did. I didn't see you there."
The court also heard from Sergeant Lyndon Raynor that a state of emergency had been declared by the Government on April 1, 2020, in response to the Covid-19 epidemic.
Residents were ordered to remain at home, and commercial air service to Bermuda got suspended from April 4.
The jury heard an account from Acting Detective Sergeant Jewel Alex Hayward, of the forensic support unit, who described the police search of Mr Worrell's Hillview Road, Warwick, home on May 8.
Police used a chemical reagent to search for bloodstains, but discovered nothing.
They observed there had recently been a fire in the chimney of the residence.
Ms Clarke read out a written statement from a neighbour of Mr Worrell's, who described seeing Ms Dillon-Burgess with her son.
She said she last saw her on April 7, 2020, standing on the porch with her child.
She described seeing smoke from the house's chimney on the morning of April 11, and that by the afternoon it had become "thicker, darker, with more smoke".
The smoke was carried into her apartment, with the neighbour saying it "didn't smell like normal wood".
She wrote that it was a "hot, humid day", and that when the chimney was smoking the house's shutters were closed, which was "abnormal to me, because it was so hot".
The trial continues on Monday.
• It is The Royal Gazette's policy not to allow comments on stories regarding criminal court cases. As we are legally liable for any libellous or defamatory comments made on our website, this move is for our protection as well as that of our readers