Ditching T20 can make us better
Created: Aug 17, 2011 10:10 AM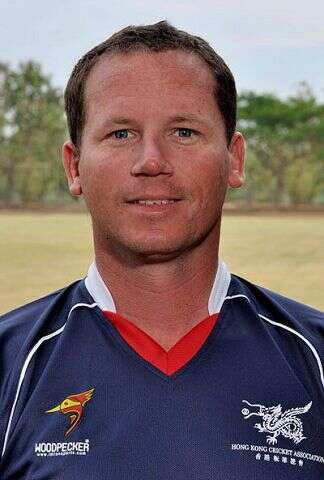 Hong Kong coach Charlie Burke is turning his back on Twenty20 cricket and is focusing on 'getting players better' instead.
The Australian, who oversaw his side's rise to Division Two of the World Cricket League in Dubai in April at the expense of Bermuda, has changed the structure of domestic cricket on the Island, ditching the shortest form of the game entirely, something he hopes will help with the long-term development of the national team.
Most Associate nations are making changes to their domestic leagues as they try and catch up with the likes of Ireland and Afghanistan. Bermuda, who are in Division Three, will go to a smaller six team Premier Division next season as they try and condense the best players into fewer teams.
Meanwhile, two-day cricket, which was tried and failed in Bermuda, will now form a part of a streamlined Premier League in Hong Kong while social cricket will happen on a Saturday as Hong Kong try to cater for players of all abilities.
Foremost in Burke's mind is improving the skills of a core group of 60 players who will be tasked with taking the country forward in the years to come and in that the similarities between Bermuda and Hong Kong are striking.
"The aim when I came in (in April 2010) was always to get Hong Kong playing at an even higher level than it has been," said Burke. "There were a lot of long-established players in the team who had done a lot but right now we have one of the youngest squads in ICC World Cricket League Division Two and these are the players, and others even younger than them, who are going to have to carry Hong Kong forward in the years ahead.
"The ICC Intercontinental Cup is something we want to be part of and that's four-day cricket so it makes sense that if we want to get there we need to have our own multi-day competition.
"What bowlers will need to have to do is bowl three or four long spells a day and batsmen build innings over 100 overs and the new Premier League allows that to happen."
One of Hong Kong's most impressive players in Dubai was 16-year-old batsman Mark Chapman who is sure to be a regular fixture in the national team for years to come, a position head coach David Moore wants the likes of Kamau Leverock, Lateef Trott and Damali Bell to fill for Bermuda.
Burke's hope is that playing two-day cricket and dropping Twenty20 will help players learn their trade rather than relying on a smash and grab style of cricket that doesn't always encourage the basics.
"It's about being disciplined and tough with yourself to get to be better cricketers," he said. "I spoke with the club captains and administrators at the end of last season and they all said how much they enjoyed playing in the two-day Fincher Shield match between HKCC and Kowloon CC and if that could be extended to more teams it would be a good thing.
"It's funny because we're going away from the way the rest of world cricket seems to be going because we've actually dropped our T20 competition. You had 30-plus clubs all trying to get to play in six venues every week and we all felt we needed to put a priority on getting players better.
"We're trying to strengthen that core group of 60 players in Hong Kong. We want players to learn their trade and clubs to hold on to their older players while keeping domestic cricket at the centre of national development."
Given the lack of enthusiasm for the domestic Twenty20 competition in Bermuda the Bermuda Cricket Board could do no worse than to adopt Burke's approach to the game. There has certainly been some suggestion in Bermuda that in the future T20 should be restricted to trial matches for the national squad, especially as they are the ones that will be playing in the World Twenty20 Qualifiers in Dubai next March.
The changes in Hong Kong aren't all geared towards the success of the national team, Burke is hoping to change the attitude towards training and instilling some pride at every level of the game on the Island.
"Social cricket isn't going to produce the best level of cricket but it can't be all about our elite players," said Burke. "Hong Kong cricket's also about providing opportunities for all players whether or not they have aspirations to the national side.
"Playing good cricket, and we want to measure ourselves with the best Associates, is a cultural thing and an attitude thing. If a player agrees to play club cricket they've got to put some pride and respect into preparing and practising.
"These structures are a work in progress and we're going to look at them again at the end of this season. We're trying to create something that's going to stand the test of time."