The catch that shook the world
Updated: Jan 07, 2015 07:01 AM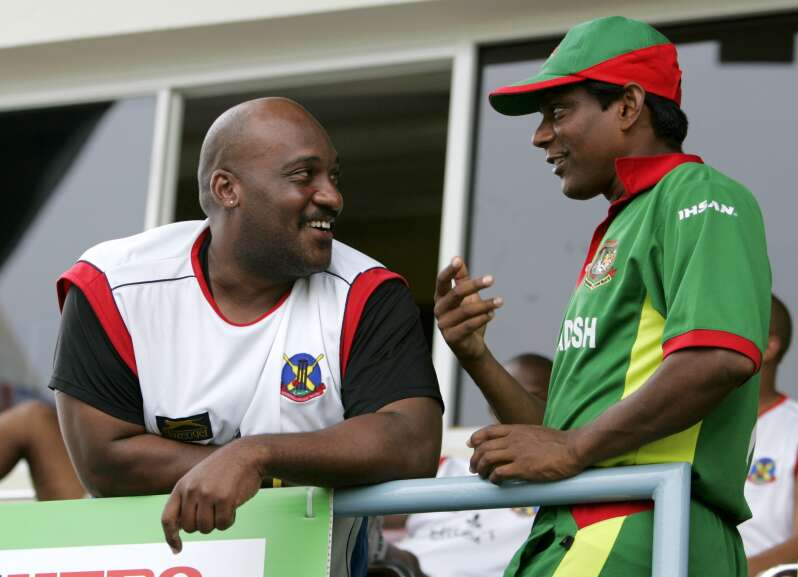 They called his fielding a liability and his build that of a club bouncer, but Dwayne Leverock did not take the derisive descriptions to heart. Instead, on the global stage, he got two high-priced wickets, took the catch of a lifetime, and met his favourite players.
At the 2007 World Cup, where Bermuda were one of six qualifiers, Leverock was their most experienced cricketer. They lost all three of their group matches, against Sri Lanka, India and Bangladesh, but had plenty of memories to take away from the tournament.
To qualify for the World Cup, Bermuda first hosted the six-nation 2004 Americas Cricket Championship, in which they finished third and qualified for the 2005 ICC Trophy, along with Canada and the United States. Leverock took nine wickets in each tournament, helping Bermuda qualify for the main event in the Caribbean.
At the World Cup, Leverock took the wickets of Kumar Sangakkara and Yuvraj Singh, rubbed shoulders with Sachin Tendulkar and MS Dhoni, and befriended Bangladesh's Mohammad Rafique. But it is the journey that he treasures, and not just the glitz and glamour of the World Cup.
"I cherish the road from the qualifications," Leverock said. "We had [former West Indies player] Gus Logie as coach, and he shared with us the wealth of experience he had. He tried to teach us life skills and those benefited me playing in the World Cup.
"Because of my size, people didn't realise the sort of cricketer I am. If you look at my stats, you will see that I have over 150 wickets for Bermuda and I was handy with the bat. I was a batsman before I was a bowler.
"In the World Cup my job was to take wickets for the team. But I very much enjoyed my ride. I got to represent my country. I made good friends during the tournament."
Leverock's big moment was, of course, that catch. He leapt, stretching fully to his right and grabbing the edge off Robin Uthappa's bat from the first ball of the second over in the game against India, bowled by Malachi Jones.
"Before the delivery was bowled, I stood there and told the wicketkeeper, Dean Minors, next to me that we will get a wicket this over. We didn't talk after that but the first ball Malachi bowled, Robin Uthappa went on the drive and the ball flew away from me. I just dived to my right and got the ball in my hand.
"I got up and ran off to celebrate, and the rest of the team joined me," Leverock said.
Seven years on, Leverock still enjoys talking about the iconic moment of his 18-year international career for Bermuda. "The catch itself was funny. I was going to give Malachi a high-five but when I saw the group of guys who were running towards me, I changed direction and went the opposite way. When I looked behind, quite a few of them were running after me. I thought that was very funny."
During the tournament he became friends with a fellow left-arm spinner. "Mohammad Rafique and I became really good friends while we were in one of the flights during the World Cup. We used to stop and talk whenever we crossed each other, spent a couple of hours on a few occasions.
"We just talked about life, spin bowling and why he was the top spinner for Bangladesh. He told me how he achieved what he achieved, and we picked each other's brains. He was telling me how he was making the last part of his career successful."
Leverock, a policeman by profession, also coaches in schools. During the World Cup, he was a prison-van driver but recently he has been working with the emergency dispatches.
"Few of my bosses played cricket, and we played together in the police team. They allow me to do the coaching and visit the schools to help out the youngsters." Leverock explained.
Despite Bermuda's slide from World Cup participants to the ICC's Division Four, Leverock remains optimistic and is ready to help out. "On the whole, Bermuda cricket has had a little slip-up. I feel it will be a struggle for them to go up to Division 2 or 1. It will take some work. I will be part of that.
"I will try to help out with the youth programme and the national programme.
"I will tell the president that I am available to continue to try to get Bermuda to get forward.
"I want to see Bermuda in the upper echelons, especially with Ireland and Scotland. We played against those guys many times and we have competed, beat them. I can't see why Bermuda can't get back to where they are supposed to be."