Challengers put their faith in pace
Updated: Jul 27, 2015 12:33 PM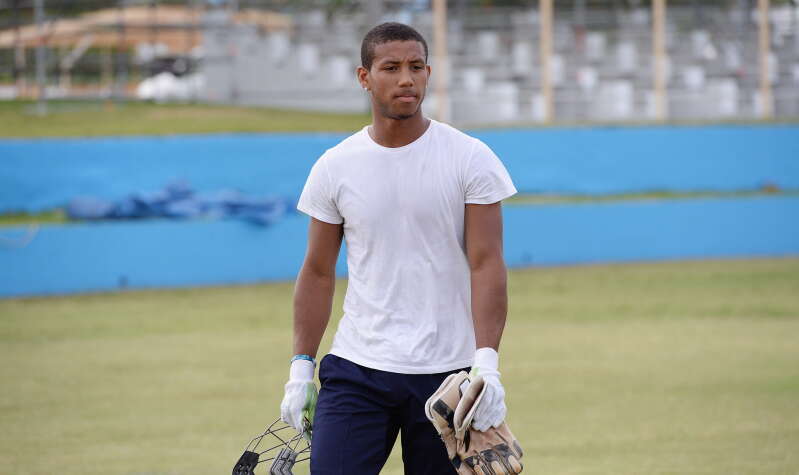 The St George's selectors made six changes to their Cup Match team for the third straight year, dropping last year's captain Oronde Bascome and bringing in one colt, Macai Simmons.
Five other players were recalled by the challengers. They are Treadwell Gibbons Jr, Onias Bascome, Christian Burgess, Damali Bell and Stefan Kelly, who is back after a two-year absence.
With no play in the trial match because of heavy rain throughout the day — the first time in recent memory that the final trial has been completely rained out at both clubs — the selectors' jobs became that much more difficult as they were only able to go on reputation and performances this season.
Three changes were also forced upon St George's, with Lionel Cann, Delray Rawlins and Rodney Trott unavailable. Shannon Rayner, a colt last year, and Lateef Trott lost their spots in the other changes, as the challengers opted for club players Onias Bascome and Burgess, and gambled on Kelly, who arrived back from Wales a week ago.
Burgess is the second wicketkeeper in the team along with Jason Anderson, but the indication is Burgess will wear the gloves, while Anderson is likely to open the innings with Gibbons, who is back in favour at the club after his well-publicised outburst two years ago.
The selectors opted not to include Allan Douglas Jr, the Cleveland captain, a couple of days after he received a two-game Eastern Counties ban for his conduct and failure to control his players during last weekend's first-round match against Bailey's Bay. He could have given the team a spin bowling option in the absence of Rodney Trott and Rawlins.
"It was an hour and 45 minutes, two hours at the most, pretty straight forward," said coach and selector Ryan Steede of the selection committee's job on Saturday night. "The team we picked are players I feel are worthy of a spot, but with any Cup Match team you are always going to have somebody unhappy, after over 100 years that is the reality.
"I'm confident with the team we picked, I feel it is a winning team, a bunch of boys we have a lot of faith in."
Without a specialist spinner, St George's have put their faith in a four-prong seam attack in O'Brien, Kelly, Bell and Kyle Hodsoll, with Gibbons, Simmons, Bascome and captain OJ Pitcher providing further support in that department.
"We could have done with a spinner, but we still have variety in our attack," said Steede who is confident with the bowlers picked to support O'Brien, last year's top bowler with eight wickets in the first innings.
"Stefan Kelly is a good addition to our attack, we know what he did in the past and hopefully he can bring back some of that. He's an important part of our puzzle, his presence alone lifts the team. He's a big day man, fit, hungry and a welcome addition.
"Conditions didn't allow us to have the trial that we wanted, but that's mother nature. It's disappointing for one or two guys and I'm sure they had it in their minds that this is their last chance to prove themselves.
"When we first met in June we said to them not to wait until the last trial to pick yourselves, because it might rain and that's what happened."
•Somerset have the luxury of keeping a settled team, making one change to their 2014 winning team, with Stephen Outerbridge returning to reclaim the spot his lost to Deunte Darrell a year ago.
It is only the second Somerset change in three years as they again showed faith in the likes of Jordan DeSilva, Greg Maybury and Jacobi Robinson.
<p>TEAMS</p>
St George's: OJ Pitcher (captain), George O'Brien (vice-captain), Fiqre Crockwell, Onias Bascome, Christian Burgess, Macai Simmons (colt), Jason Anderson, Stefan Kelly, Damali Bell, Kyle Hodsoll, Treadwell Gibbons Jr. Reserves: Okera Bascome, Jahron Dickinson, Nzari Paynter.
Somerset: Jekon Edness (captain), Malachi Jones (vice-captain), Janeiro Tucker, Terryn Fray, Chris Douglas, Tre Manders, Stephen Outerbridge, Jacobi Robinson, Jordan DeSilva, Derrick Brangman, Greg Maybury. Reserves: Justin Donawa, Justin Corday, Pierre Smith.