Discipline has been key, says Smith
Created: Aug 28, 2015 09:00 AM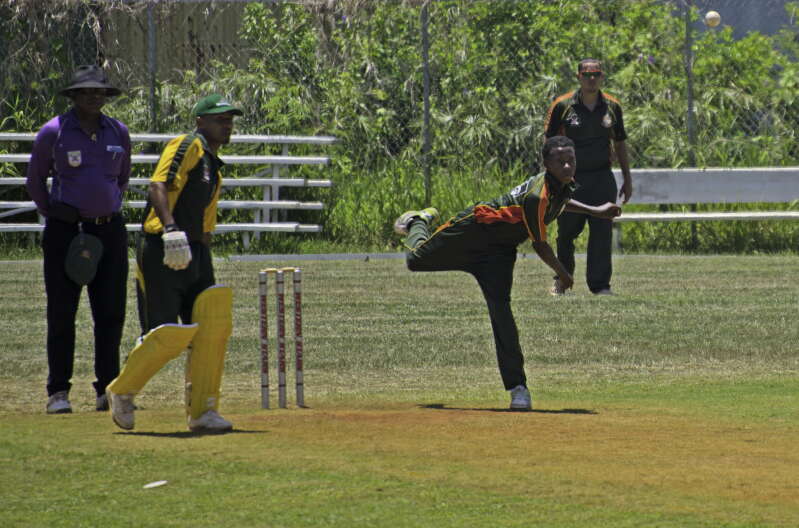 Western Stars could pick up three or four former players when they return to the Premier Division next season.
Even before the club sealed their promotion there was talk that players such as Jekon Edness and Jacobi Robinson of Somerset Cricket Club, Treadwell Gibbons Jr of Cleveland and Bailey's Bay youngster Tre Manders could all return to the club.
All four have fathers who have played for the club when Stars were a force in the 1980s and '90s.
Edness was undecided when the question was put to him just prior to Cup Match. "I'm not sure," said Edness who has since stood down as Somerset's Cup Match captain.
"I started there, playing my first season under Albert Steede as a 16-year-old and stayed there until I was 22. I have been at Somerset ever since."
Joining Stars as their coach this season has turned out to be a good decision for Wendell Smith, who guided the club back into the top division after years languishing in the First Division.
He accepts that the team needs to be strengthened for the more competitive Premier Division, which will be reduced to six teams next season.
"We need to bolster our batting and if they come they come, if not we'll work with what we've got," Smith said.
"We need an opening batsman, a number three, one more middle-order batsman and another spinner. I have got in the ear of one or two of them, but I haven't spoken to Jekon or Jacobi to be honest because they are way up in Somerset. I have told the fans that I need them to be my recruiters and if their heart is at the club then they'll come back.
"I'll tell you this, if people are coming to Stars they better be prepared to work harder than they probably worked at any other club. The first training session I had, one guy came and he never came back the rest of the season. And that was fine with me because all the guys I had I knew were prepared to work."
Smith dropped a player a few days after he scored 82 because of a lack of respect shown to the coach in front of the other players. Discipline, he says, is a key ingredient.
He stood down at St David's last season after leading them to a second straight league title but it was not long before a phone call from Willis Dill, the new Western Stars president, landed him at St John's Field where his team are still unbeaten this season.
"Our team talked a lot this year about goal-setting and we said from the outset that the number one objective was getting promoted," Smith said.
"Way back in March when I first met with them, we talked about what we needed to do and to their benefit they went in the Athletic Club gym every Wednesday for ten weeks before the season. Killer sessions, ruthless, but it paid off because we were super fit."
Smith has built his bowling attack around a couple of good young spin bowlers, on a home field that has probably the biggest square boundaries on the Island.
"Swayne Campbell, a left-arm spinner, came back to us this year from St George's but he needs to learn how to bowl more consistent," said Smith, who also envisions a bright future for spinner Jaiden Manders, the 14-year-old son of Anthony "Porky" Manders.
"Left-arm spinners in Bermuda are critical because you are turning away from right-handers and Swayne can potentially become really good but I had to rip into him about the seriousness of training. Two weeks ago I gave each player an analysis of their game, their strengths, their weaknesses so in the off-season they know what they have to work on.
"I knew the team was going to be successful when, in the first league game, I was five minutes late and the whole team was on the field warming up already. Once I saw that it inspired me."
Then there was an incident after a training match against Cleveland that showed Smith the players have the right character to succeed.
"We started at 6.30pm and at 7pm we got rained out," Smith said. "I told the players I was going up to my school, West Pembroke, to set up a training session up there. I told them 'tonight is going to be the test to see if you are serious about winning the league'.
"I told them 'I'm used to winning, and I want to see if you are serious about winning'. Every single player came up there."
Even Arnold Manders, the former captain, played a couple of games for Stars after offering his services if needed. Next season the former Bermuda captain will not be needed if the former players return.