Old dogs give young pups a scare
Created: Jun 06, 2016 09:00 AM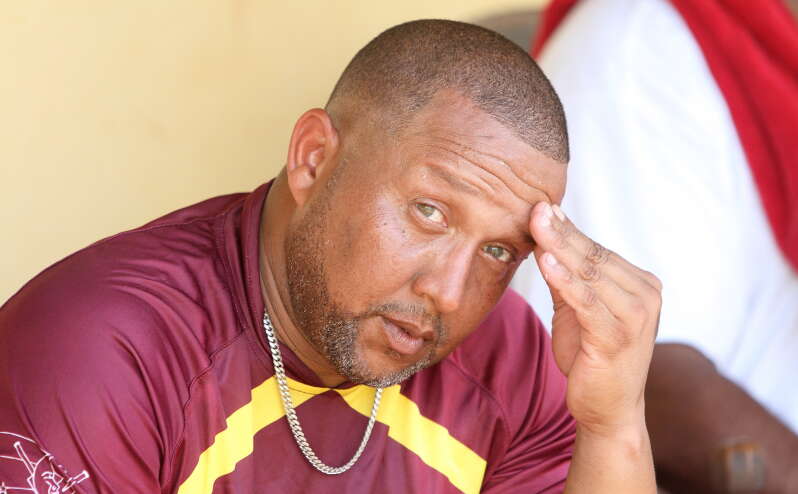 Devonshire Recreation Club (Western Stars won toss): Western Stars beat Tuff Dogs by seven runs
Western Stars discovered on Saturday that you do not need to teach old dogs new tricks for them to be dangerous.
The Logic Premier Division side came within a whisker of losing their central counties title to Tuff Dogs, a team of cricketers firmly in their twilight years who tend to focus more on the social aspect of the game these days.
Still, Dean Minors, the former Bermuda wicketkeeper, has not lost his abilities with the bat, and Trevor Corday, the opening bowler, has proved to be a consistent threat with the ball.
Minors scored 62 as Tuff Dogs were bowled out for 200, taking his side to within sight of victory before one of Stars' young pups had the final say, as Justin Robinson's side successfully defended their total of 207 for five.
Jaiden Manders, a 15-year-old spin bowler, took three wickets in 2.4 overs, most tellingly two in two balls when he had Minors caught on the mid-wicket boundary, and then, somewhat fortunately, bowled Durnferd Davis with a ball that pitched half way down the wicket and never rose above ankle height.
Minors and Davis had put on 44 for the seventh wicket, and Tuff Dogs needed just 15 off the final two overs when the pair departed.
Stars though kept their nerve and Raymond Butterfield, who took two for 46, accounted for Terrence Corday, who was caught at long on by Robinson going for a big hit with 11 needed from nine balls. Manders then wrapped things up, bowling Trevor Corday as Stars won with two balls to spare.
Ultimately it was Manders and Temiko Wilson, the Stars wicketkeeper, who made the difference at Devonshire Recreation Club on Saturday, with Wilson scoring an unbeaten hundred as he rescued Stars from a precarious 41 for three.
Wilson hit 14 fours and two sixes in an innings that Wendell Smith, the Stars coach, called "really pleasing".
"He [Wilson] has trained really hard all year, and deserved that hundred," Smith said.
Wilson and Kanaz Tuzo put on 108 for the fourth wicket, guiding their side towards a competitive total after overnight rain reduced the game to 37-overs a side.
The end result might not have been as close as it was had Stars kept their discipline. But they fielded with only ten men after Wayne Campbell, the opening batsman, was sent home after a confrontation with Robinson.
Stars then compounded that with some basic mistakes in the field, including dropping Azeem Khan, the Tuff Dogs opening batsman, on the second ball of the innings.
Khan went on to make 29 at the top of the order, laying a foundation from which Minors almost conjured a thrilling upset.
"Dean Minors played some brilliant shots and cricket is a funny game if you take people for granted," Smith said.
"But what hurt us was playing with ten men.
"Two weeks in a row we have disciplined players, but I would rather we were a disciplined club that plays with ten men than have guys arguing. We have been very strict with that and letting guys know what we expect.
"It was a tough game, Tuff Dogs I guess they lived up to their name."