Battling Foggo saves the day
Created: Aug 29, 2016 09:00 AM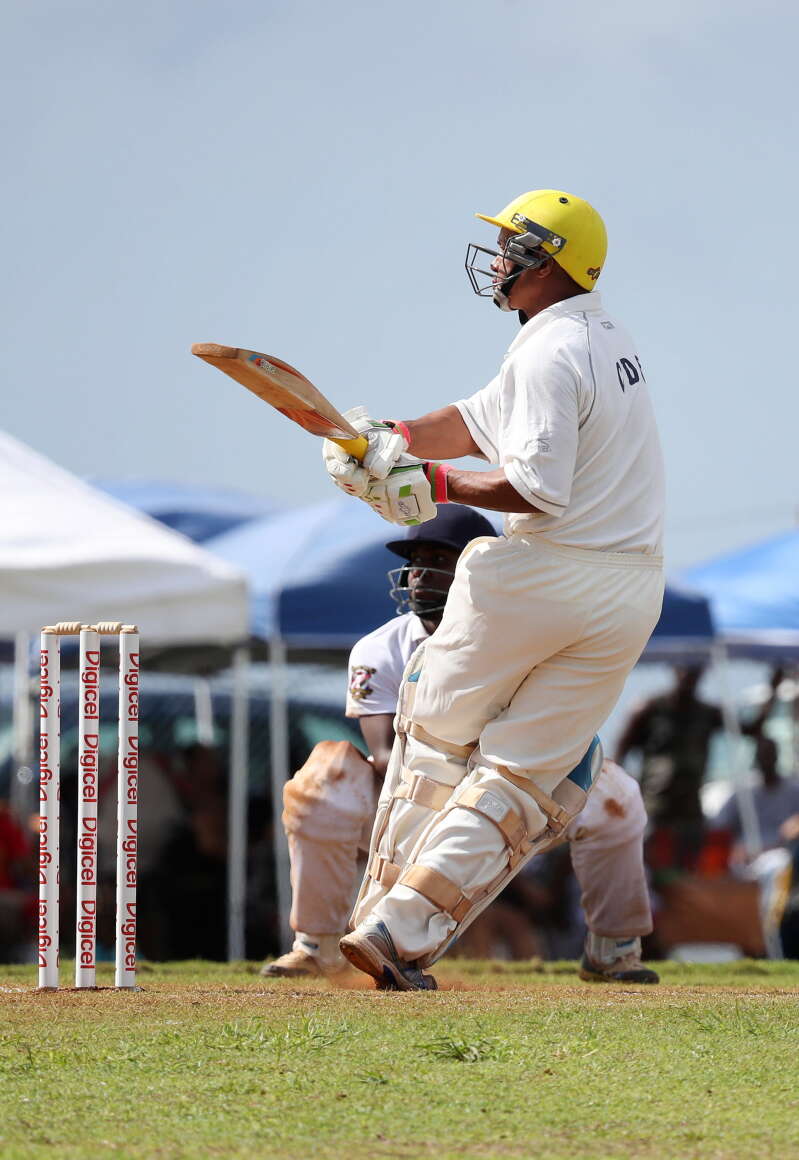 Sea Breeze Oval (St David's won toss): St David's drew with Bailey's Bay
Chris Foggo's dogged 38 not out in four hours stood between Bailey's Bay and victory as St David's ended the series by holding on to the trophy they took from Cleveland two weeks ago.
Foggo, brought into the St David's team in the second round because the team was short of a wicketkeeper, justified the faith shown in him by taking three catches behind the stumps, including a brilliant low, one-handed effort with his left hand to remove Steven Outerbridge.
His batting proved vital, too, staying at the crease for 245 minutes to help rescue the new champions from 23 for four after just 15 overs.
Batting second is always an advantage to the champions in the Eastern Counties, and having won the toss St David's did not hesitate to send Bay in.
They dismissed them for 184 in 55.5 overs of their allowed 65 overs, which enabled St David's to take the extra seven overs, 60 in total. But even being asked to score at three runs an over for victory failed to spark much interest from St David's, even more so after wobbling at 25 for four at tea.
Both Irving Romaine and Rodney Trott, Bay's coach and captain, admitted it was a tougher task to take wickets to win the match than chasing a total.
"We knew that was going to happen, they never came to win today, just to defend the title," Romaine said. "Hats off to Chris Foggo who played an innings for them to save the cup.
"It's always hard to win the Eastern Counties, especially if you bat first. It isn't a tournament designed for a victory every game, but that's the rules of the Eastern Counties. The fans are leaving here today a little disappointed because there wasn't any winner, after such a great game last time."
Some consolation for Bay is that they have been drawn to meet St David's in the first round during the 2017 series at Lord's. Cleveland County will play in the second round and Flatts the final.
Foggo, the 34-year-old former Bermuda player, who last played in the counties in 2012 when Bay beat St David's, shared in two vital stands. The first was one of 46 for the fifth wicket with Lionel Cann, before he then enjoyed a 49-run partnership with Justin Pitcher, that took the score from 84 to 133 between the 35th and 55th overs and saw off the threat of defeat.
"The toss played a big part in it [outcome], we lost the toss this morning and from there they controlled it," said Trott, who was hoping for his first win as the Bay captain.
"They came out with the plan that they weren't even going to try for the runs.
"You have to do everything right in order to win county cup. But I can't knock it, my boys put in a big effort, stayed out there the whole 60 overs and never once gave up. Chris Foggo, you have to give him credit, he batted for four overs for 38 runs, and had in his mind that St David's were not going to lose the cup today by any means necessary.
"He did an exceptional job and is the guy who took the cup away from us. I thought George [O'Brien] bowled well and my youngster [Azende Furbert] batted extremely well for his first 50 in senior cricket."
Foggo, the son of former St David's star batsman Vernon Foggo, looked a chip off the old block after coming in at No 3 and putting his head down to bat with maturity, hitting three fours off 167 balls. Cann, another veteran recalled by St David's, scored a run-a-ball 36, with three fours and three sixes.
George Cannonier, the St David's coach, appreciated what Foggo's contribution meant to the team on Saturday.
"We brought Chris back and he did what we wanted him to do," Cannonier said.
"What more can we ask of somebody who everybody thought was past his prime? He came back and was willing to play and came up with a performance like that. Our most senior players have come back into this team and showed a lot of heart."
Malachi Jones and Trott both took two wickets for Bay who claimed only one wicket in the last 25 overs. Jones had figures of two for 30 off 19 overs while Trott, who did not introduce his spin into the attack until the 29th over, took two for 24 from 12 overs.
Nyhrobi Carmichael had an unforgettable first ball in the competition, claiming the wicket of Oronde Bascome who drove a catch to Tre Manders in the covers. The 18-year-old took one for 19 from six overs, while Kyle Hodsoll had figures of one for 13 off ten.
Earlier, Furbert, scored 55 off 62 balls during an 85-minute stay at the crease. Furbert and Manders added 86 for the second wicket after Terryn Fray was dismissed in the first over.
George O'Brien was the bowling hero for St David's with six for 54 from 21 unchanged overs after coming on as first change. Four of those wickets came between the fifteenth and nineteenth overs, as Bay slumped from 134 for four at lunch to 169 for nine. Hodsoll scored a useful 21 off 38 balls late in the innings.
Manders went to hospital with a back injury he got while fielding but was able to return an hour later.
Justin Pitcher was voted Man of the Series after his three wickets and 21 runs in the second round against Cleveland, to go with his two wickets and 30 runs on Saturday. Dion Stovell, the Cleveland all-rounder, took the Spinner of the Series award, winning the Stan Smith trophy.