Low total proves just beyond St David's
Created: Aug 29, 2016 09:00 AM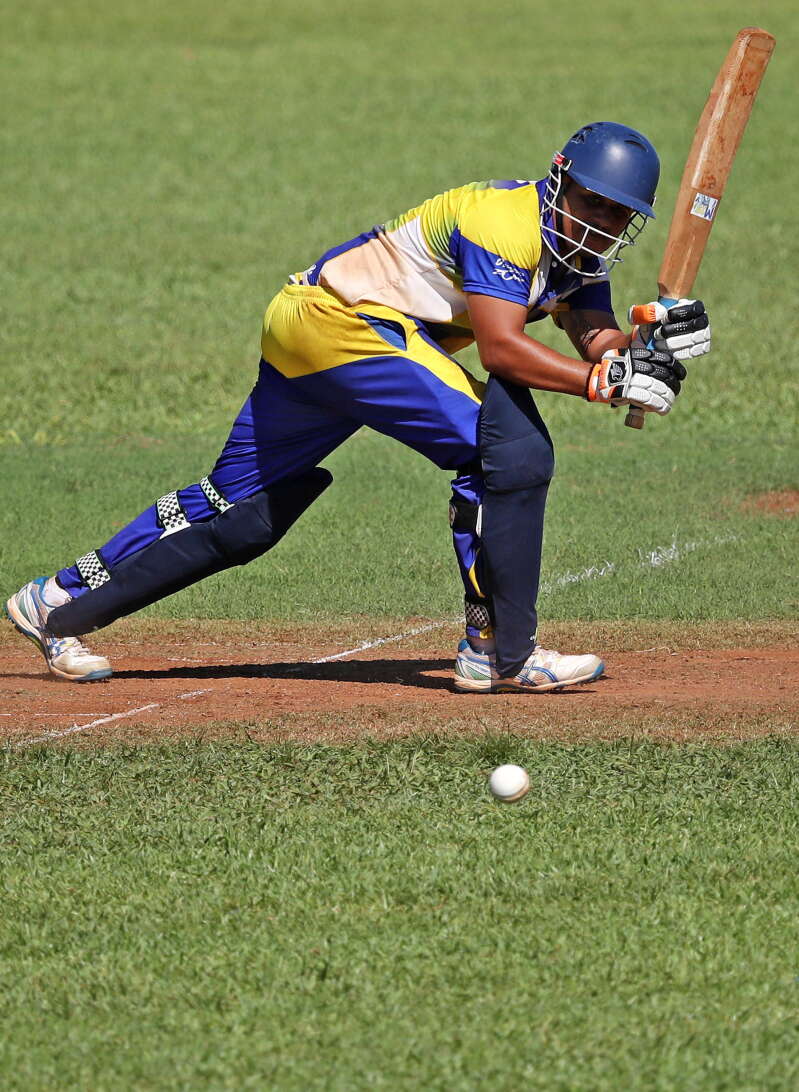 Lord's (Bailey's Bay won toss): Bailey's Bay beat St David's by 26 runs
A modest total again proved difficult as St David's, the Premier Division leaders, failed to chase down 166 to wrap up the league title yesterday.
Bailey's Bay were starting to look resigned to losing to St David's again, before a couple of crucial wickets in the 25th and 26th overs gave them hope with St David's 99 for four and key pair Dion Stovell and Allan Douglas Jr both out.
Twenty overs later St David's were all out for 140 in 46.4 overs.
Stovell and opener Delyone Borden helped St David's recover after Shannon Rayner and Ajuan Lamb were dismissed with only 42 on the board.
Their third-wicket stand produced 52, but then Stovell was trapped leg-before by young spinner Jordan Smith for 32.
Then when Douglas was bowled by Malachi Jones after facing only three balls, Bay knew they were still in the game.
They took two more wickets on 101 and 108 to tighten the screws as Justin Pitcher faced only four balls before he was trapped leg-before by Jones.
George O'Brien, the St David's captain, followed soon after for just three when Zeko Burgess held a catch at gully off Rodney Trott.
There was little resistance in the tail as Rodney Trott, the Bay captain, picked up two more scalps to finish with four for 27.
Jones supported with three for 27, while Derrick Brangman went for just 13 runs, claiming his only wicket when he bowled Dean Simons to end the match.
Borden was the major resistance with 57 in almost 3½ hours before he was ninth out, St David's last hopes of victory going with him as he walked off.
"All year it has been low totals between us, in fact the 166 was one of our better totals," Irving Romaine, the Bay coach, said.
"Chances come when you have to score, not just block," said Romaine, referring to the draw in the Eastern Counties the previous day.
Romaine had praise for all-rounder Derrick Brangman whose 44 not out at No 6 enabled Bay to reach a challenging total.
"He went out there and bowled very well and also came to the wicket and scored 44, hitting the ball around the park with confidence," Romaine said.
"He's been a good asset this year, playing with the heart and passion that is needed. He really wanted to win today."
Bay rested Kyle Hodsoll and Nyhrobi Carmichael, bringing in seam bowler Lateef Trott and spinner Jordan Smith, who each claimed a vital wicket.
Bay found scoring runs difficult early on and were 43 for four before a stand of 50 between Rodney Trott, who made 20, and Steven Outerbridge, with 19, carried them to 93, only for the pair to depart in the 31st and 32nd overs.
Brangman took over after that, hitting four fours and a six to see out the innings, while Dennico Hollis scored a valuable 15 in a stand of 35 for the sixth wicket with Brangman.
Spin also did the bulk of the damage for St David's, with Borden leading the way with three for 36, while Dion Stovell, who shared the new ball, took two for 25. Allan Douglas also had a good spell, taking one for 21.