Manders welcomes return of another lost son
Created: Apr 01, 2017 08:00 AM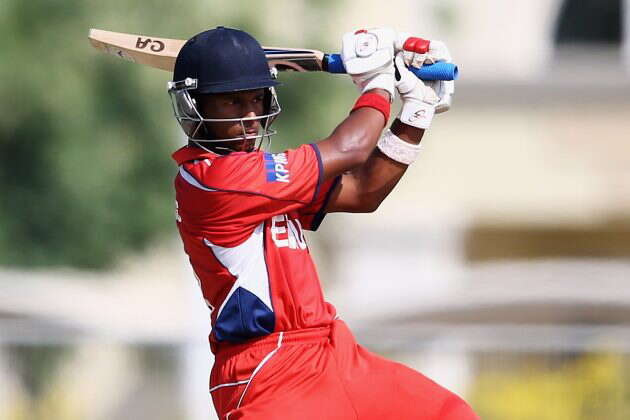 Tre Manders has returned to his roots at Western Stars Sports Club.
The Somerset Cup Match and Bermuda early-order batsman has ended a stint with Bailey's Bay and rejoined a new-look Stars, where he cut his teeth as a youngster.
Also rejoining the Pembroke club during the off-season transfer period, which expired yesterday, is Manders's cousin, Jekon Edness, and Jacobi Robinson from Somerset and spinner PJ Thomas from Devonshire Recreation Club.
"I have back all the players I was coaching as juniors," new coach Arnold Manders said. "It's good to have them back after spending a lot of time with them when they were youngsters.
"I'm happy to be back at Stars, the only club I played for, and working with a lot of the young guys that I've coached before who are back."
Manders said his team's preseason preparations are gradually gathering momentum. "I have been training them for two weeks. Obviously, some guys are still playing football, so we've been having five or six at a time.
"We started out at Horseshoe Beach doing fitness and a lot of skill-work drills in the sand, and this week we've just started training at St John's Field, doing fielding and batting drills and a lot of fitness work."
Manders has taken the initiative to start preparing the team for the upcoming season even though the terms of his coaching deal have yet to be finalised.
"I'm sure it [the contract] will go through," Manders said. "I wouldn't be doing this if I wasn't sure."
Manders won countless honours during his heyday as an all-rounder at Stars and comes highly qualified for the coaching job. He holds Cricket Australia High Performance, West Indies Cricket Board, and England and Wales Cricket Board coaching badges and previously served as Bermuda coach, Bermuda Cricket Board director of development and chairman of selectors. He also coached Bermuda at the Under-19 World Cup in Malaysia in 2008.
Manders's primary objective is transforming Stars into a formidable force. "Maybe not this year, but I'm looking for Stars to be a force to reckon with probably next year," he added. "I just want to see an improvement in each and every game this season.
"We're not going into matches to lose; we are going to be positive. But my goal this year is to get the team back together and get them playing together and understanding match strategies, and the game plan and executing them on the day — that's going to take a little while."
Stars were forced to seek a new coach after Wendell Smith stepped down at the end of last season, having guided the side to a comfortable fourth-place finish in their first season back in the top flight after a long absence.
Smith joined Stars in 2015 and won the First Division title in his first season.