Simons loan to St George's a win-win
Created: May 10, 2017 09:00 AM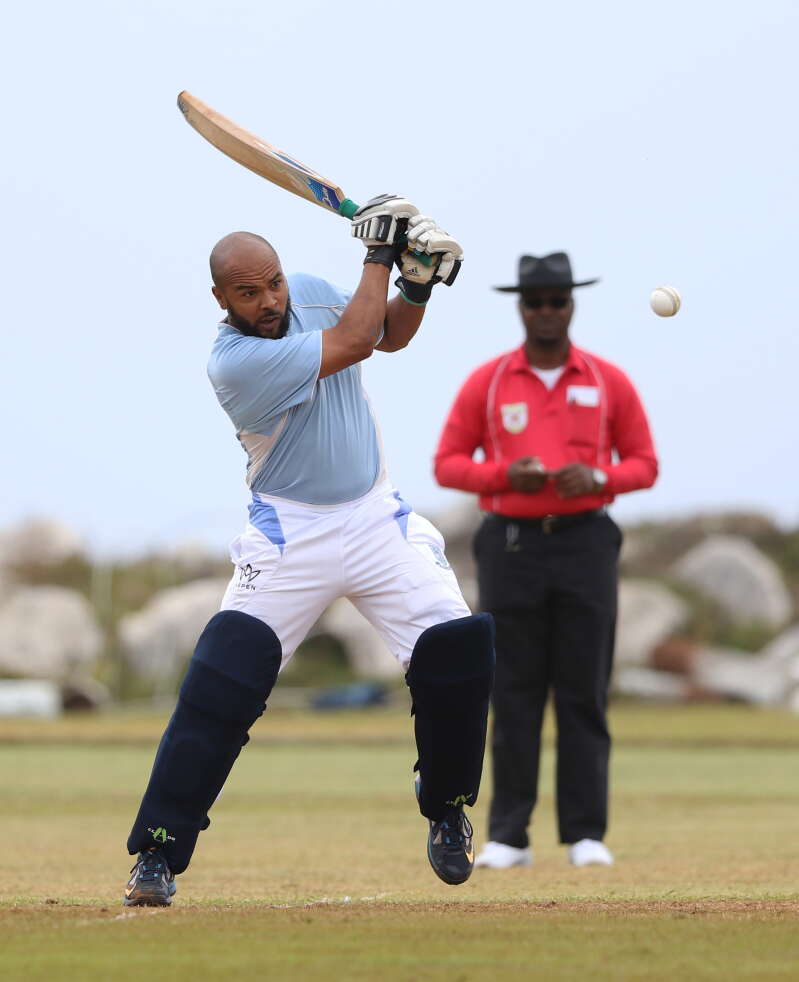 St George's have picked up teenage seamer Dean Simons on loan from St David's in what is a win-win situation for the clubs and the player.
The Bermuda Cricket Board confirmed that Simons, the 15-year-old son of former Cleveland pacer Robert Simons, will be a loan player for St George's for the season. He played in their T20 opener on Sunday against Devonshire Rec, along with late transfer Bennett Phipps, who returned to St George's from Flatts. Ryan Steede, the St George's player-coach, welcomed both to a team who were missing several players, including new signing from Warwick, Lionel Cann.
Simons bowled a couple of overs in the 11-overs-a-side match, taking the wicket of Ronald Gibbons as St George's won by 39 runs.
"We can use him on loan for the entire season if he chooses to, or St David's request to have him back," Steede explained. "It's a win-win situation because he's getting the opportunity to play and hopefully will play consistently this season.
"It's a good opportunity for him and he has to grab it, especially being in the [Bermuda] Under-19 squad and with tours coming up.
"I heard he was interested in coming over, Macai Simmons, our captain, approached his father and it went from there. It's nice for him to come to St George's, he'll get the opportunity and just has to make the most of it."
Phipps took the opportunity to return to St George's after a stint at Flatts. Steede is confident he can provide something with both the bat and ball. "He's a very exciting cricketer who came through the youth programme and was one of the better cricketers in his age bracket," Steede said.
"He has a lot of character and gives us another option in the bowling department, plus he's handy with the bat. He has shown a lot of maturity in preseason, has come back and put the work in and seems keen to want to play. I hope he has a good season. He's a lively character."
St George's were also without a few players on Saturday, though Charles Marshall Jr is back after missing last season and kept wicket in the absence of Chris Foggo who was unavailable because of work commitments. Also missing were Mishael Paynter, Lorenzo Bean, Isaiah Greaves, Onias Bascome and Nzari Paynter. They play Bailey's Bay on Saturday in their T20 group A2 before taking on Tuff Dogs on Sunday in their final group match.
"Lionel has been away and wasn't available this weekend, but I spoke to him on Sunday and he's looking forward to coming and training with the boys and being a part of the team," Steede said.
"There are other players to bring into the team as well. Lorenzo bowled very steady for us last season. Mishael has been consistently training and has looked good in the nets. Nzari and Isaiah won't be back until June.
"They did good for us last season, especially Isaiah who got a man of the match award against Flatts, so we're looking to have him back. We still have a lot of players to come into the team. We're not short of players at all. It's nice to see CJ Marshall back out. He didn't play last year.
"Our main focus is promotion, but a good showing in the Twenty20 could go a long way. Bailey's Bay will be a good test; it's my former club so I know what they are all about. My duty this week is to prepare the team for Bailey's Bay and then Tuff Dogs on Sunday."