Devonshire cause an upset to reclaim title
Created: Jun 24, 2019 09:00 AM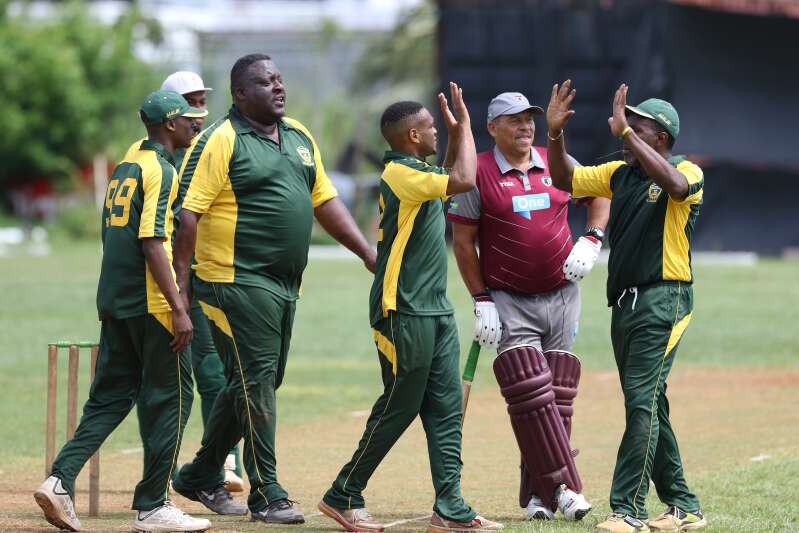 Guest player Ricardo Brangman scored 86 not out from 93 balls as Devonshire Rec reclaimed the Central Counties title on Saturday.
The Southampton Rangers wicketkeeper, who only filled the second guest player spot-on Friday evening after Nyhrobi Carmichael of Bailey's Bay pulled out with an injury, turned out to be the hero for the challengers with his match-winning knock.
He helped rescue Rec from 58 for six with a partnership of 65 with Xyon Outerbridge-Smith stand for the seventh wicket in 51 minutes as Rec chased down the 169 posted by Tuff Dogs.
Outerbridge-Smith contributed a useful 17 from 36 balls before Brangman carried the team to victory after dominating an unbroken ninth wicket stand of 34 in 17 minutes with youngster Cory Tucker-Smith.
Brangman's 103 minutes at the crease included six fours and seven sixes, the next high scorer being opener Drewonde Bascome who scored 28 from 25 balls with three fours and a six after sharing in an opening stand of 41 in 5.1 overs with Tarik Jennings (15).
"It was a good game for the Rec, we played good and it was nice that we won," said Brangman who has previously played both cricket and football for the club. "I tried to help the youngsters out, teach them a little something.
"Some of the youngsters don't understand the game fully and I just told them about counting the balls."
Had Carmichael not ruled himself out the result might have been different as Brangman produced his match-winning performance. "I'm just glad that they won, I'm happy for them," Brangman said.
Overnight rain soaked the field, delaying the start of the match to 1.40pm and with the overs reduced to 37 a side. The boundary on the clubhouse corner was also shortened because of puddles.
Tuff Dogs had a slow start after being sent in by the challengers, losing Maclaren Lowe on the second ball of the match, caught by Lamont Brangman off Outerbridge-Smith.
The second wicket fell in the third over with Brangman holding another catch on the square leg boundary off Outerbridge-Smith to remove Trevor Corday.
The champions recovered from 11 for two with a third wicket stand of 69 between Azeem Pitcher and Jordan DeSilva, the former departing in the 15th over with 80 on the board, trapped lbw by Chris Dailey for 25,
Derrick Brangman joined DeSilva and they added 42 for the fourth wicket in eight overs when the match changed with the dismissals of the two Somerset Cup Match players in successive overs.
DeSilva was trapped leg before by spinner Koshun Lightbourne-Simmons after scoring 57 from 60 balls, before Brangman was bowled by captain Alafia Henry two balls later for 16 to make it 122 for five after 23.1 overs.
Tim Davies started promisingly, hitting a six, before he was run out on Outerbridge-Smith's throw from the covers after captain Terence Corday rejected a call for a quick single, with Davies left stranded in mid-crease.
Next over Corday was trapped leg before by Lightbourne-Smith without any addition to the score, 136 for seven.
Veteran Arnold Manders finished with twelve not out in the tail end as Rec were left to chase 170 for victory, reaching the target with 2.4 overs left.
Derrick Brangman was the pick of the Tuff Dogs bowlers with four for 13 from eight overs while Manders had two for 33 off eight.
In the Tuff Dogs innings, three Rec players took two wickets each, Lightbourne-Smith two for 18, Henry two for 22 and Outerbridge-Smith two for 42.
"With Ricardo coming in and not even the first consideration, which he made known, it just goes to show that the home grown players were brought in and produced for us," Williams said.
"We still consider him a Rec guy even though he plays for other teams. He came up through the Rec and always gives his heart for the Rec as was shown yesterday.
"Ricardo really produced a masterful innings, he scored 86 from 94 balls with 61 dot balls. It was beautiful to see."