Arnold Manders hopeful of Bermuda's prospects for Under-19 World Cup
Updated: Dec 14, 2020 06:20 PM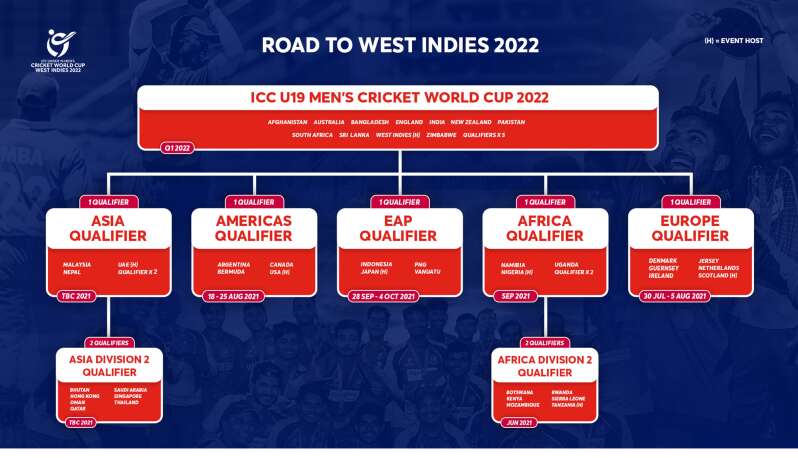 Arnold Manders, the Bermuda Cricket Board president, is optimistic the island can fulfil its mission at the 2022 ICC Under-19 World Cup regional qualifiers in the United States next summer.
Bermuda are set to take part in the Americas region qualifying tournament to be held from August 18 to 25. Argentina and Canada are the other countries.
Only the winner of the 50-overs round-robin tournament will advance to the main event to be held in the West Indies.
"I think we have a shot at qualifying," Manders said. "But we have to get training and have to play a lot of matches.
"I think that's going to be the key; how many matches we can play before we get to the tournament."
Manders hopes to have a provisional squad going through their paces in training by February.
"We haven't picked a squad of 25 yet as we have just been waiting to see what's happening," he said. "We will pick a squad by mid-January and are hoping to start training by February, which gives us eight months training two to three times a week and playing.
"Hopefully, we can get a tour in, but we don't know about that, either, because of Covid-19."
Manders said training sessions will be done in compliance with the Government's existing Covid-19 protocols that includes the maximum size of gatherings, which was reduced from 20 to ten because of the recent spike in active cases of the virus.
"We may have to do two sessions with ten players like how we did in the summer," he added.
"But we are hoping that when we start training, it will be more than 20 people allowed so they can all train together.
"We just have to put in the proper health and safety protocols like social distancing, hand-washing and sanitising."
Manders is yet to decide whether to continue his role as coach after his ascension to the top post. "I am leaning towards it, but it all depends," he said.
Bermuda are bidding to qualify for the Under-19 World Cup for a second time.
The last time they qualified for the event was in 2007 after a regional tournament in Toronto. The team, captained by Rodney Trott, then progressed to the finals in Malaysia in 2008 and finished joint fifteenth after placing third in their group behind Bangladesh and England.
Bermuda are among 33 countries vying for five qualifying spots up for grabs at seven regional qualifiers.
Defending champions Bangladesh, Afghanistan, Australia, England, India, New Zealand, Pakistan, South Africa, Sri Lanka, West Indies and Zimbabwe have qualified by virtue of their finish at the finals of the previous edition in South Africa in February.
"The ICC U19 Men's Cricket World Cup showcases the future stars of our game, with many top-class cricketers around the world having featured at this event," Chris Tetley, the ICC Head of Events, said.
"I am sure we will see a highly competitive series of events and the emergence of players that will become household names in the future."
Manders is delighted that the qualifiers, which have been delayed by a year because of the pandemic, will go ahead.
"I'm glad for the players because I was thinking it was going to be a year that they wouldn't have the opportunity to qualify for the Under-19 World Cup," he said. "But now the date is set in stone and it's a positive thing because the boys will have an opportunity to play in the tournament."