St David's recover from early trouble to thrash Flatts in Eastern Counties first round
Updated: Jul 18, 2021 05:50 PM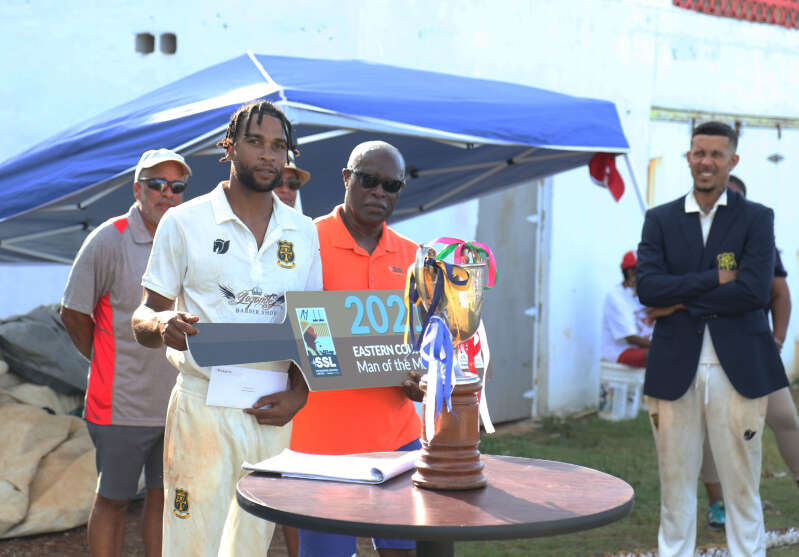 Sea Breeze Oval (St David's won toss): St David's beat Flatts by 180 runs
St David's advanced to the second round of the Eastern Counties Cup with a comfortable win over Flatts at Sea Breeze Oval on Saturday.
Chris Douglas, one of five guest players in the St David's team, was voted man of the match after his knock of 82, which came in a crucial fifth-wicket stand of 165 with Macai Simmons as the holders posted 270 for seven in their allowed 65 overs.
The pair carried the holders from the brink of disaster at 52 for four, inspired by the pace of Kamau Leverock, to the ultimate safety of 217 for five.
At lunch, Flatts were still very much in the match, with St David's 102 for four after 40 overs, with both Douglas and Simmons on 31. Simmons was first to reach his fifty and was on 67 when Douglas passed his half-century, before beginning to accelerate.
A rare two Eastern Counties centuries in the same partnership seemed very likely as neither batsmen looked troubled by the Flatts bowling. Simmons brought up the 200 with a straight six off Nelson Bascome, who had just replaced Leverock at the club end.
The partnership was broken when Douglas was caught by Leverock at long-off off the bowling of spinner Regino Smith. Simmons was the top scorer for St David's before he, too, was denied a century, dismissed for 92.
Simmons survived a run-out attempt two overs earlier on 91 when he played a shot to Reggie Baker at short mid-wicket and was sent back, losing his bat as he dived in. He appeared to be short of his crease when wicketkeeper Kijuan Franks broke the wicket, but umpire Alex Knight indicated that his view was obstructed.
Simmons was heading for a first counties century before he was bowled by a rank short ball from spinner Nekoda Bascome that stayed low as the batsman went for a big hit. Simmons, who struck seven sixes and seven fours, was frustrated to fall just short of a century for the second time against Flatts, after making 89 in the 2019 final.
"It will just motivate me to do better and concentrate more, that's all," the guest player from St George's said. "I took my eye off the ball and had my head up in the sky.
"Now I've just got to put my head down and go for the hundred. I definitely deserved it, I'm just going to work harder for it in the next big game I have. It was definitely good batting practice out there today.
"It was a good partnership; Chris Douglas batted extremely well. I just fed off his energy and we clicked together in the middle. It was definitely good for St David's."
After the pair departed, Brian Hall and George O'Brien took the holders past the 250 mark with an unbroken stand of 43. Hall hit two sixes and two fours in his 28 not out and O'Brien made 17 not out.
St David's were always confident that the total was one they would defend, with Flatts needing a couple of big partnerships — and for their gun player, Kamau Leverock — to go big.
However, they were on the back foot from almost from the start of the response, with their first three wickets falling with only 35 runs on the board.
"We had a plan to bat out the majority of the overs, not play any rash shots because it was going to be a long day with 65 overs to bat," said captain Justin Pitcher who won the toss.
"We had a shaky start but then 'Dundee' [Douglas] and 'Chinky' [Simmons] showed a lot of character and dug deep and showed they really wanted it."
Pitcher was disappointed that at least one of them did not go on to reach a deserved century.
"It's the game of cricket; it only takes one ball to get you out, lack of concentration," the captain said.
"It was a good batting track. The longer you stay out there, the easier it becomes and that was shown today. We've got some work to do, but we'll be coming back hungry. This is just the start."
Leverock led the Flatts bowling with three for 80 from 27 overs. All of his wickets came with the score 52, as St David's slumped from 51 for one to 52 for four.
Oronde Bascome was dismissed for 22, then Dean Simons and colt Ricardo Brangman fell on successive balls in Leverock's twelfth over.
In the Flatts innings, Douglas then claimed one wicket for 21 runs and held two catches as the challengers were dismissed for 90, having taken up only 27 overs of the 53 they were allotted 53.
Leverock was their top bat with a blistering 41 in just 39 minutes, hitting four sixes and two fours, before being caught on the mid-wicket boundary by Dean Simons off Douglas.
At 66 for four, with Leverock back in the hutch, that is effectively when the match ended as a contest.
Brian Hall led the St David's bowling with impressive figures of four for ten from five overs, as he and colt Aaron Paynter shared the last six Flatts wickets to fall.
Paynter, an 18-year-old seam bowler, claimed wicket maidens in each of the two overs he bowled before Hall wrapped up the win by having Shane Robinson caught by Douglas.
St David's face Cleveland County in the second round on August 14.
SCOREBOARD
St David's
C Douglas c Leverock b Smith 82
S Rayner c Baker b Nelson Bascome 5
O Bascome c Franks b Leverock 22
D Simons b Leverock 0
†R Brangman c Carey b Leverock 0
M Simmons b Nekoda Bascome 92
*J Pitcher b Gund 5
B Hall not out 28
G O'Brien not out 17
Extras (b 4, lb 6, nb 2, w 2, pen 5) 19
Total (7 wkts, 65 overs) 270
A Paynter and S Campbell did not bat.
Fall of wickets: 1-17, 2-52, 3-52, 4-52, 5-217, 6-223, 7-227.
Bowling: Leverock 27-8-80-3; Nelson Bascome 8-3-29-1; Smith 16-4-49-1; Jones 7-0-44-0; Nekoda Bascome 5-0-41-1; Gund 2-0-12-1.
Flatts
R Baker c Brangman b Campbell 5
*D Carey c Brangman b O'Brien 0
L Jones b O'Brien 10
K Leverock c Simons b Douglas 41
S Gund c Brangman b Hall 6
R Smith c Bascome b Hall 11
†K Franks c Douglas b Hall 6
C Robinson b Paynter 0
Nelson Bascome c Rayner b Paynter 1
S Robinson c Douglas b Hall 0
Nekoda Bascome not out 3
Extras (b 4, nb 1, w 2) 7
Total (27 overs) 90
Fall of wickets: 1-9, 2-14, 3-5, 4-66, 5-72, 6-85, 7-85, 8-87, 9-87.
Bowling: O'Brien 9-2-11-2; Campbell 4-1-22-1; Pitcher 2-0-22-0; Douglas 5-0-21-1; Hall 5-0-10-4; Paynter 2-2-0-2.
Umpires: M Best and A Knight.