Cup Match post-mortem: St George's coach Wendell Smith rues batting failures
Updated: Aug 03, 2021 08:06 AM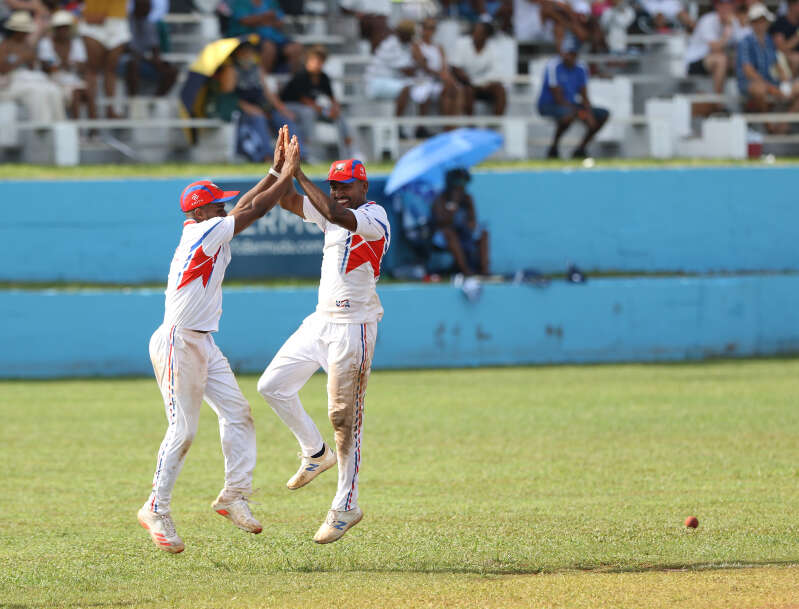 St George's coach Wendell Smith was happy with the decision to bat first in Cup Match after winning the toss, but felt the team should have batted out their innings instead of declaring on a rain-hit first day at Wellington Oval.
Somerset comfortably chased down the 151 for eight posted by the home to finish with a lead of 130, before dismissing their opponents for 130 on their way to a convincing ten-wicket victory with more than an hour to spare.
Smith also admits St George's needed a big innings from one of their batsmen in order to post a challenging total for Somerset to chase on the second day.
"I was happy with our decision to bat first because we knew the wicket was only going to get worse," Smith stated. "It was dry at the western end, in particular, and we knew it would turn on the second day, so we needed to bat well the first day so that we could post a good total.
"We were looking for something between 220 and 260, and I felt we were on course at one point at 110 for three. That's when we just lost wickets in bunches, from 110 for three to 145 for eight.
"We lost four wickets in a little time and that put us behind the eight-ball. I felt we should have batted on and got as many as we could because if Somerset batted well we could be looking at a deficit, and that's what happened."
A few overs after colt Jamar Stovel came in at No 10 to join wicketkeeper Sinclair Smith, St George's declared with only colt Isaiah Greaves left to bat. Instead of the match being in the balance at the close of the first day, it was Somerset who were in a strong position, at 139 for one.
Chris Douglas was left on 98 not out, but scored the two runs off the first ball of the second morning from Rodney Trott to complete a maiden Cup Match century. By the time he was caught by captain Onias Bascome above his head at square leg for 128 with the score at 202 for three, St George's were facing the prospect of an innings defeat.
Stovel had just replaced his captain at the club end and in his first over he got the breakthrough — only to be taken back out of the attack after conceding 11 runs in the over.
Smith singled out O'Brien and spinner Rodney Trott for their bowling in the Somerset innings, the pair taking eight wickets between them as the champions slumped from 202 for three to 281 all out.
In the batting for St George's, Oronde Bascome had knocks of 42 and 29 while Detroy Smith scored 20 and 41. Allan Douglas, who was promoted up to No 3 in the second innings, was a key batsman who failed in both innings with knocks of four and then a duck after facing three balls.
Douglas's best contribution over the two days came on the field, where he took an excellent diving catch just inside the mid-wicket boundary to dismiss Kamau Leverock, arguably the best catch on a day of some outstanding catching by both teams, although he injured himself in the process.
"I felt our catching in particular was very good," Smith said. "One thing some people would not have known is that we wanted to open the second innings with Allan Douglas and look to post a big total, about 280 to give us a 150-run lead on a wicket that was deteriorating.
"But he went off the field with a hamstring injury and we had to wait 50 minutes before he could bat. He was padded up to go in and was told we had to wait until 1.52pm."
Smith added: "I have a lot of praise for Oronde Bascome, who batted when he was not feeling very well. The reason you would have seen those youngsters going out on the field very regularly was because of the doctor's orders that every two overs he had to have fluids due to his medical condition.
"I have to give him credit; he would have silenced a lot of critics with his batting. He batted from the morning to after lunch on the first day, and on the second day he was doing well also.
"There were a lot of positives in this match but ultimately it was our batting that let us down. We knew going into Cup Match that we were lacking a few of our batsmen. I'm not making excuses, but we needed people to step up."
St George's were missing OJ Pitcher, Macai Simmons and Treadwell Gibbons because of injury as they made six changes to their 2019 team.
"We lost key batsmen without big contributions and, ultimately, Chris Douglas was the linchpin for them, the person who batted long," Smith said.
"He gave Somerset exactly what we needed. We needed one person to bat a long innings and put us in a position where they would have to bat last on a wicket that was bouncing and turning.
"In the end they got that innings from Chris. But once he went, the stats will show that we went through the rest of them fairly quickly. But the damage was done.
"Chris will obviously be the MVP. He batted responsibly but had controlled aggression. Hats off to Somerset; they had a batsman who gave them what they needed."
Smith, a former St George's captain, accepts Somerset are enjoying a period of dominance, just as he recalls two winning streaks by St George's from 1959 to 1979 under Calvin "Bummy" Symonds and then from 1983 to 1996 after Clevie Wade won the cup back in 1983 as captain.
New captain Onias Bascome is determined to come back stronger next year. "This is my first year captaining Cup Match," he said. "I knew it wasn't going to be an easy job and, no, I'm not going to be perfect.
"I thought I did a good job, but there is a lot I need to work on, study the game a bit more and feed off some legends of the game.
"Unfortunately, we came out on the losing side but that's not going to stop us. We're still going to come back and fight hard next year."