Unbeaten Rangers continue to set the pace at the top of the table
Created: Aug 09, 2021 07:57 AM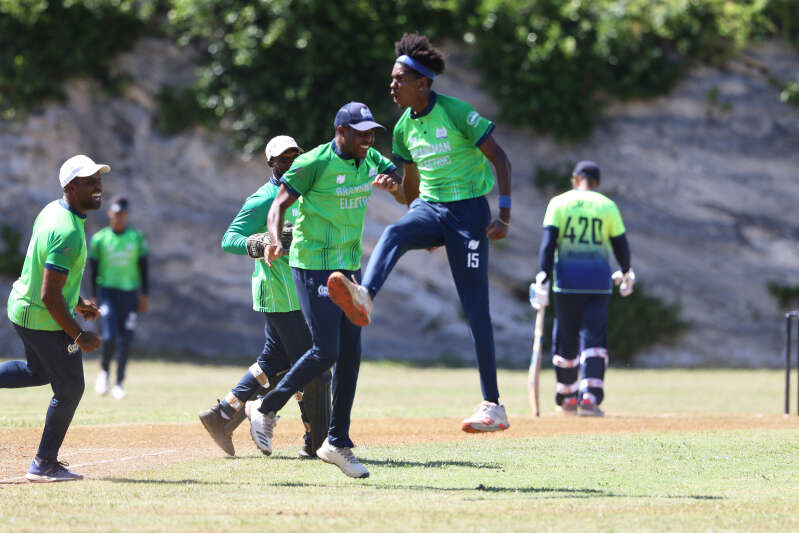 Southampton Oval (St David's won the toss): Southampton Rangers beat St David's by seven wickets
Champions Southampton Rangers remain unbeaten at the top of the Twenty20 Premier Division, after powering their way to a seven-wicket victory over St David's in a battle of last year's top two teams.
St David's were restricted to 88 for eight in their 20 overs after winning the toss, with Janeiro Tucker claiming three for 15 from four overs while teenager Nirobi Mills took two for 13 from four after sharing the new ball with Charles Trott.
"Today was good, I've been working on a few things, my run up and a few grips and today it ended up coming out," said the 18-year-old. "I thought I did very well today.
"In terms of the season, I'm looking to continue picking up wickets, possibly a five-wicket haul some time before the season ends. That would be an aspiration, to keep taking wickets for Rangers."
Mills, a promising fast bowler, admits that 20 overs is not his favourite form of the game.
"I'm more of a 50 over, red ball cricketer, that's my thing," he added.
"As you saw today, my strength was swinging the ball. I'm definitely looking forward to the Western Counties coming up."
The visitors never recovered from losing three wickets in their first three overs to be seven for three.
It might have been ever worst had Ricardo Brangman not been dropped four times before going on to top the batting with 29 after coming in at No 4.
Brian Hall scored 16 in the middle order before Loren Marshall added 14 not out.
He created some drama in his first match of the season when he hit a six off the last ball of the innings that struck a transformer on a telephone pole and the transformer briefly caught on fire as power was knocked out power to some homes in the adjacent Palm Valley.
The Belco truck arrived on the scene shortly after during the Rangers innings, but with the best access to the pole being the field, the crewmen had to wait for the match to end before driving the truck on the field to work on the pole on the eastern end of the ground.
As the truck waited on the northern bank, the Rangers batsmen seemed intent not to keep them waiting too long, smashing several boundaries as they tried to reach their target as quickly as possible.
Rangers showed their intent with Janeiro Tucker hitting spinner Derrick Brangman for two sixes in the first over.
However, on the last ball of the over Tucker was struck in the face when trying to flick a delivery down the leg side and the ball came off the edge of the bat, forcing the player-coach to retire hurt on 12.
New batsman Charles Trott did not last long, caught behind off Kevin Hurdle in the second over for the first wicket, though Rangers already had 25 runs on the board.
The 50 came up in the fourth over with captain Malachi Jones at the crease and also in an aggressive mood. He finished with 36 not out from three sixes and three fours while opener Kwame tucker scored 22 as Rangers reached their target in just 39 minutes for their fifth straight victory.
Rangers took just 8.3 overs to reach their target, with Hurdle and youngster Isaiah O'Brien taking a wicket apiece while there was one run out.
n Bailey's Bay remain level on points with Rangers, though having played one game more, after handing Willow Cuts an 85-run loss at Sea Breeze Oval. It was the sixth straight loss for the bottom team.
Bay scored 215 for five in their 20 overs, with Zeko Burgess, their opening bowler, their high man with 58. Batting at No 5, Burgess hit eight sixes and two fours while captain Terryn Fray supported with 47 off five fours and a six and Azende Furbert 36 after coming in at No 3.
Openers Rodney Trott and Coolie Durham scored 21 apiece as Ras Solomon Burrows claimed two for 45.
Willow Cuts replied with just 130 for nine as Ryan Shepherd scored 24 and Burrows 19 to lead their batting.
Skyler Young took three for 13 off 3.5 overs to lead the Bay bowling, while Rodney Trott took two for 21 and Jordan Burgess two for 29 in support.